Photo Gallery: Bahias de Huatulco, Oaxaca (Photos by Geri Anderson)
Hidden along the beautiful coast of Oaxaca, you'll find Bahias de Huatulco, a jewel of a resort, developed with an eye toward ecological preservation. Although a Fonatur project, the Pacific Coast in this southern part Mexico is less promoted and therefore less well known than other beach resorts. This is surprising, since it consists of 35 kilometers of coastline, including 9 bays and 36 beaches, each with distinctive personalities.
Bahias de Huatulco is the largest ecological reserve designated by the Mexican government, making it a truly a unique tourist destination since it combines a very modern resort infrastructure within a large undeveloped natural area.
Located at the southern tip of the Southern Sierra Madre Mountain range, known for its high, rugged mountains and deep, fertile valleys, the area is surrounded by waterfalls, rivers, and wondrous mountainous landscapes. During May through December, the vegetation is a lush jungle green, offering a great variety of eco-tourism activities to give you full contact with the wonders of nature.
However, if you prefer to lounge in a luxurious resort, slathered with suntan oil, rather than tromp around a mountainous coffee plantation or hike into a waterfall, Huatulco can fill that bill also. You'll find some of the best beach resorts here.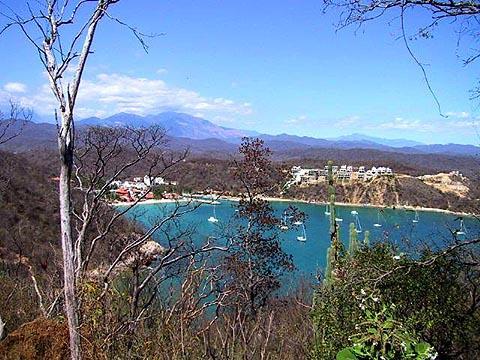 THE BAYS
Because the Pacific Coast of Mexico actually runs northwest, in the resort of Huatulco, the bays actually lie east to west. As you travel from east to west, you come to Conejos Bay first. It is not yet developed and is protected by steep cliffs. However, if you hike down the mountainside to the small restaurant, you can feast on the catch of the day and a couple of cold beers, probably in almost total seclusion. This bay experiences some high waves, so swim here with caution or walk across the short ridge and snorkel on Playa Maguey, where you'll find a small beautiful coral reef and rock formations.
Tangolunda Bay is next and, together with Chahue and Santa Cruz Bays, represents the more developed area of Bahias de Huatulco. Tangolunda is one of the principal bays and home to five-star resort hotels and shopping areas. The beautiful 18-hole golf course is located there in the midst of a natural setting of lakes and sand traps. This championship class golf course offers you both challenge and beauty and the last hole gives you a panoramic view of Tangolunda Bay.
The next bay, Chahue, pronounced Cha-way, is currently under development. You will find several new smaller hotels here, with more under construction. This is where I like to catch an early morning sunrise and, for sure, this bay is better for gazing than swimming, since the surf can oftentimes be dangerous. There is a beach club in Chahue with restaurant, palapa-shaded beach chairs, and large swimming pool. You can use these club facilities for a few hours or a day for under $3.
Santa Cruz is a small bay on which the original fishing village of Santa Cruz was located. Today, it has several 3 and 4-star hotels, which are not built directly on the beach, but are a couple of blocks away. Upscale and palapa-style restaurants line the beach. Santa Cruz also has several small shopping areas and a marina, where you can rent boats, hire a captain to take you to the various bays, or spend a few hours on one of the catamaran party boats that cruise the bays daily.
You will also find Playa La Entrega on this bay. The beaches here are great for swimming. La Entrega has a great coral reef just offshore for easy snorkeling. It's a short taxi ride from Santa Cruz.
Maguey Bay is about a 10-minute taxi ride from the Santa Cruz area. It also offers great snorkeling. This small bay is lined with restaurants and palapas, where you can find food and shade close to the nice swimming beach. Since facilities in the bay do not have electricity, they close at night.
Oregano, Cacaluta, and Chachacual bays are undeveloped, accessed only by boat or hiking. The development plan calls for much of this area to remain in its natural state.
San Augustin is the westernmost bay. It can be accessed only by boat or dirt road. It is well worth your time to visit the remote fishing village here and to visit Playa Coyote for a spectacular sunset.
For a taste of small town Mexican life, it's about a mile over the mountain ridge from Bahia de Santa Cruz to La Crucecita, a town created to provide services to the development of the resort area. It has many restaurants and shops built around a typical Mexican zócalo – a park in the center of the town. There are lower cost lodging options here, from 3 or 4-star hotels to posadas and boarding houses.
Whether you're headquartered in the town or on one of the bays, take the time to walk a couple of blocks from the center of town and eat in one of the local restaurants in order to get to know some of the friendly people who work in the Huatulco area.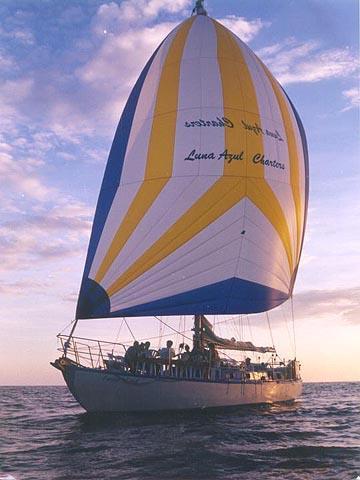 THINGS TO DO
Sailing, Sailing
Harness the wind and sail the sea on the 44-foot sailboat, Luna Azul. It's a one of a kind sailing experience found in Huatulco, where you can let soft breezes take you away. What better way to enjoy a peaceful ocean sunset than on a relaxing sunset cruise, while enjoying a glass of wine and bit of cheese.
Day trips are also offered. The Luna Azul will take you to some of the quiet, scenic bays, not accessible by car, where you can swim, fish, or just lay out in the sun. Snorkeling equipment is also available if you want to view some of the beautiful coral that thrives in the area.
Day trips include your ice-cold beverages and cocktails. And, if you ask, maybe Captain Jack Hennesy will even let you take the helm. English and Spanish spoken. If you would like any further information about the Luna Azul you can contact Jack at [email protected] .
Playa Arrocito is a small hidden cove nestled at the foot of a rocky cliff on Tangolunda Bay. You don't realize that there is a tantalizing beach here until you wander close to the hillside and notice cement steps going down. At the bottom, you'll find a secluded beach, perfect for a romantic picnic or a place to spend a day with your family. Arrocito's shallow waters invite children to enjoy the feel of the sand and rolling water.
Looking out from the beach, you will see a necklace of rocks across the opening of the cove where white caps interrupt the crystal blue water. You can hear the gentle roar of the breaking waves as they follow the rocky wall toward shore. However, by the time the water reaches the beach, it is emerald green and the rolling waves slide gently onto shore. Be sure and take along a bucket and shovel, because this a perfect place to make a sandcastle. Kids will have fun trying to catch little blue fish darting about in pools of water formed in the rocks. If you want to go snorkeling, you can swim out into the mouth of the cove to a small coral reef.
This is where Huatulcanians hang out on their day off. So, go to town, buy a roasted chicken lunch, bring a blanket, and get to know some of the local Huatulco residents. If you go early in the morning, chances are the beach will be exclusively yours. Even though you are right below the largest Club Med in the world, you will feel you are lost in a tropical paradise.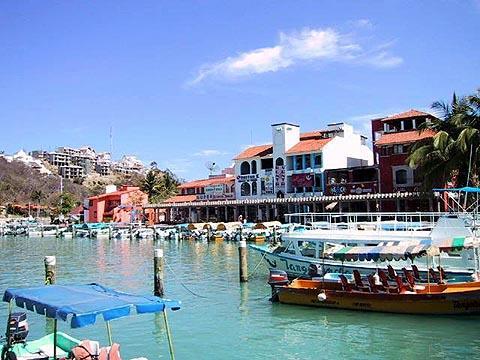 WHERE TO REST YOUR HEAD
One of my all-time favorite places is The Villas Coral Hotel, a small paradise tucked into one of the rocky crags along the coast. It's truly off the beaten track between the bays of Tangolunda and Santa Cruz.
What a view it offers of waves crashing on the rocks below and the crystal clear blue of the ocean as it opens up as far as you can see! By walking down the hillside and across the small footbridge, you can get to the rocky shoreline. Here, there's no sand and it's not recommended for swimming. However, if you are a competent swimmer, there's a small coral reef not far from shore, where you'll find fantastic snorkeling.
But you may never want to leave the hotel, even to wander down to the beach. The hotel's ingenious design, with brilliant white walls, spacious courtyard and inviting pool, create a honeymoonish ambiance for a romantic candlelight dinner or just some much-deserved and relaxing down time.
Villas Coral is a small hotel with 26 spacious rooms with ocean views. Facilities include a swimming pool with sun deck, restaurant and bar, TV, air conditioning and terraces. The suites have living rooms and small kitchen nooks equipped with refrigerator, stove, microwave, coffeemaker, kitchen sink and utensils. Owners, Dr. and Mrs. Jose Hori, like many others who have visited Huatulco, fell in love with it. They decided to stay and start a new "retirement business." They moved here with their daughter, Luisa, in 1995, from their home in Mexico City. They were previously from Colorado and, since I am from Colorado, it was nice to run into someone from home.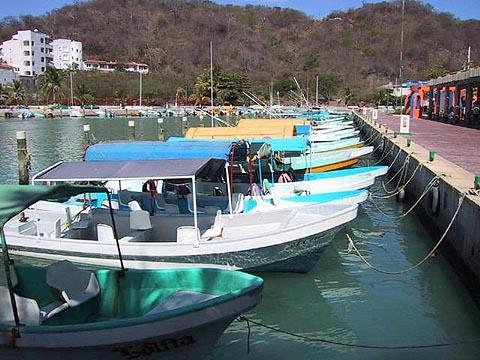 I have found some of the most personal service comes from the smaller out of the way hotels and restaurants. Another one of my favorite hotels is the Best Western Posada Chahue. It is about a 5-minute walk to Chahue Bay and the larger Santa Cruz Bay. Since this hotel is not located on the ocean, they offer you a beautiful beach club to hang out at. If you want to go into town and go shopping or try some of the different restaurants you can either grab a taxi or walk 10 minutes to the center area of La Crucecita. This family-owned business has very clean rooms, a poolside restaurant and bar. The two sons, Hector and Carlos, are fluent in English and know just about everyone in town. So they'll direct you to places to eat and shop and help you find good prices. Their email address is [email protected] .
Villablanca Huatulco Hotel is another good bargain. It is in the same area, near Chahue Bay. They also have a pool, restaurant, and bar. In the off-season they offer packages, which include either an American breakfast or a buffet breakfast. Ask if they offer the third night free. When you eat at the restaurant you will always receive service with a smile from my friends, Pedro and Ciro.
The Hotel Marlin is also a beautiful hotel located on the Santa Cruz Bay about a 3-minute walk from the beach. It features a beautiful pool area with the hotel built around it. They have a small outdoor restaurant that serves French food along with pizza baked in a clay-fired oven, in addition to regular Mexican fare. Ann, the owner, hails from France and has lived in Huatulco for numerous years. She is usually around to greet you and see that you receive the best service. For nightlife, they have a disco, where you can enjoy dancing or just listening to famous Latin sounds.
Hidden in the back streets of Huatulco is Hotel Posada Arrecife a small clean hotel that offers a pool, restaurant, and bar. The price is a good bargain. It is only about 4 blocks from the zocalo area of La Crucecita. An overnight stay will start at about $20. They also offer a beach club at no additional cost.
There is another budget-wise option for lodging if you are planning on an extended stay or on a restricted travel budget. There are many two-bedroom apartments for rent by the day or month. These are fully furnished apartments with stove, refrigerator, dishes, bedding, etc. They include everything you need for your stay. This is a perfect option if you are travelling with a family and don't want to stay in a hotel. Some of these apartment complexes have swimming pools. If you want more information about these apartments: [email protected]
Huatulco has something for everyone. It is a small, safe, yet growing resort area. I invite you come and enjoy this tropical paradise.
Published or Updated on: January 1, 2006