It's all about being alone!
The beaches of El Monteon and Punta Raza are two of my preferred Mexico beaches on the Riviera Nayarit because they are both well, off the beaten path, undeveloped and truly pristine. I love a hidden gem of a beach that I can call my own, at least for a day.
Playa El Monteon
The beach of El Monteon is enchanting and accessed by a winding country road which starts at the far south end of the town of El Monteon. The winding unpaved road takes you on a scenic journey through ranchland and rich, green farmland. The reward at the end of the drive is a beautiful, approximately mile-and-a-half long, broad sandy beach bordered by a mangrove-covered estuary.
Here you will encounter a rich variety of wildlife, including a few crocodiles and an abundance of tropical birds. Keep a sharp eye out for whistling ducks, blue herons and egrets, and some fabulous photo opportunities.
The beach at El Monteon is wonderful for swimming and walking, which is especially enjoyable at low tide. Swimming is good at the sandy north end of the beach which you will likely share with a few pelicans, frigate birds, and Heerman's gulls competing for the catch of the day.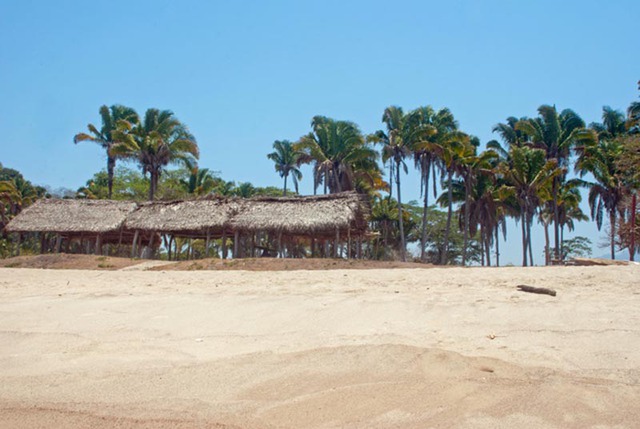 If you visit the beach of El Monteon during the early morning hours, you will likely spot a couple of locals diving for oysters at the rocky south end of the beach, to be served at the local restaurants in the town of El Monteon. Do stop at one of the restaurants on your return trip, to enjoy a meal at one of the truly local restaurants.
Punta Raza
Punta Raza is one of Pacific Mexico's remaining remarkably beautiful beaches… The still untouched two-and-a-half mile long beach is slated for major development as a mega resort, which seems to have been postponed, for at least a little while longer. Until then, this wildly beautiful beach bordered by the lush, tropical foliage of Vallejo Mountains is ours to enjoy and share!
Like Playa El Monteon, this is a beach you can call your own. The beach is not recommended for swimming or even dunking, as it is renowned for its large strong surf and a strong undertow, so it is best enjoyed by walking. Simply visit for a day and drink in the beauty, and leave with the memories and sounds of the crashing surf. If you visit during the months of December through March, your memories will likely include pictures of humpback whales spotted off shore.
The beach to Punta Raza is also accessed from the small town of El Monteon and/or via hiking trails in nearby Los Ayala. The dirt road leading to the beach is a little rough — but drive-able — during the dry season. A high clearance vehicle and four wheel drive are needed if you plan to visit this beach during the rainy season.
Playa Los Ayala and Playa Friederas
These two gems are located in the charming, little beach town of Los Ayala, the southernmost town in the community of Jaltemba Bay. Sadly many tourists who enjoy vacations in Rincon de Guayabitos and La Penita miss these two beaches, because they neglect to explore the road which leads into Los Ayala. You will find the road leading to these two gems at the south end of Avenida Sol Nuevo, the main street running through Rincon de Guayabitos, from end to end. The journey to Los Ayala by collectivo takes about ten minutes and by car it is less than a five minute drive to this beach paradise.
Playa Los Ayala is said to be Pacific Mexico's best swimming beach, and I agree whole heartedly! The almost mile long strand of beach is absolutely ideal for swimming. The shore slopes gradually, and the transparent blue green ocean waters are almost always calm, which also makes it perfect for kayaking.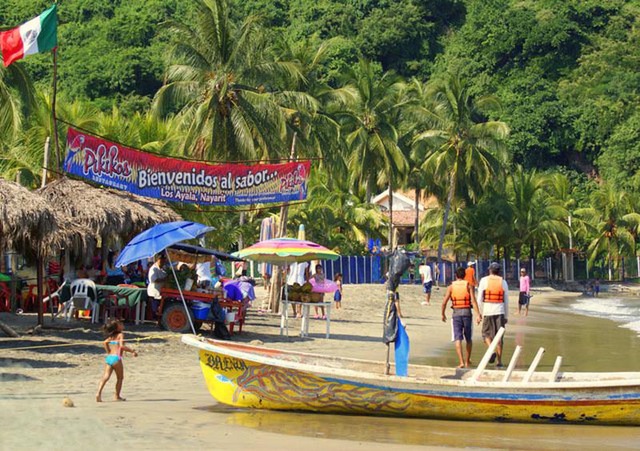 It is said that, at one time, Los Ayala was called the "Beach of the Mermaids," probably because its sheer beauty seemed a fitting home for mermaids… and indeed, it may have been! The beach is lined with tall palms that sway gently in the wind, and about a dozen casual beachfront palapa style restaurants serving up tasty local dishes, primarily based on the abundant offerings of the Roman god of the water and sea, Neptune. Be sure to try the fresh ceviche, a specialty in this area. This low-key family friendly beach and its restaurants invite and encourage folks to spend an entire day at the beach whiling away the time under the cool shade of the palapa.
Here, too, you will find friendly and polite vendors serving pineapples stuffed with fresh fruit, mangoes on a stick, blackened fish and grilled prawns on a stick. On weekends, the beach fare includes ice cream, donuts and muffins, and wheelbarrows overflowing with nuts and candy.
Playa Los Ayala is beach bliss, without the glitz or glamour!
Playa Friederas
This small, secluded beach is located just around the corner from Playa Los Ayala, and is accessed by a short inclined trail located at the south end of Los Ayala beach. The ten-minute walk along a shaded trail offers beautiful views of the crystal clear, blue-green ocean waters and the surrounding rich, green tropical foliage of Los Ayala. Armadillos, coati-mundi and parrots are occasionally spotted in this area.
Locals refer to Playa Friederas as Playa del Beso, which loosely translates to mean "Kissing Beach." This small secluded beach with calm, clear ocean waters is perfect for swimming. For the full, romantic, castaway experience visit, Playa del Beso on a weekday. It's very likely that you will enjoy the beach all to yourselves!
Published or Updated on: July 5, 2012