Photo Gallery: It's about variety at El Rollo water park in Morelos
Parque Acuático El Rollo (pronounced "ROW-yo") in Morelos Mexico combines extreme fun with relaxing. It particularly stands out for groups or couples, with many rides that can be enjoyed hand in hand. If you love sun, water, and adrenaline rushes – or if you have teenagers who do, plan a day or two at El Rollo. If you have younger children or just want to swim and sun without the extreme adventure, El Rollo is still for you. Variety is the word.
A Sample of What's Available
The park is divided into four major aquatic activity areas, each with its major attractions, plus a hotel and convention center. The aquatic areas are La Cascada (the waterfall), El Rollo, Las Olas (the waves), and Surfing. Some 40 different attractions include (in no particular order) two giant wave pools, one with a safe cushy surface for tender bare feet; many areas for tiny and young children, some on dry land, and most with water slides, water falls, and even water guns; freefall water slides; many water rides that you can enjoy in small groups, in boats, on inner tubes, etc; a large boat that dips from side to side like an extreme skateboard ramp; a log ride in the dark; water tubes with and without inner tubes; a surfable tidal wave; a huge wave river; a slow moving children's river; a jacuzzi; and beach sand for digging. All of this is surrounded by immaculate gardens, palms and shade trees. Could it get any better?
Our favorite attraction is El Revolcadero (the tumbler), located just behind the surfing wave. A huge mass of water is released down a wide chute and everyone in its path is swept off of his or her feet and deposited downstream into the "wave river." I was able to relive my water rafting days without the fear of submerged boulders and cataracts.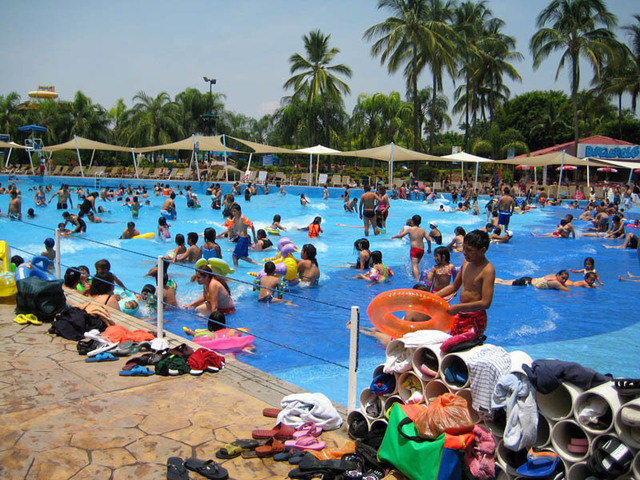 The Park for Groups
El Rollo stands out in a couple of ways. Probably the least obvious – but most important – are the many attractions that allow for pairs or small groups to enjoy them together. It's perfect for an exotic family reunion. You can enjoy the wave river by yourself or with the entire family. Three more examples are the Mamut, which allows four to six people to sit together in a giant inner tube, El Péndulo, which swings two to three people at a time, and Toborruedas, which takes two people through its twisting turns. If you'd rather not get wet, you can watch the free falling bathers at Kamikaze and Stuka from the observation bleachers, lounge on the beach chairs near the wave pool, dip your feet in a wading pool, play on the dry-land children's interactive areas, watch a concert (if there is one playing that day), or even play video games. Of course everyone will enjoy the Mexican sun, the sparkling colors, and the exotic flowers that bloom year around.
Facilities and Picnic Options
There are bathrooms and changing areas available throughout the park, though they vary in size and convenience. One of the best is just to your right as you enter the Las Olas section of the park. There are several restaurants throughout the park. Picnic tables with charcoal grills in the shade are available in the La Cascada section. Remember to pack your items in plastic, leaving all glass containers, alcoholic beverages, pets, and personal barbecues at home. If you need a picnic table on a weekend or holiday, arrive early because Mexican families take full advantage of their weekends to play and eat together.
The author visited the park on a Sunday during exam week at school, so it was a very busy day at the park. But if you like things less crowded, don't be daunted by all those people in the photographs. Just plan your visit for midweek.
Even on busy days, don't worry. When we visited, only a few attractions had lines and these moved quickly. The waiting areas are shaded by awnings. Occasionally some attractions are closed for maintenance, and the La Cascada section is sometimes closed during the week, so you might want to call the park prior to visiting to ask about the availability of specific attractions. Their phone numbers are on the web site.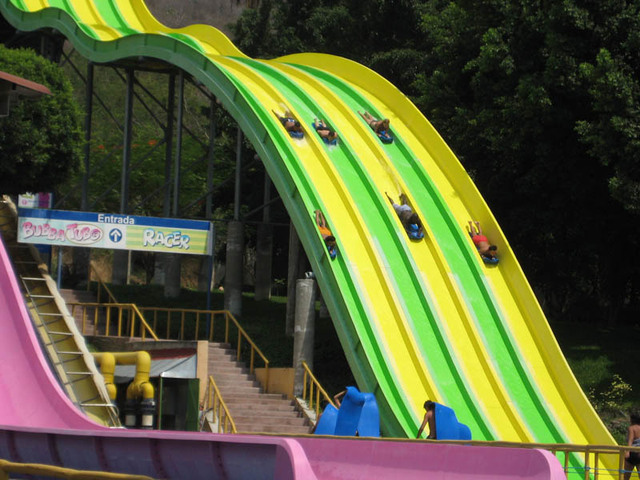 Ticket to Freedom
Visitors are issued a plastic bracelet called the pagamático (pay-matic) with a bar code. This is the key to real freedom at the park because it sets you free from your stuff! At the entrance to the park you can load up your pagamático with however much money you'd like to spend during the day on food (there is no additional cost for attractions). Once inside, you can put all of your belongings into a locker and be free to play. In a busy park, this is the key to true relaxation. Parents of teens will love this option for helping them set a budget for the day and stick to it. Unspent money will be returned to you at the end of the day.
Dress for Fun
The park is vast. Bring a comfortable pair of thongs or sandals to protect your feet from the red brick pathways. Your sandals must be left at the entrances of attractions, since shoes are prohibited. Only swimwear is allowed, so leave your modest T-shirt in your locker or you'll be leaving it at the entrances to the attractions.
That Catchy Name
In 1542, Cortés had a 40-meter-high watchtower built on the banks of the Yautepec River. The locals called this tower "el rollo," because of its cylindrical shape. The park's founder, Dr. Ignacio Rodríguez Saucedo named the park after this tower, which can be seen as you enter the park. The ancient monument is currently under the supervision of INAH (Instituto Nacional de Antropología e Historia / National Institute of Anthropology and History) as a National Historic site (Patrimonio Nacional).
The name is catchy because in Mexican Spanish, el rollo means more than "the roll," though this shape nicely conjures up an image of a rolling wave. It is often used to refer to something heavy, long, or problematic and is used in a variety of informal slang phrases. Advertisements for El Rollo play down the bothersome connotation and emphasize its uniqueness by saying: "El Rollo es otro rollo," which means "El Rollo is a whole other thing," as in "this park is special."
Getting to El Rollo
El Rollo is located near Jojutla in the "hot lands" of Morelos. It is easily accessed by car or bus from Cuernavaca or even Mexico City, Puebla, and Toluca. Taking the bus is a relaxing and cost effective way to get to the park. On weekends and holidays, direct buses leave from Cuernavaca every half hour until noon, and at 8:00 a.m. from the Taxqueña bus station in Mexico City. Package deals that include transportation, entrance fees, and even food are available at a savings. If you wish to take the bus on weekdays, you can take a regular buses to Jojutla and ask how to get from the station to the water park.
If you are driving from Cuernavaca, head south to Alpuyeca. If you take the toll road, at the first pay toll booth exit and pay 40 pesos (as of April 2008) then follow signs to Los Balnearios (the water parks). After this, follow signs to Jojulta and, once you pass through this small town, El Rollo is located near the next town, Tlaquiltenango. There is ample parking, and the music at the entrance will set the tone for a fun day after the drive in the Morelos heat.
Park Schedule and Costs
Parque Aquático El Rollo currently charges $160 pesos per adult and $80 pesos for children under 90 cm tall, declaring that this price is discounted from $200 pesos due to the recent increase in the cost of living in Mexico. Package deals that include transportation and entrance fees cost as little as $188 pesos. Regular bus fare one way to Jojutla from Cuernavaca is currently $26 pesos. Food at the park costs more than regular food prices in surrounding areas, for example, a single unaccompanied hamburger costs about $30 pesos.
Published or Updated on: October 1, 2008