Photo Gallery: Handmade Mexican Art from 3 de Mayo, Morelos
If you are planning a trip to the state of Morelos in central Mexico you'll probably want to enjoy a fun day of shopping in the small colonia of 3 de Mayo. (Yes, they spell it with a real number "Three.") Spending some of your time and money on any of the distinctive products for sale in 3 de Mayo's little locally owned shops will allow you to both support the local economy as well as find some unique treasures to enjoy in your home or garden. In fact, you may even want to bring your next holiday gift list with you when you come. 3 de Mayo is just 30 minutes from downtown Cuernavaca and makes an easy and rewarding day trip.
The shops in 3 de Mayo are all located on about four interconnecting streets, each with it's street-front wall wide open so that there is no window shopping – just welcomed customers. As a shopper, you can wander the streets, slipping easily in and out of the shops that catch your eye. The first things you will probably notice are all of the ceramics, which was the original specialty in 3 de Mayo.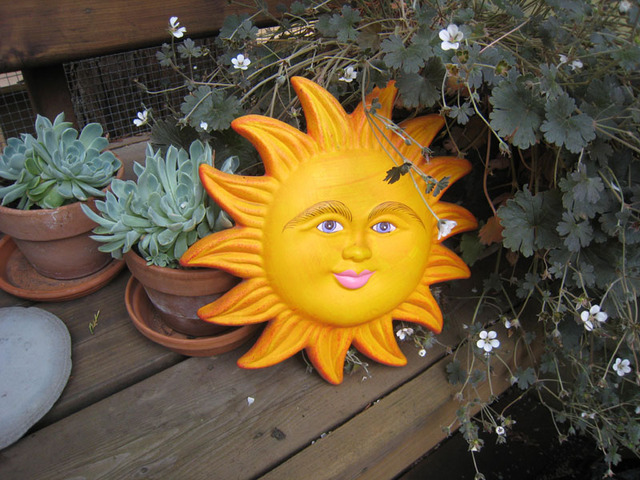 Have you ever seen those giant Mexican ceramic suns displayed on the outside of houses? 3 de Mayo is a good place to find one – but you'll have to plan how to get it home (See below)! There are all sorts of finished ceramics, including Talavera-like pottery. Or if you're the artsy-type, consider getting a piece of unfinished pottery that you can paint yourself. The paints, glazes and other supplies are also available. Some other art genres available in 3 de Mayo include punched tin, pewter, blown glass, wooden toys, and cut metal wall hangings – all of high quality that would make worthy gifts. If you want to display a lovely piece of Mexico in your home – such as yard ornaments, kitchen ware, or gorgeous mirrors – 3 de Mayo is the place to visit.
Not a Tourist Trap
If by now you are imagining one of those tourist traps that grow like warts next to cruise ship ports, you'll be glad to know that while 3 de Mayo is a tourist destination, it is mostly frequented by Mexican tourists and Cuernavacans. You get the real feel of Mexico while you are there, though enough foreigners visit that proprietors can assist international clients with skill. There are plenty of restaurants and small stores so you can buy bottled water and re-nourish yourself after searching for thrilling finds. If you walk toward the westernmost streets in the shopping area you can see some lovely views across the Cuernavaca Valley. There is even a tourist information office (open Thursdays through Mondays from 10:00 a.m. to 5:00 p.m.)
To shop at 3 de Mayo it would be best if you knew some basic Spanish for shoppers.
How 3 de Mayo Put Itself on the Map
According to the Spanish version of Wikipedia, 3 de Mayo was utilized for farming and was called Cerro Pelón [Bald Mountain] or Texcal de Tlanexpa until 1961, when it was founded as a neighborhood or colonia by the people of the ejido [communally owned land]. In 1972, the streets were named and three thousand square meters were marked off as the site for the church. A white cross was placed on the site reserved for the church and the town was named in honor the Day of the Holy Cross, which is celebrated on May third [3 de Mayo].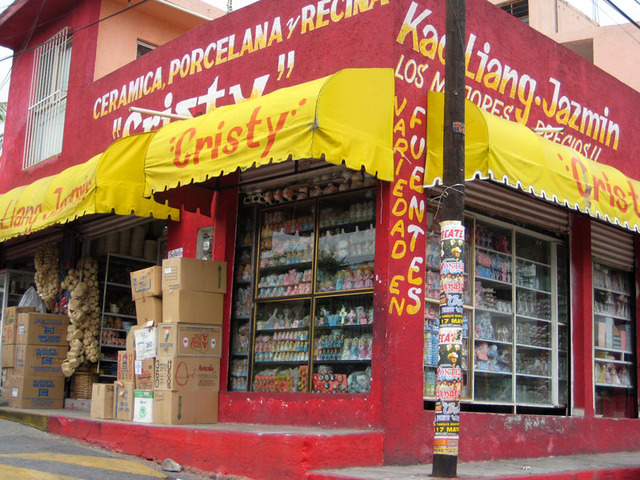 It was in 1966 that the first ceramics store, Vista Hermosa, was founded by Eloy Hernández. After him, four more people opened stores and the handmade art destination of the neighborhood was formed. Construction on the church site began twenty years later, in 1986 with funds donated by community members. Additional financial help was received from Adveniat, Germany in 1993.
Naturally, the day of the Holy Cross [el día de la Santa Cruz], there are special activities. People carry crosses decorated with flowers and paper to be blessed by the priest. The celebration includes a Chinelo dance, special masses, and a fair that includes the typical mechanical rides, table soccer, special sweet bread, wheel of fortune, traditional dances, bull riding, typical fruit-based candies, fried bananas, live music, sales to benefit the church, raffles and more.
Spanish for Shoppers
Would you get that
down for me
(to see it)?
¿Lo puede bajar por favor?
(Low pooay-thay ba-har
poor fa-vore)
How much does
this cost?
¿Cuánto cuesta?
(Kooan-toe Koo-ay-sta)
Do you have any
more of these?
¿Tiene más como éste?
(Tee-en-eh mas
komo este)
Can you wrap this
up for me?
¿Me lo puedes envolver?
(May low pooay-thays
en-vole-bayr)
Where was this made?
¿En dónde
lo/los hacen?
(Ehn doe-nde lo/los ah-sen)
Shipping Large Pieces Home Can be Tricky
Large pieces of handmade Mexican art really make a statement in your home. They aren't little souvenir afterthoughts that clutter up your house and say, "Yeah, I went on vacation in Mexico." They are home decoration keystones and, whatever they say about you, they do so boldly, colorfully. However it can be a bit dicey getting larger items home in one piece. You have three options: mailing items to yourself or carrying them in your luggage. And very occasionally, shop proprietors can package and ship your item for you.
International courier costs are quite high, though may be worth it for something really wonderful. Be sure to allow the better part of a day to adequately package and take your items to a courier. There are many offices for FedEx, DHL, and Estafeta (a Mexican courier company that connects with FedEx somewhere before delivery in the U.S.) in the Cuernavaca area. These companies are professional and well organized, and will be able to assist you in filling out your NAFTA-required paperwork. They may have bubble wrap and other protective packaging to sell to you. If they don't, ask the employee for a recommendation on a nearby place to purchase such things. You can wrap your items yourself, but don't close the box up until the courier company attendant tells you to.
Beware of inadequately packaged purchases. We have had some items break in transit after well-meaning, but ill-prepared store attendants wrapped items in the meager supplies they had lying around the store. A jagged glue-line across a fine handmade platter tends to muffle the bold, home décor statement it might have otherwise made.
Please don't expect stores to have the necessary packaging and shipping experience to get your items ready for the long trip home. Packing supplies are expensive or hard to come by, and are not included in the cost of the items sold. To be helpful, store attendants might use a small amount of newspaper or dusty, half-spent bubble wrap to try to protect your purchase. From their perspective, they are doing us a favor and going the extra mile to help us out. But be careful – cultural differences can cause hurt feelings. Tourists from up north can be shocked at the seemingly slipshod way shop people may wrap things. Since we tend to show the surprise on our faces, or even tell the other person that we don't like how they are doing it, we can really hurt their feelings. Please, just graciously accept the items as wrapped and fix the packaging on your own later, if need be!
While limiting size, bringing your handmade art back with you in your checked baggage is the easiest option. A friend brings two nesting suitcases when she travels. She limits her personal items to the smaller bag and nests them. On the way down, she has one bag, on the way up, two. Remember to measure the available inside volume of your suitcase before you head out to 3 de Mayo – or bring it with you. Wouldn't you look like the fanatical shopper, rolling your suitcase around behind you?
How to Get to 3 de Mayo
Bus number 14 goes to 3 de Mayo from downtown Cuernavaca every few minutes and you can catch it behind the Palacio de Cortez. As the buses approach, scan the words on the large cards hung in the window for "3 de Mayo" and get on that bus. Taking the bus is a safe and easy way to experience the areas around Cuernavaca the way many residents do. Taxis are faster and make it easier to carry purchases. Fares downtown Cuernavaca are approximately 50 to 80 pesos as long as you don't forget to agree on a price prior to getting into the taxi.
If you want to drive, it's not a long trip to 3 de Mayo, but may require some previous Mexican driving experience. There are signs that will point you in the right direction, but somehow it is still easy to get lost. One way is to take Avenida Alta Palmira south out of Cuernavaca, taking a left at a tight turn (no, there is no sign) onto Prolongacion Palmira and following that road until you reach the front gates of the former Tech de Monterrey campus. Follow the main road, keeping the Tech to your right. Note that the main road isn't the widest road at that intersection; this is normal in Cuernavaca and is just another example of why drivers experienced in Mexico are likely to have better success at actually getting to 3 de Mayo. It's only about another half mile and you arrive at the edge of the grid pattern streets that comprise the neighborhood.
You can also take the Autopista towards Acapulco, take the "Burgos" exit, following the curve of the exit ramp around to your left, coming up the hill a bit and taking the second left onto Paseo de Burgos, which will swing around in a long, wide curve. Once you've done 180 degrees, look for a sign to 3 de Mayo indicating where to turn left onto a small unnamed road, then a right (it's the only right if you are on the correct road), then a second left. This will bring you to the edge of 3 de Mayo, but you won't see any shops at first. Just peer down the streets until you see one and head toward it. If you get lost, use the tried and true Mexican navigation technique of asking people along the way.
Published or Updated on: September 1, 2008