Anyone out there on the information highway heard of an American photographer named North? Worked in Mexico, made dozens of daguerreotypes of the cities, churches and countryside circa mid-1800s? Gina Rodriguez would like to know.
The young photography historian, resident research expert of the INAH (National Institute of Anthropology and History) Fototeca – the national photographic archives located in Pachuca, Hidalgo – spends her time pouring over the origins of some of the more anonymous glass plates, negatives and photographs from the earliest beginnings of photography in the last century, right up to the 1970s.
Numbers? More than 1,300,000 original images pertaining to every aspect and countenance of Mexican history and life. With Ms. Rodriguez hard on the case, the mysterious Mr. North's identity – his and others – may one day be known. What's more, the Fototeca – 21 years old this year – has now undertaken the gargantuan task of digitizing its images onto the archive's computer system.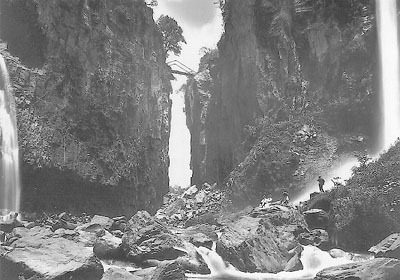 Examples of that work include the extensive collections of such greats from the annals of Mexican photography as Abel Briquet, Lorenzo Becerril, William Henry Jackson, Guillermo Kahlo, Charles B. Waite, Hugo Brehme, Teoberto Maler, Tina Modotti, Semo, Nacho Lopez, and the Casasola brothers – the latters' collection upon which the Fototeca was ostensibly founded. Images by 36 contemporary Mexican photographers – Graciela Iturbide, Pablo Ortiz Monasterio and Manuel Alvarez Bravo among them – are also housed in the Fototeca's fascinating photography museum.
Here, well-mounted displays and installations explain the development of photography in Mexico by showing examples of obsolete processes such as the camera obscura, daguerreotypes, ambro and ferrotypes – largely forgotten procedures wherein images were made on varying surfaces such as silver or glass plate, sensitized with iodine and developed by exposure to mercury vapor.
All the photographs depicting Mexican life, architecture and landscape in the 19th century were created by such cumbersome technical methods in very challenging environments. The museum's numerous visitors can only imagine the hardships experienced by the photographers who nonetheless managed to often portray crystal-clear images of serenity and order.
"We receive around 2,000 students a months," Rodriguez said. "So we explain the origins of photography to them through demonstration models and displays."
There is also a reconstruction of an old dark room generally used by such rough-and-ready pioneers of the photographic art.
"It was very dangerous working with the various unstable chemicals in the early days," Rodriguez said. "There were cases of photographers accidentally burning down their studios – with themselves in them."
Notable are a dozen examples of the curious "stereocards" of the stereoscope. The stereoscope was an optical instrument through which two pictures of the same object, taken from slightly different points of view, could be viewed, one by each eye, producing the effect of a single picture of the object with the appearance of depth or relief.
Stereoscopes on display here contain stereocards recreating scenes from Mexican industry and social life that become uncannily alive in their three-D aspect. There's also a book, The Stereoscope: Its History, Theory and Construction by Sir David Brewster (1856) that further expounds on the subject.
"They were a rudimentary form of visual entertainment before movies came along," Rodriguez said. "There were even pornographic stereocards, but we don't have any."
The Fototeca came into existence as a result of the INAH's obtaining the Casasola Archive. The Casasola brothers – Agustin Victor and Miguel – began Mexico's first photo agency during Revolution-era Mexico (around 1912). Agustin Victor is considered the photographer of the Mexican Revolution.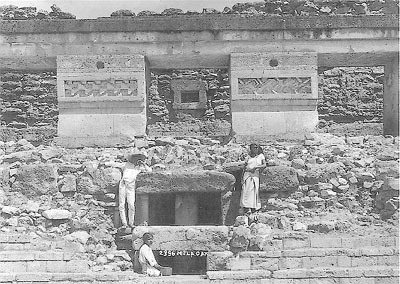 Interestingly, in his essay "A Fresh Look At The Casasola Archive" (published in the Autumn 1996 edition of History of Photography), Ignacio Gutierrez Ruvalcaba – who has been cataloging this particular archive for the Fototeca for the last three years, wrote: "(The Casasola archive, that) is composed of around 600,000 negatives and was built up over a period of 70 years (1900-70), is made up of the work of at least 483 photographers. I have determined that Agustin Victor Casasola erased photographers' names from the emulsion of many thousands of negatives, the majority of which appear to have been those of his brother, Miguel."
It is these many intrigues and controversies that keep the cataloging work at the Fototeca so exciting, as if the researchers were engaged in one long detective case (which, to some degree, is precisely what it is). But no-one denies that Agustin Victor was hugely influential in opening up photo-journalism in this country – he covered political events, social conditions, and police activities for such newspapers as El Universal, Excelsior and El Democrata – right up until his death in 1937. While brother Miguel – who had given up photography during the Revolution to become a revolutionary himself – returned to the Casasola agency and produced many remarkable images until he died in 1951.
The Fototeca is housed at Pachuca's Ex-Convento San Francisco, which was begun in 1976 when the INAH was given the Casasola Archive. The ex-convent was transformed into a center for photographic preservation. Twenty-two more collections have been added to the Fototeca since that time, much of it coming from the INAH's own archives specializing in archeology, anthropology and history; others from the private donations of Mexican photographers and collectors.
A number of specialists work in the Fototeca's climate and humidity-controlled environment cleaning and restoring old negatives. Among them is a fungus treatment expert, Juan Carlos Valdez Marin, who has published two books on the subject: Manual de Conservación Fotográfica, and Determinación y Control de Fungosis en Material Fotográfico.
"We've developed relatively innovative cleaning processes here that can restore an image to its originally quality," said Valdez, working in a laboratory surrounded by numerous cleaning agents and examples of his most recent successes.
The latest step has been to digitalize the archival collection, and while a lot of work has been done, there's obviously plenty more to go. Rodriguez said that 6,000 images have been entered into the system, although only 500 of them digitalized for immediate access and – should one wish – laser reproduction.
"We've had troubles with electronic storage," Rodriguez said. "Last year we bought extra hardware because we have to keep boosting the system's storage to contain all the material."
Naturally this ambitious, high-tech inventory project essentially relies upon on-going government funding, and on-going government funding can never be guaranteed. Yet its long-term value to future generations of the nation should not be underestimated. Nothing less than Mexico's cultural patrimony is at stake.
The INAH Fototeca is located on Calle Casasola, Exconvento de San Francisco, Centro, Pachuca, Hidalgo. The Fototeca museum is open daily to the public. Those persons wishing, however, to review archival material by computer may do so only by appointment. Tel: (771) 436-53. One may also purchase prints by their favorite photographer; for around 200 pesos, a large format image of your choice will be scanned from a vintage negative – it works out a lot cheaper than purchasing a vintage photograph!
Published or Updated on: February 1, 1998