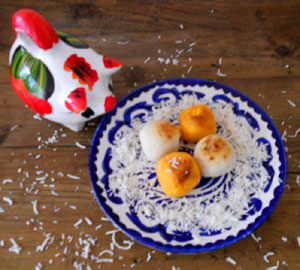 In addition to the west coast of Mexico, Peru and Colombia also claim these sweets as their own, an indication that perhaps they followed the Pacific route of the ceviche. In any case, the coconut sweets known as cocadas are Colima's signature candy.
Ingredients
1 large coconut, drained, peeled and grated
1 cup water or more as needed
1 pound sugar
3 beaten egg yolks
1 tablespoon butter
ground cinnamon to taste
Measure the liquid drained from the coconut, and add enough water to make three cups liquid. Place the liquid and the sugar in a saucepan and cook until the mixture thickens. Remove from heat, stir in beaten egg yolks and the grated coconut meat.
Return to heat and cook, stirring constantly, until the bottom of the pan is visible. Remove from heat and stir in the butter. Spread the cocada in a baking tray, sprinkle with cinnamon and allow it to cool completely before cutting into squares.
Link to source articles
Published or Updated on: January 1, 2004