Photo gallery: An artistic evolution: Three modern Mexican muralists
Art is a necessity and as such, it is important not just in our personal lives, but is also the reflection of a society's reality.
If you are ever wandering around the streets of Guadalajara, Mexico, you may just stumble upon a larger than life young woman smiling down at you, her naked body partially submerged in a pool of rippling water. The shimmering liquid trickles through her outstretched hand, which seems to be beckoning you to enter into her world.
And if you let your imagination soar, you can step into her universe, which was conceived with paint and creativity by three talented young men – Hugo Merino, Ramón Penilla and Cesar Gapa – who comprise the local art group D.A.T.A.
"More than an inspiration, what drives us to create is the intent to define new languages more in line with the current reality of art," say the members of D.A.T.A., whose name is an acronym that stands for Diseño, Arte y Tecnología Aplicada (Design, Art and Applied Technology). Apart from murals, the artists have explored a multitude of different media, as Merino explains.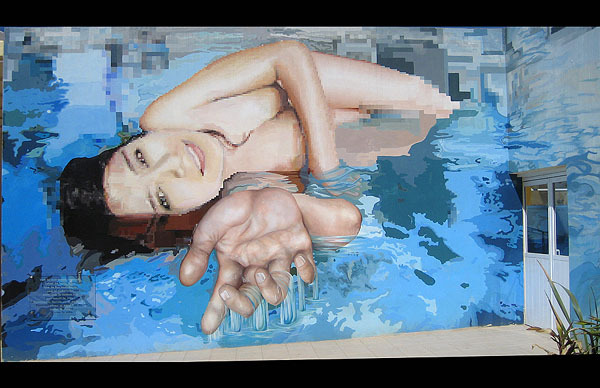 "Something that the three of us share is that we are self-taught and all experiment on a continual basis in different areas," Merino says. As he notes, painter Ramón Penilla has also worked in music and multimedia, while Cesar Gapa has explored the field of virtual art. And as for Merino himself, he has created with multimedia, photography and both traditional and digital animation.
"As you can see, even though the three of us have visual arts degrees, we have not limited ourselves to just one field," Merino says. "In fact, the three of us have participated in theoretical investigations about art. And the study of different disciplines is what has enriched our work and made it possible for us to carry out what we are currently doing."
This interest in different disciplines is apparent in all of the trio's creative endeavors, as their work is characterized by the mix of techniques that the artists use. Their current projects, which will be exhibited in December, include a multimedia presentation that will involve projections in different public spaces throughout the city and an exposition of large format paintings. Even in their murals and easel paintings, the artists integrate a variety of techniques.
"Our work is in constant evolution and it is enriched by various artistic disciplines," say D.A.T.A.'s members.
In addition to this amalgamation of different artistic techniques, the work produced by D.A.T.A. also involves the fusion of ideas generated by the three members. Their pieces surge forth from a truly collaborative effort that involves quite a bit of time, energy and compromise.
"The process is complicated at times," the artists explain. "Sometimes, each one of us has different preoccupations. But in the end, we always succeed in integrating the ideas of all three."
At times, they are all on the same wave length and their proposals quickly merge together, while in other instances, they spend quite a bit of time planning their next project. The process is different every time, but the outcome is always the same – a better piece overall.
"The combination of the proposals of all three makes for a more satisfactory work in the end," say the artists, who believe that the exchange of opinions and ideas always makes for a stronger piece.
Just as varied as the ideas and techniques that go into the creation of their artwork are the themes themselves. If a piece is commissioned, then the artists work with the client to tailor the theme to exactly what that person wants. But when they are creating their own projects, the artists draw from a deep well of inspiration.
"Everything can be part of the inspiration," they say. "We always take into account the spaces in which we are going to work, as well as the atmosphere, perceptions about the subject and the place, and the best manner in which to depict what we want."
As the trio explains, inspiration goes hand in hand with the act of creation itself. "The more you work, the more fluidly the inspiration flows," say the artists, who incorporate a range of themes into their pieces.
"We touch on current subjects that worry us, from technological points to social or personal ones," they note.
In this way, D.A.T.A. uses art as a vehicle to share with others their perspectives on the world around them. It has long been a significant form of expression for them, as all three of them have been passionate about art since they were children.
"That questioning and love of art has always been present," the trio says.
For these three young men, art is not just an integral part of their lives, but a vital force in society as a whole.
"Art is a necessity and as such, it is important not just in our personal lives, but is also the reflection of a society's reality," the group explains. "So the role that it should have in the world in general should be that one (in particular) and we try to be consistent in our work in regard to that reality that we have been given to live."
For the members of D.A.T.A., their reality is art itself, as their connection to it has grown with each passing year, to the point where it is now at the center of their lives.
"Perhaps the most curious thing for us has been the transformation regarding the perception that we have about art," the men say. "It changed from being an interest to being a lifestyle in which we are completely immersed today."
The path has not always been an easy one for the artists, who have been painting on a professional level for the past five years.
"(Art) has given us quite a lot of satisfaction, even though not in quite the same way as we would like," the trio says.
"It is a bit difficult to find adequate support and that is vital at times," they explain. "Much of the work that we have done has been created with our own resources, which has somewhat limited the progress of our projects."
Despite the obstacles, however, the men have left their distinct mark on the city of Guadalajara. Last December, for example, a mural that they created as part of the creative project "Decorando Guadalajara" was unveiled in the city's Agua Azul park. Much like their mural of the beguiling young woman submerged in water, D.A.T.A's Agua Azul work draws you in with its depiction of a mysterious nude couple reclining against blocks of color in shades of blue, black and white. With vague smiles dancing on their lips and eyes that seem to be gazing into the beyond, these painted figures appear to be lost in a dream world.
Such is the beauty of D.A.T.A.'s work, urging you to push the boundaries of your imagination and view the world from new perspectives.
"Our pieces have been influenced by many artists, but we try to interpret them from our own vision," the trio says. "That is the only way to make art that is truly honest."
Published or Updated on: October 1, 2007