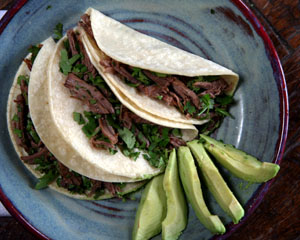 Beef brisket reminds me of family gatherings back home. We had a big family gathering with all the cousins, aunts, uncles, grandparents, and anyone else we considered family. As soon as everyone arrived the pans of shredded brisket or as we called it, carne deshebrada, came out of nowhere. After that came the huge bowls of potato salad, frijoles de la olla, rajas, tostadas, and of course the twenty million types of salsa and chiles.
Brisket showed up at other types of parties like quinceñeras, baptisms, bridal and baby showers. It was the dish we could always count on. Brisket was usually the meat of choice. Why, you ask? Because it could be made in the oven or a slow cooker ahead of time and it would feed the masses.
I loved it when we had leftover brisket because I knew my mom would make one of several dishes a few days later. The type of dish was determined by whatever we had in the fridge at the time. If we had corn tortillas we'd have tacos or if she rolled them up and fried them we had flautas. If there was brisket and beans left, we had burritos.
As a working mother, I love preparing dishes that keep on giving for a couple more meals. Every Tuesday is Taco Tuesday in my home and as a working of two very picky eaters, brisket tacos is one of our favorites. I love it because my slow cooker does all the work for me. I just come home from work and we have delicious tender meat for a slew of meals over the next couple of days. Fresh out of the slow cooker we have tacos, the next day we have tortas or sandwiches, and finally flautas.
Here is our favorite recipe for beef brisket tacos. My kids love tacos with a variety of toppings especially crema Mexicana. I prefer my tacos topped with homemade salsa. Add a side dish and you have a meal your mother would be proud of.
For a lighter version of this dish be sure to serve on warm corn tortillas and eliminate naughty cheese and creams, and instead top with a tasty homemade salsa and avocado slices.
Ingredients
2-4 pounds beef brisket, fat trimmed
2 ounces/pound of liquid smoke (recommend Claude's Brisket Marinade Sauce)
2 bay leaves
1 (12-ounce) beer
Corn tortillas
Salt to taste
Pepper to taste
Topping Options
Grated cheese
Crema Mexicana
Cilantro
Onions
Avocado slices
Salsa

Place all the ingredients into the slow cooker and marinate overnight.
Cook on low for 8 to 10 hours.
Remove the brisket and shred the meat.
Warm corn tortillas, add shredded brisket, and garnish with your favorite toppings.
Link to source article
A Mexican menu for Cinco de Mayo
Published or Updated on: May 4, 2011