Photo Gallery: Puerto Morelos, A Yucatan paradise
Located just 20 minutes south of Cancun on the Riviera Maya, Puerto Morelos is a haven of peace and solitude. It is possibly the last vestige of an authentic, small fishing village on the entire Caribbean coastline of Mexico. People come here to avoid the high prices of Cancun and Playa del Carmen. My wife, Teresa, and I came here a year ago to make it our home.
In contrast to all the expansion that is taking place along the coastline, Puerto Morelos will retain its small village atmosphere, due to several factors. The government has declared the reef area and the mangroves, which exist behind the town, ecological preserves. Also, unlike Playa del Carmen (which has sustained major growth over the past 10 years), the lot sizes in Puerto Morelos are small with strict building codes enforced. It is the intent of the locals to keep development to a minimum.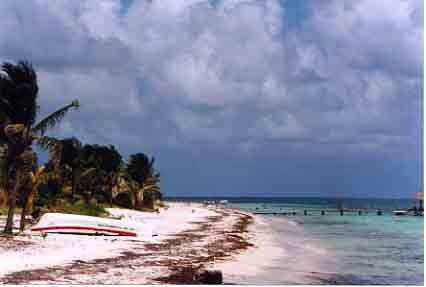 So, if you're looking for a sleepy fishing village that is not touristy, this is the place. The road into town leads directly to the zocolo, a gathering place at day's end. Children's games, gossip and music are daily events in this tree-shaded town park, and impromptu guitar music frequently fills the air. Brightly painted cement benches and lovers' chairs that face one another are spread throughout the square. Several intimate restaurants, markets, a pharmacy and gift shops surround the zocolo. The restaurants serve some of the finest seafood on the Caribbean. Dining at the Pelicanos offers both indoor and outdoor seating. With its open-air atmosphere and close proximity to the beach, you won't want to miss it. Fresh snapper, grouper, and barracuda are among the fish caught daily. Squid, octopus and conch are also available.
If you'd rather cook your own seafood dinner, local fishermen sell their daily catch from their own market just across from the taxi stand conveniently located on the corner of the zocolo as you come into town. Taxi fares from one end of town to the other range between 10-15 pesos. Remember, this is a small fishing village. Everything is only a short walk away.
The people here are very warm, friendly and outgoing. They are proud of their Mayan heritage and are eager to share it with you. We have attended several birthday parties and are always amazed at the joyous celebration the family puts on for the honored individual. We often drive the road to Coba just to stop and visit our Mayan friend, Ilda. I once remarked at how beautiful her banana tree was. She promptly went about digging up one of the suckers growing at the base of the tree and gave it to me. She wouldn't even allow me to do the digging! And so it looks like we'll have bananas later this year.
One of the most fascinating operations in Puerto Morelos is the tortilla factory. Still the staple of the Mexican diet, tortillas are made fresh daily. Edelberto, the baker, will hand you tortillas hot off the fire, along with a smile. Another local favorite is Niko's BBQ chicken. A friendly outgoing Mayan, Niko will take your order in the morning, barbeque it slowly over charcoal while he bastes it with his special "secret Mayan sauce" and have it ready for you at the time you choose. Absolutely mouthwatering, it is something you must treat yourself to. One large chicken is 45 pesos and worth every centavo!
Strolling on the uncrowded beaches of white sand, you'll notice pelicans gliding gracefully in formation over the surf. It is possible to walk for miles and only encounter a few others going about their way. This is also a great area for swimming since the reef shelters the shore from large waves. To the south of town is "Magic Beach," where a break in the reef allows the waves to come directly upon the shore bringing with them many varieties of seashells and driftwood.
WHAT TO DO
There are several fiestas that take place throughout the year. The most celebrated of these is the annual Puerto Morelos Sport Fishing Tournament during the last weekend in May. Now in its 11th year, it is the granddaddy of Caribbean sport fishing competition. Blue Marlin, Sailfish, Amberjack and Dorado are among some of the prize-winning catches. Visitors are encouraged to join in.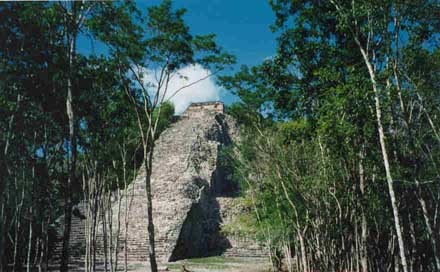 If snorkeling or diving is what you're looking for, you've come to the right place. You can take a two-hour snorkeling tour of the Palancar reef for around $20 USD. Several snorkel/dive shops are located around the zocolo or you can go on your own. The reef lies about 200 yards offshore making it an easy swim. The underwater gardens abound with magnificent colors of fish and coral. A must see. If deep-sea fishing is your fancy, boat charters are available. Cost is around $180 USD for a four-hour trip.
The jungles of the Yucatan are teeming with beauty and wildlife. For $35 USD you can take Goyo Morgan's 4-hour jungle tour that is both educational and entertaining. You'll visit a true Mayan village, learn a bit of history and find out which jungle plants have medicinal powers. The tour ends with a wonderful buffet of both Mayan and Mexican cooking. Highly recommended! The area is also a wintering habitat for a multitude of migratory birds, so bring your binoculars.
ACCOMMODATIONS
There are no grand "all inclusive" hotels or extravagant resorts in Puerto Morelos. This is a place for people seeking relaxation and quiet. For good economical lodging, you can stay at the Posada Amor. Casa Caribe affords modern, comfortable rooms with nice ocean views. Of course, you're always welcome to stay at Cabanas Puerto Morelos, this writer's home.
SURROUNDING AREA
A visitor can use Puerto Morelos as a base from which to explore other significant sights in the area. The nature theme parks of Xcaret, Xel-Ha and Tres Rios are but a short 40-minute drive south. Activities include spectacular reef, cave and lagoon snorkeling, diving, dolphin shows, jungle hikes and horseback riding. The natural underground cave formations at Aktun-Chen, 2 km east of Akumal, make for a fascinating tour. Here you can gain a better understanding of the limestone terrain upon which the Yucatan Peninsula exists. The erosion that has taken place over millions of years has given way to hundreds of cenotes; natural sinkholes in the limestone crust which reveal the subterranean waters that flow beneath the region.
A definite must see while you are in the area are the Mayan ruins of Tulum, Coba and Chichen Itza. Each makes for a great day trip. Tulum is a sight to behold, resting on limestone bluffs just above the Caribbean. Part of a group of coastal lookouts and forts Tulum was used more for ceremonial purposes than habitation. Tulum is one hour south of Puerto Morelos on highway 307. Approximately one-half km south of the entrance to Tulum is a paved road to the west that is straight as far as you can see. This is the road to Coba. It takes approx. one hour to traverse this ribbon of asphalt but boring it is not. Along the way there are several small Mayan settlements. If you're looking for a hammock these people are masters and they will give you a great price. Coba was once home to some 60,000 inhabitants. The ruins are spread over 50 sq. km. The tallest pyramid of Mayan construction on the Yucatan Peninsula is here. The oldest of Mayan ruins, Coba dates back to 600 AD.
Chichen Itza is a large site that has undergone major restoration. It is a favorite for those interested in Mayan history. The area is comprised of ruins of two ancient cultures, the Mayans and the Toltecs. From Cancun take hwy 180 west towards Valladolid. The trip takes roughly 3 hours, covering 213 km. Tours to any of the outlying attractions can be arranged through Marrand Travel of Puerto Morelos located on the zocolo.
GETTING HERE:
Cancun, the gateway to the Riviera Maya, has a modern international airport and car rentals or taxis are available. For the more adventurous, buses are an economical mode of transport. They depart regularly from the airport terminal. If you rent a car, head south on highway 307. You'll have no trouble finding your way, as road signs are plentiful. At km marker 323 there's an intersection with traffic signals. Make a left turn here and follow the paved road for 2 km into Puerto Morelos.
Published or Updated on: November 1, 1999