For a city named Peace, it has a rather grim history. A Spanish expedition sailed into the bay in 1533; the leader and several of his soldiers were killed by the indigenous residents soon after, by some accounts because they raped the native women. Hernan Cortes arrived two years later looking for pearls (he found some and sent them back to Spain) but didn't stay long, defeated by the problems of supplying a remote colony.
As you enter the city by its southern gateway you see a huge statue, which looks at first like a whale's tail; up close you realize it's two doves, facing in opposite directions. The inscription on the Dove of Peace Monument reads: "And if you want peace, I offer it to you in the sunny peace of my bay," is the inscription on the Dove of Peace monument.
It was during the Mexican revolution of 1910-17 that La Paz finally lived up to its name when it became a haven for Mexicans fleeing the turmoil of the mainland.
Before that, its history was chaotic. Numerous groups of colonists seeking to make their fortune from the pearls of the rich oyster beds in the gulf came and went during the 17th century. The oysters were wiped out by disease in the 1950s and have never been revived, although their fame lives on in Georges Bizet's 1863 opera'The Pearl Fishers'.
The Jesuits did somewhat better at harvesting souls. They arrived in 1720 and lasted until 1749 despite several Indian uprisings. The Indian population had been virtually wiped out by disease when they abandoned their mission. The modern cathedral, Nuestra Senora de La Paz, stands on the mission site.
The village became the territorial capital of Baja California Sur in 1829, after a hurricane destroyed Loreto, about halfway up the peninsula. Its streets were battlegrounds during the U.S.-Mexican War, but army leaders advised the government in Washington that the territory wasn't worth fighting for.
There is something pleasantly disorienting about this desert city nestled in the sheltering southern tip of Bahia de la Paz on the Sea of Cortez.
For one thing, a visitor approaching by car from the north enters at the city's southwest corner. Our first sunset, viewed from the comely malecon, seemed to be in the south. The city's water view is punctuated by palm trees and is northwesterly, to the narrow span of desert which separates the Sea of Cortez from the Pacific. For another, the cobbled streets off the malecon are full of Asian shops and merchandise. A stroller expects at any moment to come upon an Oriental garden, or at least a pagoda. Finally, many establishments quote prices in U.S. dollars, and English is commonly spoken. Not always fluently, but enthusiastically and fearlessly. Libreria Contempo on Agustin Arreolo a couple of doors from Paseo Alvaro Obregon (the malecon) carries several English-language magazines, The News from Mexico City and the Baja Sun, which focuses its editorial coverage on the north but does have advertising sections for La Paz and Los Cabos, the trendier and busier gringo-oriented resort on the Pacific.
This historic outpost 922 miles (by Highway 1) from the U.S. border at Tijuana has the ambience of a border town that's cleaned up its act and melded the best of the two cultures instead of the usual frontier combination of the worst of both.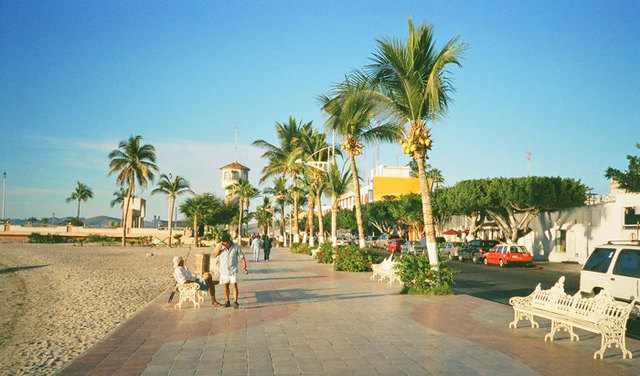 The malecón and the blocks immediately off it house shops filled with better-than-average selections of arts and crafts from throughout the republic, jewelry and souvenir t-shirts. In the import shops that line Calle 16 de Septiembre there are good buys on imported merchandise; La Paz is a duty-free port, so if you're traveling on out of Mexico this is a good place to do some heavy-duty shopping for electronics and the like.
Modern La Paz is a gracious combination of industry with village tranquility and leisure. Many shops still close for siesta, and during open hours the clerks take time to explain their wares, inquire about your origins and welfare, invite you home to meet the family and beg you to let them know in advance about your next visit, so they can meet you on arrival.
That would be by plane from the U.S. or mainland Mexico, by ferry from Mazatlan, by car, or by a combination of plane from Los Angeles, Calif., to Loreto, and then rental car. Coming from Nayarit, as I did, the trip involved countless phone calls to the Sematur ferry office in Mazatlan, which never answered, and to my travel agent in Tepic, followed by resignation, a five-hour bus trip to Mazatlan and an Aero California flight to La Paz the next noon.
If you long to take the ferry (now a day trip, not overnight) there are reportedly travel agents who can arrange it (I never found one, but Mexico '96, published by Berkeley Guides, recommends Turismo Coral, Cinco de Mayor 1705 in Mazatlan, phone 69 81 32 90, and Agencia de Viajes Yurimar, Cinco de Mayo near Dominguez, in La Paz, phone 112 2 86 00. The alternative is to get yourself to Mazatlan or Topolobampo, hang out at the Sematur office until you find it open and make your reservation in person. Getting there is definitely not half the fun in this case, but well worth it.
The pretty crescent-shaped city has a few moderately-priced hotels, about $30 U.S. for two. The Posada Englebert, Hotel Mediterrane and Casa La Paceña Guest House, in that range, all looked pleasant. Hotel Los Arcos on the malecon and its nearby Cabanas de los Arcos, at $66 for two, are very popular. We wound up at the very pleasant, very posh, La Costa Beach Resort on a beach to the north, $85 for the cheapest room, during the extremely busy week after New Year's.
Our hotel had excellent moderately priced meals in the very attractive dining room, with welcome crisp salads, outdoor service under umbrellas near the pool, and a friendly outdoor bar. It also had an American concierge in the lobby, whose assignment appeared to be to sell the neighboring time-share condos, but who spent much of her time helping guests find fishing guides or soothing those frightened by the dread gecko. In three days, no one approached us with a condo pitch, although I did eavesdrop on one breakfast conversation between a salesman and his willing victims … excuse me, clients.
In January, the waterfront Kiwi restaurant (fairly standard seafood and Mexican menu) was popular. Others to check out are La Terrazza, on the malecon, a good people-watching spot with typically paceño friendly service; La Pazta, on Allende at the malecon, for Italian and Swiss dishes, and Nuevo Pekin on Paseo Obregon or Jardin Yee on Highway One for Chinese. El Quinto Sol, Belisario Dominguez 12 at Independencia, is a health food store and vegetarian restaurant.
The Museo de Antropologia e Historia de Baja California Sur has a book store and good exhibits on the peninsula's geology, geography, plants and animals, dioramas of Indian life and Mexican cave paintings. It's at Ignacio Altamirano and Cinco de Mayo, open 8 a.m. to 6 p.m. Tuesday through Friday and 9 a.m. to 2 p.m. Saturday. Find more history and art at the Biblioteca de Historia de las Californias, on the north side of Plaza Constitution, in the old government center. Open Monday through Friday, 8 a.m. to 8 p.m. Teatro de la Ciudad, Miguel Legaspy and Heroes de Independencia, has an art gallery and a variety of folkloric dance, music and theater performances.
The best beaches are a $10 cab ride out of town, past the ferry terminal at Pichilingue. If you don't cross with your car on the ferry, consider a rental car for the freedom of mobility.
There's superb scuba diving and snorkeling around La Paz, especially at Isla Espiritu Santo, wonderful fishing, and whale-watching trips during the January to March season. For diving trips, inquire at Viajes Palmira, Obregon between Rosales and Allende, phone 112 2 40 30, or Baja Diving Service, Obregon near 16 de Septiembre, phone 112 2 18 26. Viajes Palmira also offers fishing trips.
Affable La Paz, a political maverick, a refuge for peace-seekers, never tapped by the government for major resort development, is still a refuge for travelers seeking an offbeat combination of desert and ocean, calm and culture.
Published or Updated on: December 1, 1997