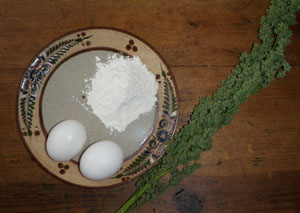 I had these for the first time at Las Cazuelas de Tlaxcala, a restaurant in Tlaxcala with really authentic Central Mexican cuisine. They can be served with a simple tomato sauce or with a pasilla or tomatillo sauce.
Ingredients
1 pound huazontle bud clusters (the tops, with stems and leaves removed)
1 pound rice, cooked and allowed to cool
4 ounces queso seco, finely crumbled (or use a hard feta)
Flour as necessary
3 eggs, separated
vegetable oil for frying
tomato, tomatillo or pasilla chile sauce for serving
Steam the huazontle for 20 minutes, cool and gently press out excess water, between paper towels, being careful not to break up the bud clusters.
Mix the cooked rice with the cheese. Open the huazontle clusters and stuff them with the rice and cheese mixture. Press some flour into the outside of each cluster. This will help the batter adhere and hold the cluster together.
Beat the egg whites until stiff peaks form, then fold in the lightly beaten yolks.
Heat enough oil to completely cover the tortitas. When hot, dip each tortita into the egg batter and fry in the hot oil, turning once, until light golden brown.
Drain on paper towels and serve in bowls with your sauce of choice. Serves 4-6.
Link to source article
Mexico's Aztec spinach is healthy, fresh and local: Can you say huazontle?
Published or Updated on: June 28, 2010