The temporary residency visa does not include work rights unless applied for based on potential work plans in Mexico. However, some temporary residents without work rights decide to work, which requires them to apply for permission to work separately. Usually, the permission to work known as "Permiso Para Trabajar" is obtained based on a job offer. But with the expanding digital nomadism and location independent entrepreneurship many are simply freelancing online and earning money from their devices, without being employed at a particular company.
Can you work online from Mexico without a work permit?
Some foreigners work online for overseas sources while physically based in Mexico. Digital nomads in general enter countries on visit visas and work online while traveling. An increasing number of countries are introducing digital nomad and remote work visas to cater to this growing segment of population, and in Mexico the equivalent is the temporary residency visa which generally does not include work rights.
I researched whether a temporary resident needed a work permit to work online in Mexico because I needed an answer myself. I secured a temporary residency visa before moving to Mexico, and initially I was only traveling, volunteering, and learning Spanish. Later, I wanted to commence my online entrepreneurial activities and then came the question of whether I needed a work permit.
I received two separate answers. Some sources said that I don't need a work permit if I don't work for anyone in Mexico, and don't have income coming into Mexico. Others said that I must have a work permit if I am physically located in Mexico. I analyzed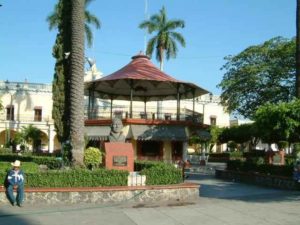 my individual circumstances and decided to get tax residency and a work permit in Mexico to avoid any complications in the future. I was also planning to stay in Mexico for a while and didn't want to be restricted to work online only for non-Mexican sources.
To get a Mexican work permit for online work as a temporary resident you first need to register for taxes in Mexico. Some freelancers, especially digital nomads who work online have income remitted to their home countries where they pay taxes in. However, some countries consider their citizens or residents as tax residents only if they meet certain criteria, which place some digital nomads in a grey area of tax residency.
Hence, I recommend that you get tax advice in your home country and in Mexico to see where you need to pay taxes, and immigration advice based on your individual situation.
Steps to get a work permit for online work as a temporary resident
Determine the type of activities you intend to carry out through the internet.
Register with Servicio de Administración Tributaria (SAT) – that is the Mexican tax office.
Apply for the work permit at your local Instituto Nacional de Migración (INM) office.

Registering with SAT
I recommend getting accounting advice to identify which tax regime suits you the best, based on the activities you intend to carry out and your circumstances.
The registration with SAT is an online process. You can do it yourself or get help from an accountant. Thereafter, you need to obtain your password online and/or e.firma (e-signature certificate) at the local SAT office, depending on your tax regime. These are needed to file your taxes, claim refunds, and other activities around your tax file.
Usually, you need to get an appointment ahead of visiting the SAT office. Note that there can be delays in securing appointments due to the ongoing pandemic related restrictions.
Applying for the work permit at the INM office
Once you have registered with SAT, you can apply for the work permit at your local INM office. You need to prepare a letter in Spanish explaining the type of activities you intend to carry out. While I applied for the temporary residency and renewed it myself, I got help from an immigration agent for the work permit to ensure all the technical details were accurate.
The documents you need are;
A letter explaining your potential activities in line with your tax registration.
The completed online application – printed and signed.
The tax registration document.
The temporary residency card and copy.
The passport and copy.
The signed privacy notice ("Aviso De Tratamiento de Datos Personales y Notificación Electrónica").
The INM office will inform you if they need any further information.
You must turn in your existing temporary residency card to the INM, and similar to when you applied for temporary residency, the INM will provide a document mentioning the details of the application in progress.
Once the application is processed, you need to return to the INM office for fingerprints. In some offices you can walk in for fingerprints (which was my experience in Riviera Nayarit) while at others you need to make an appointment in advance (which was my experience in Mérida). You don't need to take any photographs with you anymore since the INM offices now take their own photographs during fingerprint appointments. According to the new system, some offices print the residency cards instantly after fingerprinting. I received mine at the end of my fingerprint appointment in Mérida.
Your new temporary residency card will also say "Permiso Para Trabajar". You are free to work now.
Note: If you change your activities you may need to reapply for another work permit. You should get professional advice around how much leeway you have within your area of work before you apply for permission to work.
Disclaimer: I am not a Tax professional, an Immigration official, or an immigration agent. This article is based on my personal experiences and for general information purposes only. I recommend that you do your own research and obtain professional advice.
Thilini Wijesinhe is a financial professional turned freelance writer and remote entrepreneur based in Mérida, Yucatán.
Published or Updated on: March 02, 2021 by Thilini Wijesinhe © 2021