New Worlds for the Deaf: the story of the pioneering Lakeside School for the Deaf in rural Mexico by Gwen Chan Burton (Sombrero Books, 2020)

In 1982, Gwen Chan Burton, who had previously taught in government secondary schools in Australia and Canada for 12 years, was faced with a big career decision.
Burton (whose name at the time was still Chan but that would become part of her adventure as well) had recently been certified as a teacher for the deaf and hard of hearing. She could either continue to teach in Canada, albeit in her new specialty, or move to Jocotepec, a small village in the Mexican state of Jalisco where several years earlier two retired Canadian women— Jackie Hartley and Roma Jones—had started a small school for children who couldn't hear. The impetus for the school came about after meeting a young deaf boy in the plaza of the town where they were living.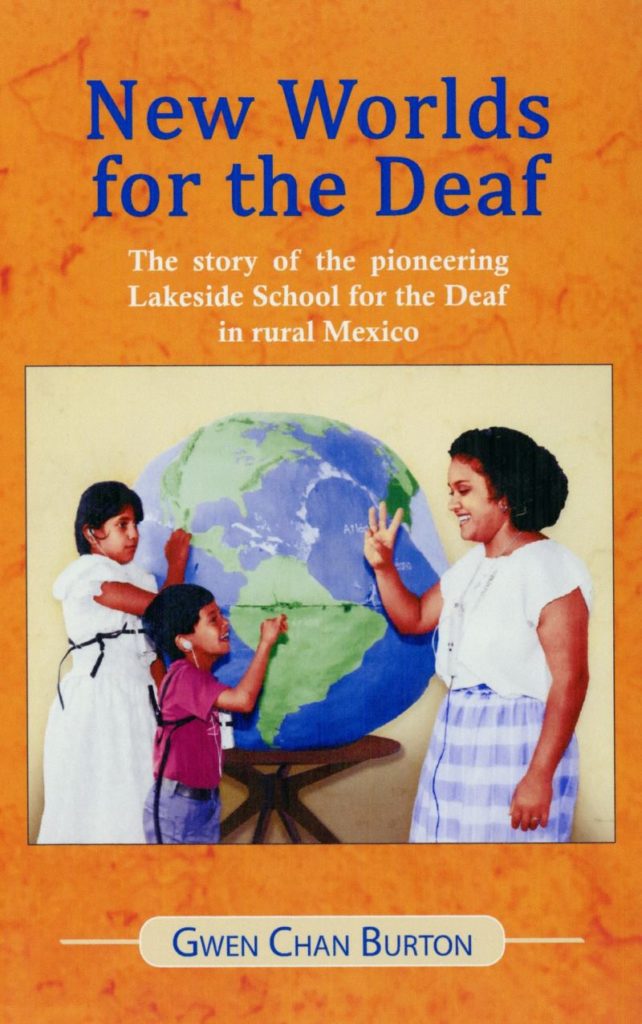 It was quite an undertaking, particularly considering that Hartley and Jones had never taught deaf students and spoke little Spanish. Add to that, they had no building to house their school nor did they have the money to fund it.
For Hartley and Jones these were just mere details and within 15 years their Lakeside School for the Deaf, which started off with classes in an upgraded chicken coop, would become an internationally acclaimed success. The term Lakeside is the term used by local English-speaking expats and tourists to refer to the general area along the north shore of Lake Chapala where thousands of expats live; Lakeside stretches from the city of Chapala, through Ajijic to Jocotepec at the western end of the lake.
But when Hartley and Jones recruited Burton and another Canadian teacher of the deaf named Susan van Gurp, it was still very early days indeed: a project that promised hard work in an unknown environment for barely subsistence pay.
"As a student at Melbourne University in the late 1960s, I had dreamed of volunteering as an English teacher in the wilds of Papua New Guinea, then administered by Australia," says Burton. "However, after I learned that the government required three years teaching experience before applying–I ended up in Toronto instead of PNG. I guess Jackie Hartley's offer re-awoke my dream of volunteer teaching and since I was single and debt free, my main concern was how to learn basic Spanish in the three months before we flew south."
Within a few years, Burton would become the school's director, a position she held from 1985-1994. The school's enrollment grew as did the number of teachers, resulting in scores of disadvantaged deaf children and youths finding life-changing communication, free education and friendship at the Lakeside School.
Burton, who now lives on Vancouver Island, British Columbia, recounts the story of what is now The School for Special Children (CAM Gallaudet, Special Education Centre) in her awe-inspiring book, New Worlds for the Deaf – The story of the pioneering Lakeside School for the Deaf in rural Mexico (Sombrero Books 2019).
"The book describes the school's much loved teachers, first Canadian then Mexican, who opened new worlds for those atypical students, with specialized teaching methods and amazing special events," says Burton. "Also described is the school's unique home-based boarding program that allowed many children from distant villages to attend classes."
In between all her work, Burton met geographer Tony Burton at an Octoberfest celebration in Guadalajara. After the couple married and had children, life became even more hectic especially when Tony was away leading field studies courses and eco-tours around the country.
"Thankfully a wonderful Mexican grandmother was willing to care for our children whenever needed and from her they learned the local customs, the Spanish language and a love of Mexican food," says Burton. "She was also a generous boarding mother for two adolescent deaf brothers from a distant rancho for several years."
One of the main challenges faced by Burton was juggling her time: the time needed to make new ear molds for students using the classroom FM amplification systems, the time needed to attend a morning meeting of the school board 20 kilometers away, or the time needed to show English-speaking visitors and former teachers around the classrooms and answer all their questions. Many challenges were unexpected; these included the sudden unannounced arrival of new students, sometimes impoverished and in clear need of immediate care and accommodation.
But the rewards were many, such as seeing the positive changes in new students as they learned to communicate using Mexican sign language and were able to ask questions and understand the answers for the first time in their lives; then seeing their enthusiasm and their parents' pride as they learned to write their own name, and later began to read.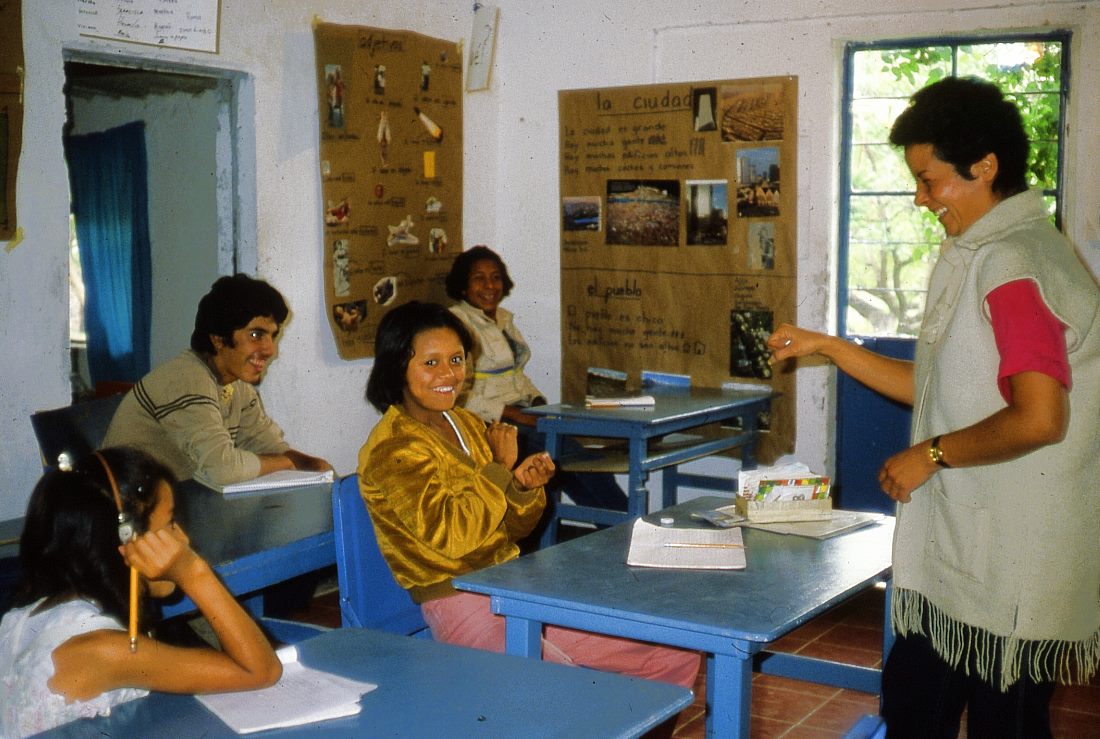 Asked to share a story from the book about one of the school's students, Burton takes time to think—there were so many—before deciding to talk about Juan Luis who, after being abandoned by his mother, was sent out to beg in Guadalajara by his next caregiver.
"He was rescued by an aunt who sent him with a truck driver to the home of Rita, one of our staff," recalls Burton. "The young boy, profoundly deaf, was called Carlos by the truck driver and spent his first week at school as Carlos. When his aunt visited Rita the next weekend we found out his real name, and the following Monday at school we needed to erase Carlos from his workbooks, and create a different sign name, because he was actually Juan Luis, nearly nine years old, bright and personable but unschooled and unable to recognize or express his own name… or count to nine."
For those deciding on such an adventure, Burton offers the follow advice:
"Go, with an open mind and positive attitude about the people and customs you will encounter," she says. "Preferably have a good friend with you at least for a long settling-in period, unless you are joining a well-established group of like-minded people. Be able to carry on a basic conversation in the local language and learn whatever you can about your host nation before you arrive. But definitely go if you feel you have skills, knowledge or a harmonizing philosophy to contribute, and accept that it will undoubtedly be a pivotal experience in your life."
Editor's note: In the 1980s, The Lakeside School was the only school for the deaf located outside Mexico's largest cities with a unique home-based boarding program for rural students. A talented Mexican staff taught using sign language, amplified speech and out-of-class learning experiences. The school was in the vanguard of education for the deaf in Mexico.
The book celebrates how the local expatriate and Mexican communities helped fund the school, and how international support enabled the school to grow and flourish. It also includes anecdotes about the traditions and culture of rural Mexico that remain true today, and the engaging, sometimes unbelievable, background stories of individual students, and how the school opened their eyes to new worlds.
New Worlds for the Deaf: the story of the pioneering Lakeside School for the Deaf in rural Mexico by Gwen Chan Burton (Sombrero Books, 2020) is available at select stores in Ajijic and via Amazon.

MexConnect is reader-supported. Purchases made via links on our site may, at no cost to you, earn us an affiliate commission.
Learn more.
Published or Updated on: March 2, 2021