During the Great Depression of the 1930s, the American people, desperately in need of relief from fears about the future, turned for escape to movie stars Fred Astaire and Ginger Rogers for champagne and chiffon, horseracing icon, Seabiscuit, for inspiration and heart, and heavyweight boxer, Joe Louis, for action and grace.
Similarly, Americans in 2006, with different fears about the future, also look for escape. No longer admired by the rest of the world, vulnerable to attack from within and without, and helpless to prevent greedy fingers from emptying our pockets faster than Streisand can schedule another comeback tour, we need to get away from it all.
To whom do we turn today for solace, now that movie musicals, star horses, and the Brown Bomber are gone? Easy. We're turning in droves to a proven comfort giver: dogs.
Daily relief is being gobbled up by millions of viewers of National Geographic's "Dog Whisperer," Cesar Millan, the greatest Mexican import since the tamale.
"Cesar's Way: The Natural, Everyday Guide to Understanding and Correcting Common Dog Problems," is on the New York Times best-seller list as well as Amazon.com's. So are the National Geographic's DVDs of their hit show, "Dog Whisperer."
America is tuning out, and turning on to dogs.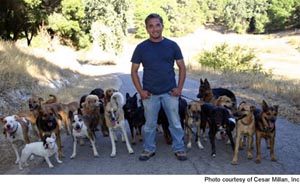 Cesar Millan, who, according to the May 22nd issue of The New Yorker, "crawled across the border 14 years ago," has no formal trainer training. He taught himself about dogs while he was growing up on his grandfather's farm in Sinaloa, Mexico. As a child, he was called " el Perrero," the "dog boy." He patiently watched and studied dogs' behavior until he was able to imagine himself inside the dog's head, and could anticipate the dog's next move, as well as how to control it. That was the birth of National Geographic's Dog Whisperer.
Author Malcolm Gladwell's Profile on Cesar Millan for The New Yorker, called "What the Dog Saw: Cesar Millan and the Movements of Mastery" likens Cesar's physical movements to both politics and dancing. The article rhapsodizes over similarities between Millan and "movement masters" Ronald Reagan and Bill Clinton, and the grace of Millan's movements as studied by Karen Bradley, head of the graduate dance program at the University of Maryland. Cesar thought he was a dog whisperer but The New Yorker thinks he might really be Barishnikov.
Viewers hooked on his hit show watch Cesar Millan train the owners, more than the dogs. There are no bad Rottweilers, no bad Pit Bulls, and no bad Chihauhaus, just owners who often allow their dogs get away with running the whole show, like a spoiled child. In Mexico, a person is a person and a dog is a dog. Then Cesar came along and pointed out to the U.S.A. the reason why dogs should be dogs: there's only one pack leader and that job rightly belongs to the person who pays the rent, and that's rarely Fido.
When this fact is accepted by owners, their pet problems are pretty much solved. Ask Oprah. She called Cesar's 911 for help with her dog, Sophie, who had issues with other dogs. Oprah worked hard to earn her new tee shirt from Cesar, which loudly proclaims Oprah "Pack Leader." Sophie's much better behaved now that she's been socialized by a pack of Cesar's dogs.
Cesar operates the Dog Psychology Center in South Central Los Angeles, where troubled dogs, like those rescued in the wake of Katrina whose owners have not yet been found, can learn to get along with each other while the search for their owners continues.
Female fans can only dream about him because, though Cesar is generous with hugs for his clients, his kisses are reserved for wife, Illusion.
Photos on https://www.maggievanostrand.com
Published or Updated on: September 1, 2006