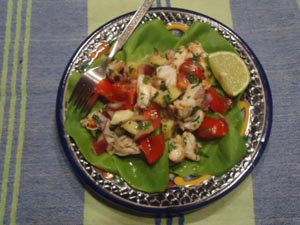 The bright, fresh taste of the tomatoes and cucumbers make Mexican crab salad with cilantro lime vinaigrette a refreshing spring salad. Serve it on lettuce, accompanied by fresh lime wedges.
Ingredients
1 pound cooked lump crabmeat
1 cup chopped cucumber
1 cup chopped tomato
1/3 cup chopped red onion
Salt to taste
½ teaspoon chipotle chile powder
1 small clove garlic, finely minced
¼ cup lime juice
¾ cup mild olive oil (not extra virgin)
¼ cup chopped cilantro
Place the crab, cucumber, tomato and red onion in a bowl. In a jar with a lid, mix the salt, chipotle powder, garlic, lime juice, oil and cilantro, shaking until the mixture is emulsified.
Pour the dressing over the ingredients in the bowl and toss gently. Refrigerate for 1 hour before serving. Makes 6 appetizer or first course servings.
Link to source article
Mexican seafood salads: Cool food for warm weather
Published or Updated on: April 5, 2014