Photo Gallery: La Paz and El Triunfo: from beaches and baskets to mines, music and marine park
La Paz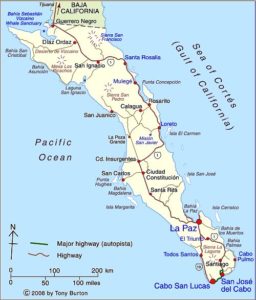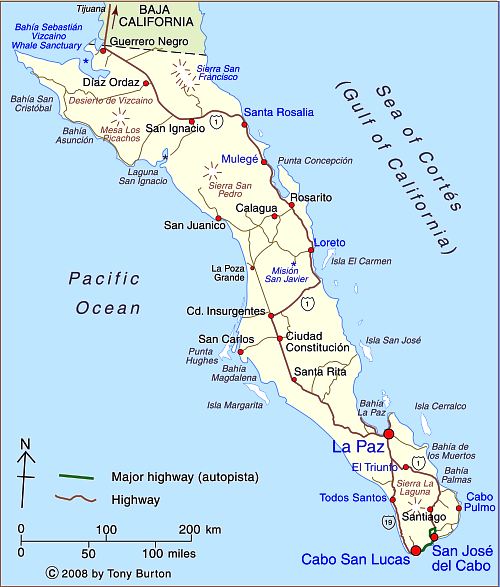 La Paz was almost unrecognizable. I'd enjoyed the small town atmosphere when I first visited it in 1980 but it now has the big city pretensions that I find far less appealing. Despite my reservations, the family enjoyed several days in La Paz in December 2007, wandering about the downtown shops, drifting through the Christmas street market, admiring the sculptures displayed at intervals along the beautiful malecón and sipping cappuccinos in small friendly cafés. We found several interesting gift items there we'd never previously seen anywhere else in Mexico at the Conaculta store (in the former city hall), which also has an excellent range of books and videos in both Spanish and English. The only disappointment was the weather. Cool temperatures and high winds meant that our planned kayak expedition to Isla Espíritu Santo had to be postponed for another occasion.
La Paz is changing rapidly. The city has never had the plethora of heritage buildings that most Mexican state capitals have. It does have a regional museum, but much of it was closed for renovations when we visited. True to the best museum practice, even the cracks awaiting repair were individually numbered! The city is enjoying a construction boom, as high-price condominiums and apartments go up. Around the bay to the east, the 500-acre master-planned community of CostaBaja Resort and Marina is well under way. Construction of its 18-hole Gary Player Design golf course begins this year. Across the harbour, the Mogote sand spit is being transformed by the Paraíso del Mar project.
The road past the CostaBaja Resort takes you to the Pichilingue ferry terminal (ferries to Mazatlán and Topolobampo) and then to the beaches of Balandra and El Tecolote. At low tide, a huge expanse of rippled sand is exposed at Playa Balandra, best known for its iconic mushroom-shaped rock at one end of the beautiful bay. There are no facilities here, but it is a fun place to explore, with its shallow water, coves and caves. Worm casts and little white tentacles sticking up through the sand suggest that there is plenty of alien life just under your feet… El Tecolote has a couple of adequate beachside restaurants and is a jumping-off point for trips to Espíritu Santo island or to swim with sea lions. Just beyond Tecolote the Moravia Country Club, a 4,000-acre gated community with championship golf course, is being constructed.
As a poor substitute for the postponed kayaking expedition, we drove out to watch the kite surfers and wind surfers at La Ventana, an hour's drive southeast of La Paz. La Ventana is apparently one of the best locations for these activities anywhere in Baja and perhaps we should not have been quite so surprised as we were to find rows of campervans and RVs lining the shore. Neither sport is an inexpensive one for beginners. A single training session to learn how to control the kite (on the beach, not in the water), for instance, costs $85. Professional training is clearly essential. Given the number of surfers, and their extraordinary acrobatic feats (some of the kite surfers flew up to 30 feet into the air) it was amazing that there were no collisions or accidents.
Most of the restaurants we tried in La Paz were less than inspiring but one we really enjoyed, and went back to was Asadero Rancho Viejo (Márquez de León 228, where it crosses Belisario Domínguez), which was invariably crowded. It serves freshly prepared Mexican food from breakfast until late.
After a few days in La Paz, we headed south on Highway 1 for the small village of Cabo Pulmo, gateway to the Cabo Pulmo National Marine Park. The route follows Highway 1 through the foothills of the Sierra de la Laguna and past the rapidly growing town of Los Barriles to a major bridge at La Cuevas; the junction for La Ribera and Cabo Pulmo is immediately after this bridge. The last 10 kilometers of the road to Cabo Pulmo are unpaved. Driving from La Paz to Cabo Pulmo takes less than 3 hours, but there are several places worth exploring along the way.
El Triunfo
By far the most interesting place to break the journey is El Triunfo, a former mining town nestled in the Sierra de la Laguna. The town straddles Highway 1 and has made impressive strides in the past few years to attract more tourists.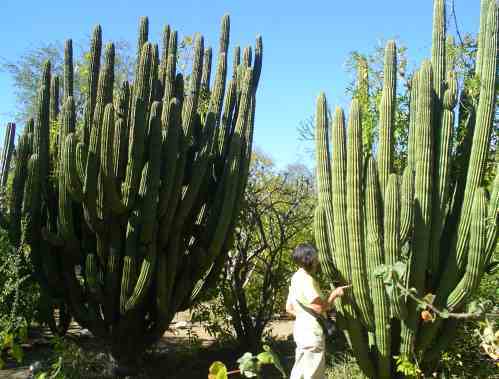 A few kilometers before you enter El Triunfo is the sign for a Cactus Sanctuary. If you miss this on the way out, you can always stop on your return. The sanctuary is on the El Rosario ejido, six kilometers from the highway along a graded road and houses a variety of different kinds of cacti in its six hectares (15 acres). Especially impressive are some massive specimens of cardón, pitahaya (one reckoned to be more than 500 years old) and garambullo. Entrance to the trail around the sanctuary costs 20 pesos a person.
Entering El Triunfo, a cemetery is visible on the hillside to the left. Historic mining towns often have fascinating cemeteries and El Triunfo is no exception. The main cemetery is modern, but further down the slope, now in a sorry state of decay, is the Chinese cemetery, presumably reserved for immigrant miners, tradespeople and their families. El Triunfo also has an English cemetery, which sits high above the town on the southern side of the highway. Several old mining towns in Mexico have English cemeteries; English miners, particularly those from Cornwall with experience of steam engines and the draining of deep shafts, were highly regarded in Mexico in the nineteenth century and some became incredibly wealthy. Disappointingly, the English cemetery at El Triunfo turns out to be just a simple enclosure with thirteen tombs lacking any markers or plaques.
The church in El Triunfo is neatly kept but unremarkable, and certainly does not do justice to the former importance of the town. A better impression of the town's illustrious past can be gleaned by wandering the streets and admiring the fine architectural details on many of the buildings, even though some are still in dire need of restoration. The old facades still boast of former wealth. The streets of El Triunfo have been relaid in recent years and gentrification of some of the older buildings is well under way, with one home due to open as a high class BnB shortly.
El Triunfo's mining boom began in the 1860s and was consolidated with the arrival of the British El Progreso Mining Company in 1878. The town was the first in Baja to install electricity and telephones and its cultural life included regular concerts and two competing weekly newspapers. Parts of the old mine installations can still be seen, including two massive chimney stacks, "Ramona" (designed by famous French engineer Gustave Eiffel) and "Julia", near to which mining machinery manufactured in Chicago and San Francisco has lain rusting and forgotten since the mines closed in 1926.
Handwritten signs lead to homes selling hand-crafted baskets and simple pottery; the local basketwork is particularly fine. On the highway a state-run handicrafts store has a fascinating range of items, from simple fridge magnets costing a few pesos to some fabulous one-of-a-kind pieces worth upwards of 60,000 pesos! My favorite items (though well beyond my wallet) are a life-size horse made mainly of coconut palm fronds which despite the "No tocar" sign cried out to be touched and groomed, and a gorgeous hardwood table inlaid with an artistic mother-of-pearl mosaic of a face.
Refreshed by hot chocolate and buñuelos from the small co-operatively run café next to the handicrafts store, we walk a few yards along the road to visit the lovingly restored nineteenth century mansion that houses the El Triunfo music museum. I have to admit to considerable scepticism when I first saw the museum sign, but fortunately my wife refused to let this museum opportunity slip by. The music museum (the only other one that I know of in Mexico is the Museo de La Canción Yucateca or Yucatecan Music Museum in Mérida) was opened in 2003 with state government funds in response to intense local lobbying.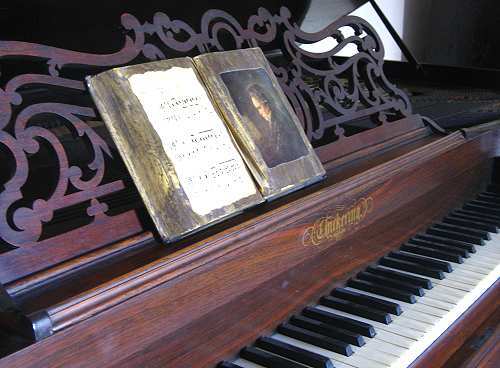 The most famous local musician was Francisca Mendoza, a concert pianist who had studied in San Francisco before returning to her native El Triunfo at the turn of the twentieth century to teach and perform. According to one source, so many pianos were imported into the town at that time that it had more pianos per capita than anywhere else in Mexico! The leading light behind the museum is another locally-born pianist Nicolás Carrillo. Recordings of Carrillo playing classical works are on sale at the museum, and the maestro himself often shows visitors round. On display is an amazing collection of pianos, as well as an ancient clavichord and numerous other musical instruments. The museum has plenty of informative signs and its very own concert space. I'm still astonished that such a museum should exist in such an unlikely location, though on reflection it is entirely in keeping with the town's former importance. The museum is open Tuesday to Sunday from 9 a.m. to 6 p.m.; admission 20 pesos a person.
San Antonio and San Bartolo
A few kilometers beyond El Triunfo, a gas station marks the entrance to San Antonio. While this is quite a large town and its streets meander up the hillside, it lacks the obvious attractions of El Triunfo, but was founded close to where silver was first discovered in this area in 1748.
Unusually for desert-like Baja, the mountain scenery in this area is greatly enhanced by a higher rainfall and permanent streams. In the rainy season these can swell suddenly and dramatically – never park or camp in an arroyo or dry stream bed unless you're very confident that there is no chance of rain or a flash flood! The arroyo scenery around San Bartolo is about as good as it gets. Verdant orchards of citrus fruits and coffee border rocky streambeds where the water tumbles over waterfalls before lapping onto hidden sandy coves.
Descending from the mountains, a massive Banamex sign towers over the town of Los Barriles, a reminder, if one were needed, that this is the closest bank or ATM machine to Cabo Pulmo. After turning off Highway 1 at Las Cuevas, keep your eyes open for cattle straying across the road; this is a very high risk cattle area.
Where to Stay:
La Paz:
Posada LunaSol, Tel: 1-800-355-7140 (US) or +52 (612) 123-0559
Small Mexican Inn, simply furnished immaculate rooms. All guests have access to a shared kitchen and palapa terrace. Well located, on airport side (west) of La Paz, within 10 minutes walk of downtown. High season rooms from US$60 a night (December 2007). The same owners operate Mar y Aventuras, specializing in snorkelling, kayak and whale-watching trips.
Hotel Suites Club El Moro, Tel: +52 (612) 122-4084
Luxury rooms and suites, some with lofts, large pool, beautifully landscaped and only a few minutes walk east of the city center along the malecón. High season rooms from US$74 a night (December 2007).
Published or Updated on: April 1, 2008