The white pear flesh, green herbs and red onion give this salsa the colors of the Mexican flag and the Christmas season. Just as tasty as it is visually appealing, Mexican pear salsa goes well with pork and is a nice accompaniment to simple grilled pork chops or a holiday roast.
Ingredients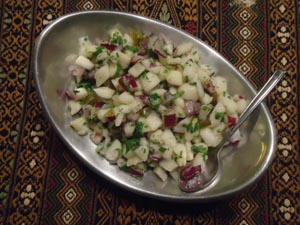 1 ½ pounds firm, ripe pears, peeled, cored and finely chopped
½ cup chopped red onion
1/3 cup chopped cilantro
1-2 jalapeños in escabeche
1 tablespoon escabeche (pickling liquid) from the jalapeños
1 teaspoon sugar
Salt to taste
Combine all ingredients. Cover and chill for at least 3 hours before serving. Makes 3 cups.
Link to source article
Mexican pears: A seasonal favorite for holiday dishes
Published or Updated on: December 7, 2013