In this frijoles borrachos recipe, it's the beer in this recipe that gets the beans drunk, and contributes good flavor to a dish that goes perfectly with Northern Mexican grilled beef. With Southern Mexican food, black beans are favored.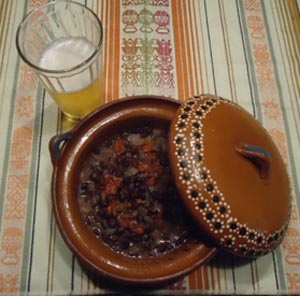 Ingredients
1 pound pinto beans or black beans, washed and soaked in water overnight
2 tablespoons vegetable oil
¼ pound bacon, chopped
2 medium onions, chopped
4 garlic cloves, chopped
2 roma or plum tomatoes, chopped
2 jalapeño chiles, seeded and chopped
2 12-ounce bottles Mexican beer
1 quart water
Salt to taste
Drain the soaked beans and leave them in the colander while the flavor base is being prepared.
Heat the oil in a large pot, add the bacon and cook until beginning to crisp. Add the onions and continue cooking a few more minutes. When the onions begin to soften, add the garlic, tomatoes and chiles.
Add the beans, beer and water to the pot. Bring to a boil, reduce heat to simmer, cover and cook until beans are tender. This will vary according to altitude and quality of beans. Taste and add salt. Serve in bowls, accompanied by plenty of warm tortillas. Serves 6-8.
Link to source article
Cooking with cerveza: Mexican beer flavors autumn dishes
Published or Updated on: October 13, 2013