Photo Gallery: Mexican Folk Art from Oaxacan Artist Families
Aficionados of folk art of the state of Oaxaca in southern Mexico are already familiar with Arden Aibel Rothstein and Anya Leah Rothstein's Mexican Folk Art From Oaxacan Artist Families. It was surprising to learn, however, that some people with an interest in the crafts of Oaxaca's central valleys, are not even aware of this seminal work – particularly since it was first published back in 2002.
The 2007 edition of Mexican Folk Art is a comprehensive compilation and detailed examination of each major type of contemporary Oaxacan folk art, set out in a refreshingly user friendly format. The book is divided into ten chapters, each devoted to a different medium: Ceramics, Textiles, Woodcarving, Metal (including tin work, cutlery and knives), Miniatures and Toys, Jewelry, Candles, Basketry and Dried Flower Crafts, with the final chapter devoted to Day of the Dead.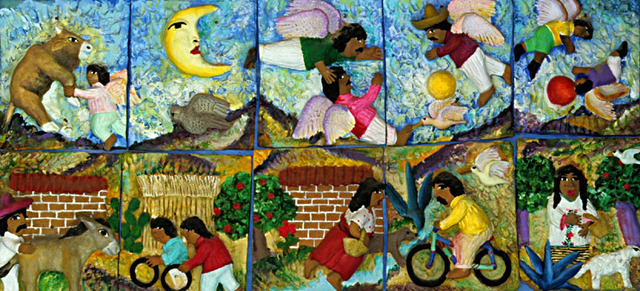 Generally, each chapter begins with a broad description of an art form, including significant variations within. In the Ceramics chapter, for example, the divisions are Terra Cotta, Green Glazed, Multi-Color Glazed, Black (barro negro) and Painted Red. Often a village in Oaxaca's central valleys is known for the production of a specific type of folk art. Accordingly, in some cases a chapter then proceeds to describe a particular pueblo, giving the reader additional context. We find descriptions of, amongst others, the ceramics towns of Atzompa, San Bartolo Coyotepec and Ocotlán.
Where a family is noted for a special innovation or its adeptness at creating a certain craft, a family history follows. The individual craftspeople are then highlighted. For the black pottery of San Bartolo Coyotepec, we find descriptions of the De Nieto Castillo family, of which the famed Doña Rosa was a member, along with biographies of her son Don Valente Nieto Real and members of his clan; and of the Pedro Martínez family with biographies of acclaimed Carlomagno Pedro Martínez and his relatives.
All told, Mexican Folk Art showcases the works of 100 artists from 50 families living in Oaxaca or one of 13 nearby towns and villages. In most cases we're enlightened regarding the personality, worldview and motivation of each individual carver, weaver or potter, as well as provided with a biographical sketch, enhanced with the inclusion of a direct quote. In this way the reader gains insight into the inspiration of each craftsperson. In many instances the authors also include a section on the techniques used by the artist, which variously includes the sourcing of raw materials such as wool from the Mixteca region of the state for making rugs and wall hangings, or clays from other regions of the state for changing tone and texture of sculptures; and processing methods including the extracting of natural dyes from fruits, plants, soils and the cochineal insect.
With its glossy front cover and approximately 700 photographs, Mexican Folk Art can rightfully be termed a coffee table book. But it's much more. The photos in and of themselves bring the book, and the artists, to life: Apolinar Aguilar of Ocotlán, forging a red hot piece of recycled metal into an artistic hunting knife; a display of provocatively painted clay ladies of the night made by his cousin Julian, son of celebrated Guillermina Aguilar; Jacobo Ángeles of San Martín Tilcajete carving a figure from the wood of the copal tree, or standing alongside wife María and their family, each proudly displaying an exquisitely painted alebrije; Teotitlán del Valle weaver Isaac Vásquez, working at his loom creating a tapete, the pattern inspired by a pre-Hispanic pictograph; and fine examples of multi-colored highly detailed hand embroidery from San Antonino, such as the yoke and sleeve of a wedding dress.
This gem should easily entice any reader with an interest or background in anthropology, history or geography. The importance and influence of indigenous Zapotec ancestry and its present-day cultural manifestations shines through many of the ethnographic accounts. The genealogies (referred to as Family Trees) comprising one of the appendices are in-depth, and date as far back as the 19th century. They assist the reader in better understanding the historical and generational context of Oaxacan craft development.
To help those with an interest in exploring the craft villages and visiting the artists on their own, without the assistance of a Oaxaca tour guide, throughout the body of the book the address and all available additional contact information for each artist is provided, such as phone number and email. A second appendix consists of a series of easy-to-read pueblo maps, detailing the precise location of each featured artist, further facilitating contact.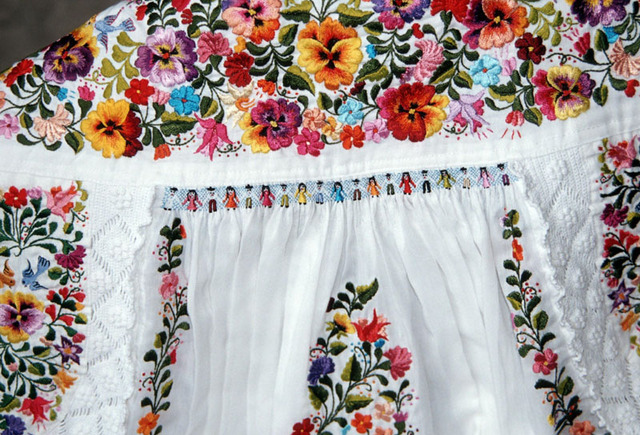 Authors Arden and Anya Rothstein correctly caution that their presentation of artists constitutes "a sampler" of what's available to those interested in exploring Oaxaca's hinterland. They in fact encourage getting out and exploring on your own, finding that next folk artist who might rise to international stature. They are careful to qualify that their inclusions are based on which craftspeople are the most innovative, or produce work which is of especially high caliber according to certain criteria. The Rothsteins recognize that the work of any innovator of an entire class of folk art, and of those producing quality a cut above that of the rest, is often out of the financial reach of many. Therefore, they feature additional artists whose works are more affordable, yet also of exceptional quality.
Collectors of folk art often need a reminder that buying the work of a recognized name does not necessarily mean that the product is the best, in terms of coloration or patina, form, design, or the imagery it provokes, and that what strikes the fancy of most, or of the so-called experts, might not be your particular cup of tea. Along this vein, "honorable mention" is provided for makers of certain crafts whose works are not featured (under the heading of, for example, "Additional woodcarvers in Arrazola"). The clear suggestion is that readers should get out there and explore, and make their own determinations and choices based upon personal preferences.
Is it worth purchasing the 2nd edition if you already have the 1st? Certainly give it some consideration if you have not already enmeshed yourself in the appreciation and collecting of Oaxacan folk art by having explored the central valleys. Where the 2002 volume boasts 500 photos and features 87 artists within 44 families, the most recent publication, as noted earlier, has been expanded to 700, 100 and 50, respectively. Some of the craftspeople merely mentioned in the earlier volume under the "Additional" heading, have been elevated to "featured artist," with their works and stories duly chronicled. And in some cases where families have grown and pueblo demographics have been altered, the authors have appropriately noted changes. Wisely, at least in this critic's opinion, the U.S. dollar "Price Guide" has been omitted from this new volume, since more than anything else it likely lead to confusion for the buying public, with the potential of putting up barriers between artists and prospective customers. As between Mexican and American economies, there are so many variables and market conditions at play, best to allow vendor/creator and purchaser do their own assessment respecting value for workmanship.
Mexican Folk Art is a well-researched exhaustive study of all major types of contemporary Oaxacan folk art and their makers, past and present. Don't let its appearance as "just another fancy coffee table book" deceive you. It accomplishes what it sets out to do, and then some. It should be viewed as a guide, rather than a bible. If we're ever blessed with a 3rd edition, perhaps the publisher will deem it advisable to place duplicates of the pueblo maps in a separate pocket… it would be a pity for such a wonderful work to become unduly worn by toting it from village to village.
Mexican Folk Art from Oaxacan Artist Families, by Arden Aibel and Anya Leah Rothstein
Atglen, PA: Schiffer Publishing Ltd, 2007. Available from Amazon.com: Hardcover
MexConnect is reader-supported. Purchases made via links on our site may, at no cost to you, earn us an affiliate commission.
Learn more.
Published or Updated on: July 14, 2009