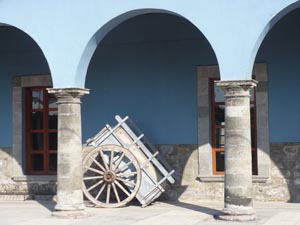 Three Mexican fishermen, lost at sea for nine months and nine days, were world news for a few minutes in 2006.
Their survival was a miracle of faith and fierce determination, or the biggest fish tale ever told.
As you may recall, shark hunters Salvador Ordonez, 37, Jesus Vidaña and Lucio Rendon, both 27, ran out of gas and drifted west for 5,500 miles, two-thirds of the way across the Pacific, in an open 27-foot boat, from San Blas to a tiny atoll in the general neighborhood of the Marshall Islands.
Along the way, they endured storms that threatened to put them under. They avoided starvation by snaring an occasional fish and curious gull and manhandling sea turtles that came too close. They ate the meat raw and drank the blood, along with what rainwater they could catch. If you really must know, they sometimes recycled their own urine.
Two associates, the owner of the boat and his anonymous friend, were not tough enough. They died and were buried at sea. Salvador read verses from his tattered Bible.
That three lived was amazing. That their bodies were not wasted was amazing. That they retained their teeth was amazing. That their skin was not burned to a crisp was amazing.
"You're going to see muscle breakdown at the highest levels, retinal burns, cataracts, poor dental hygiene to say the least, and severe, if not fatal, scurvy," said Dr. Jay Lemery, on the global health faculty at Weill Cornell College.
Oceanographers found it amazing that the three lost fishermen could go so far so fast. They talked about prevailing winds and current patterns. Really puzzling to San Diego professor emeritus Joseph L. Reid was how they crossed the easterly countercurrent.
Simply amazing.
Let's just call it fortunate that the morning man monitoring a radar screen on a Taiwanese tuna fishing ship named Koo's 102 spotted something strange 20 miles away. The captain took a look and sent two guys in a motor launch to check it out.
They were stunned to find the three Mexican fishermen. One report said they were skin and bones. Another said they were very hungry, but otherwise healthy. Something might have been lost in translation.
Nobody spoke Spanish aboard Koo's 102 but there were doubters in several other languages. No way, Jose. Impossible yarn.
The found fishermen wrote their names. The captain authorized radio messages to those who might be concerned. Mug shots were faxed. Mexican officials eventually confirmed identities.
As the ship crew completed the tuna mission, the strangers took a few days off and had some rice and noodles. They got back to dry land in late August. They looked surprisingly good on TV.
Mexico helped them get home. The happy landing in Mexico City featured brief applause and a thousand questions.
"You say you went shark fishing. Are you really drug runners?"
"Can you explain why you are alive?"
"Why aren't your fingernails longer?"
"Why do you look so healthy?"
"Two companions died. Did you eat them? Are you cannibals?"
Rendon said no, no, no.
"This is a miracle from God," Salvador said meekly.
In the audience, soaking up the scene, was Joe Kissack, a born-again Christian from Atlanta, a dropout from the Hollywood television industry with a sudden interest in religious messaging.
A month earlier, he had formed a new company, Ezekiel 22 Productions. He was at a dinner party when a friend told him about the rescue and what a fuss it was causing on Fox and CNN.
Kissack recognized a big story when he heard one. He caught the next non-stop from Atlanta to Mexico City. He wanted a word with those fishermen.
As it turned out, a few weeks later, after all the hugs and celebration parties and political speeches, after the attorney general said there was no evidence that the men were drug smugglers, Joe and the Mexicans began negotiations.
Kissack delivered a PowerPoint presentation that predicted millions were to be made from their story. He proposed to purchase eight-year marketing rights to film companies, book publishers and merchandisers.
"This is the biggest story in Latin America, like, ever," said Joe.
Ezekiel 22, named after a verse from the Old Testament, got the three names on the dotted line.
Joe said, not incidentally, those names translate into English as Savior, Jesus and the Light.
Reuters reported that the fishermen received $3.8 million U.S.
Silverio Aspericueta, one of several federal, state and San Blas government officials who kept an eye on proceedings, added that the final payment could be even higher, maybe double
Aspericueta said Ezekiel 22 was already negotiating with several movie companies, including Warner Brothers and Paramount Pictures.
"We became famous overnight."
Kissack said he was looking to produce a theatrical movie, and a book, about what he regarded as a miraculous story of faith, hope and survival. His immediate move was to make a pitch to a major studio to secure financing.
Off to the side, Kissack said that $3.8 million figure wasn't exactly accurate, that it certainly wasn't cash on the bargaining table.
"It's more like a book publishing deal. They benefit from anything my company benefits from. They are getting a salary and percentages, guaranteed through 2014."
Joe said for now, he would be paying out of his own pocket. It really wasn't going to be all that much, more like an allowance.
The lost-and-found fishermen soon faded from international news. They had a few more days in the local spotlight. Indeed, there was a celebration in San Blas. Pedro Franquez, the priest, hosted a fiesta on the square. Even as the crowd applauded heroism, there was an obvious split between believers and scoffers.
Some of both wanted a piece of the fame and fortune. There were many deal proposals and more than a few free beers and a new girlfriend or two.
The Mexican Catholic Council of Bishops issued a statement urging others to follow the fishermen's examples of faith and prayer. Alas, even Salvador didn't. He said he hadn't opened his Bible since he got back.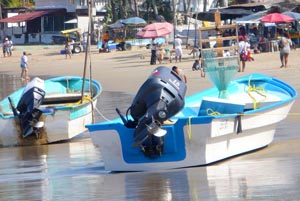 There have been developments. The owner of the ill-fated boat was identified as Juan David Lorenzo of Mazatlan. He had a background in electronics. He ran an internet café. He sold computer stuff. He was not a typical shark fisherman. He just hired the three pros.
The San Blas fishing business is generally low-budget. Many pangas have engines held together with duct tape and chewing gum. This boat had twin 250-horsepower outboard motors worth about $15,000.
Señor Juan knew the value of sharks. He had heard about the high market in the Orient for shark-fin soup. He charted the course to Islas Marias, 60 miles off the coast. That is good fishing ground. It is also home to a large prison complex.
The other person who died was known as El Farsero. We still don't know his name or what he was doing aboard. He certainly was not a man of the sea.
San Blas pier reports show the purchase of 500 liters of gas dispensed into 10 plastic containers. The survivors said the plan was a three-day trip. They ran out of fuel while trying to find the captain's long fishing line, 500 hooks spread over three miles of braided mono, a valuable tool held afloat by plastic milk jugs. It got away the first night during a storm.
Kissack went on believing what he wanted to believe. Meanwhile, his company evolved from Ezekiel 22 Productions into Ezekiel 22, The Ministry, a tax exempt charitable organization, same Atlanta address.
Joe wrote a book, The Fourth Fisherman. He links himself to the three Mexicans by saying he, too, was lost, but was found. There is a lot about his life in the fast lane, his fall from grace, God's rescue and his recovery. There isn't much new about the fishermen.
In promotion material, Joe is an author, screenwriter, motivational speaker and entrepreneur. He has speeches shaped to provide inspiration for charities, churches and business conferences.
The movie? Ozcar Ramirez Gonzalez did a basic documentary titled "9 Months, 9 Days," the time lost at sea. You may have missed it.
It appears the "theatrical movie" that will generate millions is still pending funding.
Common sense says 5,500 miles on the ocean in an open boat could not have happened as presented. People just do not survive under such circumstances. Well, they never had.
But, there they were, drifting along at 175 degrees west and two degrees north, far, far from home, when Koo's 102 spotted them and picked them up.
Like Joe Kissack, I want to believe the story. I want to believe there really are a few men so rugged, so courageous, so fiercely determined not to die that they will fight through hell to make it.
I really like the part about faith in God. There can be no better explanation.
Published or Updated on: December 14, 2012