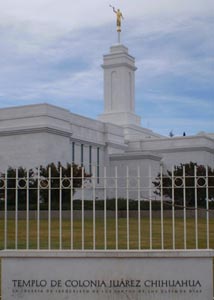 Strange how the world turns. Much of Mexico is hungry for tourism. Mexico Mormons, a generally conservative religious sect, would probably prefer peace and quiet in Colonia Juarez but the presidential race in the United States is almost certain to generate traffic.
Visitors may purchase a peach or two but they are more likely to trample flowers and, Heaven forbid, attract drug gangsters looking for an easy kidnap mark and a million-dollar recovery fee.
Alas, I and others are suddenly interested in the region where Mitt Romney's father was born and several relatives remain.
The Mexican Romneys are descendants of great-grandpa Miles Park Romney and three or four wives who moved south in 1886, out of reach of new U.S. laws prohibiting polygamy.
Miles and other Mormon pioneers made something out of almost nothing and the small towns are is still there in the Chihuahua desert, not far from the Piedras Verdes River, on the flat ground near the Sierra Madre Occidental.
Colonia Juarez is 15 or 20 kilometers southwest of Casas Grandes and the archaeological ruins of Paquime. Dublan, another original Mormon colony, the actual birthplace of George Romney, is nearby. This area is a couple hundred miles southwest of El Paso.
Mexicans have a very clear image of the modern missionaries. They are young men, seen in pairs, white shirts, dark pants and ties, going door to door, handing out pamphlets that explain their view of God.
There are more than a million of Mormons in the country and they are busy trying to recruit another million. Church membership jumped 68 per cent in 15 years.
Mormons have prominent temples in Mexico City, Guadalajara, Monterrey, Merida, Juarez, Zapopan, Hermosillo, Oaxaca, Tuxtla Gutierrez, Madero, Villahermosa, Boca del Rio and Tijuana — and a little one in Colonia Juarez.
Today's view doesn't begin to tell the story. Hearty forefathers hauled meager possessions in wagons and walked hundreds of miles, round and about, trying to find a place to live their unique way. The U.S. government was closing in on the concept of plural wives when families flocked to Mexico.
These people negotiated a deal with Porfirio Diaz to do the best they could with a harsh segment of the north country. They bought land from Gomez del Campo and built homes and a school and a place of worship and dug canals to irrigate planted fields and what would become orchards and cattle farms.
They got off to a good start — and then discovered they had flunked geography. They were developing somebody else's ranch.
Facing eviction or worse, the Mormons had no choice but to leave what they had built and start over, a couple of miles north where there were more rocks and less water. Some gave up and retreated. Those who stayed snared a deer or two, avoided starvation and went back to work.
There was one giant problem. There just wasn't enough water, only a trickle in what was supposed to be the riverbed.
I can't say this is fact but Mormon history has it that the people prayed and up jumped a real, live earthquake that stirred a lot of dust and caused some grass fires and broke open big rocks and let loose a real stream of water from the mountain.
Even today, Mormon farms and livestock thrive off this secondary flow.
The earthquake was good. The Revolution was bad. A lot of Mormons saw conforming to U.S. laws a better choice than getting caught in crossfire. Again, they left what they had built and moved on.
A number of colonists stayed and supported the Revolution. Some were friends with Pancho Villa. Some helped those wounded in the battle at Casas Grandes.
Years later, some of the sect returned but what had been 12 colonies lost numbers and faded from relevance. Only Colonia Juarez and Colonia Dublan remain. Mexico eventually outlawed polygamy and, for the most part, it died a natural death.
Mexico Mormons are Mexicans now. They speak Spanish. They adhere to Mexican law. They work. They are prosperous. Many maintain an American point of view.
Colonia Juarez is a neat town. The school is famous. The temple, dedicated in 1999, is a landmark.
There are Romneys here and there but all is not well. Meredith Romney, former president of the local temple, was out on his cattle ranch three years ago when three gunmen in ski masks clubbed him about the head and shoulders, captured him and hauled him away. He thought he was one dead Mormon but was allowed to live in a cave until relatives paid the ransom.
He was fortunate. Fourteen Chihuahua kidnap victims were killed.
U.S. presidential candidate Mitt Romney is far removed from Colonia Juarez. He has no direct contact with relatives. He has never visited.
It seems unlikely that curious Americans can resist the urge. There is history. There are roots.
Published or Updated on: May 14, 2012