Photo Gallery: Playa Distiladeras
Photo Gallery: Lo de Marcos

The one hundred and eight mile (290 kilometer) coast of Mexico's Riviera Nayarit extends from upscale Nuevo Vallarta to the historic, beach town of San Blas. Well, officially the Riviera Nayarit extends all the way to the miles long, truly deserted Playa Novillera at the far north end of the state of Nayarit, but I have yet to go there so you'll have to wait until next time to hear about that gem. But if you enjoy searching out idyllic beaches and unique locales that are just a wee bit off the beaten path, here are a few of my favorite spots.
Playa Destiladeras
If you are starting from Puerto Vallarta, begin your exploration of the hidden gems to be found along the south coast of the Riviera Nayarit by heading north on Highway 200 and following the signage for Punta de Mita. Turn left off of highway at the sign for Punta de Mita and follow the winding back road for an excursion which ends in Sayulita.
The drive will take you through Nuevo Vallarta, Bucerias and La Cruz de Hauanacaxtle, past several delightful beaches including family friendly Playa Manzanilla and the sparkling white gem of Playa Destilladeras. If you have extra time to spare, on your way to Playa Destiladeras, a short detour off of the back road will take you to the swanky resort area of Punta de Mita and Litbu, another up-and-coming destination on the Riviera Nayarit. This route will land you in the much-loved bohemian surf town of Sayulita, from where you can return to Puerto Vallarta by driving south along highway 200.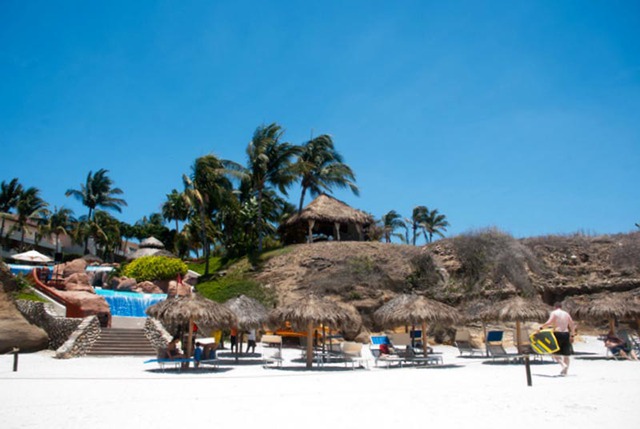 The winding, paved road will lead you through some gorgeous rural back country, presenting many charming vistas and plenty of photo opportunities. Here you'll find some of the most beautiful scenery on the south coast of the Riviera Nayarit including several delightful beaches and plenty of banana, mango and papaya trees. If you are fortunate and sharp eyed, you may spot a blue throated magpie jay, a coati-mundi, a deer or an armadillo, but admittedly sighting a few cows or a caballero on horseback, is more likely.
Why take this route? It's scenic and it is the only route to the sublime mile and half long gem of a beach, referred to as Playa Destiladeras. This wide beach lined with sparkling, silvery white sand is picturesquely framed by rocky bluffs along its full length and at both ends. The clear, shallow, blue-green waters are perfectly suited for a frolicking in the waves, swimming and boogie boarding. The beach is popular with kite flyers, windsurfers and casual surfers during the afternoons when the offshore breeze picks up. Playa Destiladeras is perfect for walking and beach combing for shells and sun bleached rocks and pebbles.
The beach is one of the prettiest beaches on the coast of the Riviera Nayarit. Visit this little gem of a beach soon, before the rest of the world does!
Playa Destiladeras is located about fifteen minutes north of Cruz de Huanacaxtle. It is an easy beach to miss, so keep your eyes peeled for the sign which denotes a new development called the Nahui Resort, which marks the south end of the beach. Upon arrival, park in the lot located at the south end of the beach, where you can access the public path that leads to the seashore.
During the tourist season, you will find a couple of vendors on the south end of the beach, who sell bottled water, pop, fresh fruit and snacks. For heartier fare, bring along a picnic lunch, or plan to stop for lunch in Punta de Mita when you have had your fill of the beach, or in Sayulita, on the return trip.
When you depart Playa Destiladeras, turn left and follow the signs to Litbu and Punta de Mita. You'll find yourself driving along a wide four lane road. Keep driving until you spot the sign for Litbu and Sayulita. Turn here, and continue along this route to enjoy a scenic drive that will land you in the much loved bohemian surf town of Sayulita. If you have worked up an appetite, or for that matter, find you are famished, you'll find a wide assortment of establishments waiting to satisfy your every need. From Sayulita, you can return to Puerto Vallarta quickly by driving south along highway 200.
Lo de Marcos
Lo de Marcos remains one of my much-loved beaches on the Rivera Nayarit, and for good reason. The wide expanse of beach is sandy and the blue ocean waters are always warm and inviting. The scenery along this kilometer-long beach is lush and green, and comparable to some of Hawaii's most beautiful beaches.
This extremely attractive beach of Lo de Marcos is perfect for strolling, horseback riding and for casual swimming. The beach is quiet; indeed, it is almost deserted on weekday mornings. I enjoy swimming here, but do take note that the ocean waters become deep quickly and that there areas on this gorgeous beach that are said to have dangerous currents and a strong riptide. Use caution when swimming here. Ask around, stay close to shore, and swim where the locals are swimming, which is usually at the central portion of the beach where the waters are shallower and the currents are gentler.
There are a couple of informal beachfront restaurants that serve traditional Mexican far. The menu frequently includes the fresh fish caught offshore, which patrons typically enjoy with an ice cold agua fresca, cerveza or a michelada.
If you walk along the beach toward the picturesque north end, you will find a freshwater estuary which, in the rainy season forms a charming freshwater lagoon. It beckons swimmers to a dip. Indeed, it is likely that you will spot a few locals enjoying a dip in the lagoon. I was told by a couple of locals that there have been no crocodile sightings in the lagoon for over thirty-eight years. However, I no longer swim in this lagoon as I was recently advised by a friend who lives in Lo de Marcos that crocodiles have been spotted here. As someone who has rejoiced in taking the occasional dip in the lagoon, I have to say that — given the possibility of encountering a crocodile — it's not worth the risk.
Lo de Marcos, is quiet, family friendly, strikingly beautiful, sandy beach and definitely worth exploring!
Playa Los Venados
If you dream of being a castaway and are seeking adventure in a tropical paradise, visit Playa Los Venados! This small, secluded beach is located at the southernmost end of the town of Lo De Marcos. To reach Playa Los Venados, drive south along the beach road that runs parallel to the beach of Lo de Marcos until you see the sign for Playa Los Venados. This small, lovely beach offers day-trippers one family-run restaurant serving delicious fresh oysters, plucked from the rocks on the beach, and fresh fish caught right offshore that morning, prepared as you wish. On calm days during the winter months, the ocean waters are perfectly clear and suitable for swimming and snorkeling. Indeed, the snorkeling here is fine, and you'll find even finer snorkeling on the on the beach just around the corner, Las Minitas, which is accessible only by boat or by swimming there.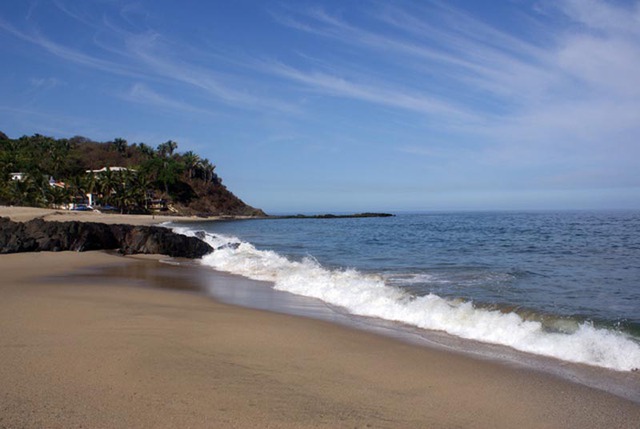 How pretty is this little beach? Parts of the movie Man Friday, starring Peter O'Toole as Robinson Crusoe, were filmed here.
Los Venados is the perfect beach to get away from it all and while the daylight hours away. If you visit during the week, it is quite likely that you will enjoy a castaway experience. If you visit during the weekend you'll likely share the experience with one or two other Mexican families enjoying a picnic lunch on the beach. Either way is fortunate. Indeed!
Published or Updated on: May 26, 2012