Photo Gallery: Rincon de Guayabitos: an affordable paradise
Rincon de Guayabitos, which means translates to "Corner of Little Guava Trees" is five minutes north of Los Ayala, and truly a delightful and picturesque beach. The beach offers shallow safe swimming waters, gentle waves that are perfect to play in, and three miles of fine, velvety sand to walk along. The surrounding majestic mountains are extraordinarily beautiful, and frame the bay perfectly. Because of its tranquil waters, the beach is frequently referred to as the "largest swimming pool in the world." Guayabitos is a very popular beachside paradise with Mexican families during the summer, holidays and Semana Santa (the week preceding Easter). Canadians and Americans prefer the winter and spring season, both as a vacation spot and a winter retirement destination.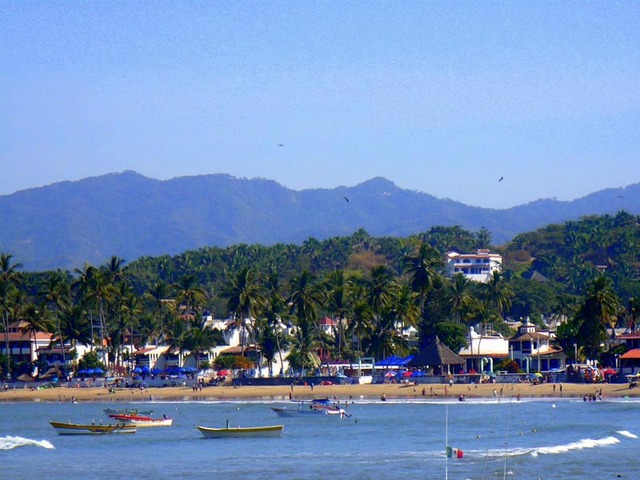 The south end of the beach offers old world charm and is frequented by fisherman with colourful boats decked out with pelicans. There are several palapa restaurants on this end of the beach and one of our favourites is Daniel's Backstreet and Brewing Company, primarily for its romantic beach side setting, but also for its scampi, cannelloni and home crafted beer. For a change of pace and more casual fare, we frequent Latitude 21 for Texas style burgers, and good, inexpensive beachfront dining.
The central portion of the beach is populated by the higher end hotels, and has several great Mexican restaurants such as Piña Loca, and Campanario, set a block or two back to the beach. For the younger crowd, Guayabitos has two discothèques which are quite lively after 10 p.m.
The north end of the beach is largely residential where many of the homes resemble tropical palaces complete with colourful cupolas. This end of the beach is always quiet, very popular with boogie boarders of all ages, and on windy days you may even catch some of the local kids surfing.
The main avenue of Guayabitos is lined with stores selling an endless array of sandals, bathing suits, hats, tee shirts and souvenirs. There is a great variety of inexpensive restaurants, taco stands, ice cream parlours, fresh fruit stands, and convenience stores.
While visiting Guayabitos, take a boat ride to nearby Isla Islote for some snorkelling, or simply a day at small but very beautiful beach. The beach at Isla Islote boasts fine white sand, crystal clear Caribbean-like waters and good snorkelling at high tide. The snorkelling does not compare to the Caribbean side of Mexico, but the it is good. Bring an umbrella for shade, your own snacks and water, and try to visit the loo before you board the boat, as there are no facilities of this kind on the island.
Rincon de Guayabitos is an affordable, beautiful beach side paradise with something for everyone.
Published or Updated on: October 1, 2009