In the sixteenth century, when the Spanish adventurer Cortés heard rumors of an exceptionally favorable port site on the west coast of Mexico, he immediately sent men to investigate. Cortés' information came from a Tarascan ruler who, under torture, had told of the arrival at a place called Tzalagua, years before, of the boats of a Chinese mandarin, who wanted to trade with the king of Colimán (today Colima).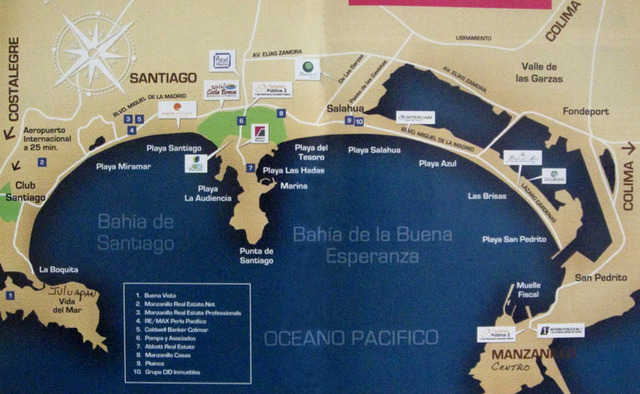 Gonzalo de Sandoval was sent to conquer the region for Spain; he found a magnificent port site on a beautiful bay, and reported back that Salagua was an ideal location for ship-building. The mistake over the spelling of the name is understandable since while the Spanish were told "Tzalagua" which meant "place where the cloth is stretched and dried", they naturally understood "Salagua", which in their own language meant "saltwater". Salagua still exists today, between the port of Manzanillo and the tourist area of Santiago.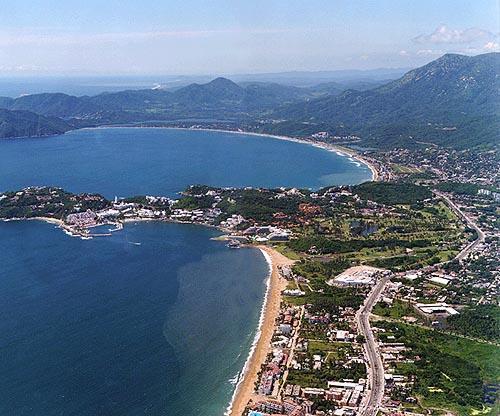 A Presidential decree, dated 21 October 1825, officially established Manzanillo, rather than the silted-up Salagua, as a port for foreign trade. But, for many years, nothing much happened. An English speaking visitor in 1834 was so depressed by the town that he said its most numerous inhabitants were "pelicans and sharks".
The port's first lighthouse was built in 1903. Five years later, the completion of the long-delayed railway from Guadalajara to Colima consolidated Manzanillo's position, enabling easy shipment of bulky items between the port and Guadalajara, there connecting with all the country's major railway lines. However, once Southern Pacific extended its track from Tepic to La Quemada in 1927, this boom period came to an end, since it then became possible to send freight from Mexico City to the U.S. border without the need for any ocean transportation. Manzanillo, the port which took several centuries to grow to maturity, became one of the most interesting and attractive of all Mexico's tourist resorts, combining a thriving, bustling town with magnificent, modern hotels and all manner of sporting facilities. The University Archaeology Museum has four rooms of interesting exhibits and some colorful murals.
Each new hotel tries to outdo those built before, but the standard by which Manzanillo's newer hotels are judged remains Las Hadas. This Mediterranean-style, fully self-contained, super-luxury, top-of-the-market resort has, quite rightly, long had a place in the list of the "World's Leading Hotels". It was conceived by Bolivian tin magnate Antenor Patiño, and constructed in the 1960s on a promontory overlooking Manzanillo Bay. No detail was overlooked. Las Hadas has its own marina, only a few steps from the hotel, and its own golf course, Mantarraya, one of the most challenging in the country. Even if you are not staying in Las Hadas, it is still well worth visiting, if only to see how the other half lives! Manzanillo is the self-styled Sailfish Capital of the World. Its annual international fishing tournament, first held in the 1950s, has introduced a sensible set of regulations designed to ensure that fish stocks will never be depleted and hopefully that the tournament champions can continue to break old records.
It seems almost superfluous to add that there is any number of superb seafood restaurants for you to try or that every conceivable beach and water sport is available somewhere in the tourist zone. There is no shortage of night life, either, with live music and shows in all the top hotels and restaurants.
Extracted, with permission, from Western Mexico: A Traveler's Treasury, chapter 30.