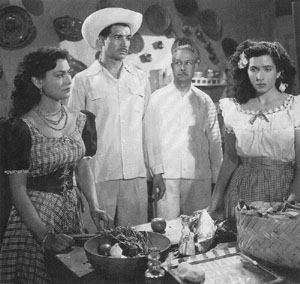 What better recipes to accompany a still from the 1944 film Pasión Jarocho, or "Veracruz Passion?" This classic regional dish od whole fish in Mexican green sauce goes perfectly with the story of lovers in a small Mexican fishing village who seem destined to be kept apart by rumors and jealousy. Will Rosalinda and Hugo ever find happiness together? Watch and see, as your guests find happiness dining on whole roasted red snapper in a bright, fresh green herb sauce. (Adapted from Recetario del Cine Mexicano, Editorial Saber Ver, 1996)
Ingredients
4 tablespoons butter, at room temperature
2 cloves garlic, crushed
1 whole red snapper or snook, about 5 pounds, cleaned and scaled
salt and pepper to taste
For the sauce:
¾ cup roughly chopped hoja santa, also called acuyo
1 cup cilantro leaves
½ cup epazote leaves
1 garlic clove
½ medium onion, roughly chopped
2 serrano chiles, seeded if desired
2 cups chicken broth
¾ cup olive oil
Preheat oven to 350°.
Mix the butter and crushed garlic, spread the mixture all over the outside of the fish, and salt and pepper the fish to taste. Place the whole fish in a large baking dish.
Place all remaining ingredients in a blender and puree. Pour the pureed sauce over the fish and bake until the fish flakes easily when pierced with a fork. This is good served with white rice to soak up some of the sauce. Serves 8.
Link to source article
Cinematic cuisine: Mexican recipes from a Golden Age
Published or Updated on: February 24, 2012