Photo Gallery: Easter in Jaltemba Bay, Mexico: Semana Santa is a family affair
Semana Santa is a significant Christian holiday in Mexico, celebrating the last week of Christ's life before his crucifixion on Good Friday and his resurrection on Easter Sunday. However, here in Jaltemba Bay, the celebration of the holiday is akin to a family-friendly Mardi Gras.
Jaltemba Bay includes the small, friendly and delightful beach towns of La Colonia, La Peñita de Jaltemba, Rincon de Guayabitos and Los Ayala. The local people of La Peñita de Jaltemba do stage shows sharing traditional processions and pageantries re-enacting the events leading up to Christ's crucifixion, nevertheless; the celebration of Semana Santa in this area is mostly about the family beach vacation.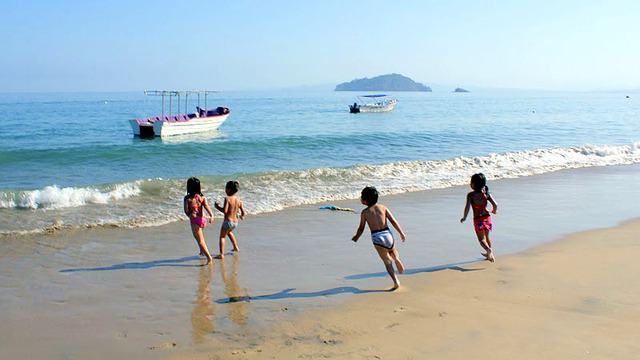 Each year for the week of Semana Santa the majority of Mexico's working population enjoys vacation and Mexican tourists arrive by the thousands from all over Mexico; primarily from the states of Jalisco and Nayarit. Consisting for the most part of families, these vacationers choose Jaltemba Bay because it boasts gorgeous palm-lined sandy beaches offering safe swimming and because this area of the Nayarit coast is a very affordable vacation destination.
They arrive by bus, colectivo, car and jam-packed pickup trucks, quadrupling the local population, to enjoy a week-long beach vacation filled with revelry and merriment. The small and usually quiet beach towns in this area take on a decidedly party atmosphere, and it is all in good fun.
Countless new businesses spring up to cash in on this extremely lucrative holiday. In the true spirit of Mexican entrepreneurship, the streets and beaches are lined with vendors selling wares from carts and wheelbarrows, and pickup trucks overflowing with watermelons and pineapples. Typical cart fare includes tacos; cheesies and potato chips doused with chilli peppers and chilli sauce. But there are healthy choices too — pineapples stuffed with fresh fruit, a myriad of fresh juice waters, roasted pecans and almonds, gigantic coconut cookies and, my personal favourite, an assortment of dried fruit, especially dried mangos, nuts and candies.
During Semana Santa, every bungalow in town experiences 100% occupancy, even at premium rates. The rate increases during this time of year are softened by the fact that it is not uncommon for bungalows to sleep up to 6 adults and whatever number of accompanying children, who are regularly not counted as occupants. The overflow of vacationers rent out rooms in private homes, camp in designated areas or not, and if all else fails they live and sleep in their vehicles. It is not uncommon to see a pickup truck with six or more happy souls all cohabitating in the back. This always makes for interesting and innovative stacking systems when it becomes time to retire for the night.
To take vacation here during Semana Santa is to experience one grandiose party complete with dancing in the streets and competing banda bands playing on the beach and every vacant street corner. They play a brass-based assortment of Mexican music and entertain the crowds into the wee, wee hours of the morning. It is quite the challenge to get a good night's sleep with the deafening sounds of drums, tubas and trombones playing constantly in the background.
Seemingly too-young children drive their parents on ATV's up the sand streets in our towns, not to mention the pickup trucks with blaring music and beautiful young women in bikinis driving up and down the streets for sheer fun. Families consisting of five generations carry packed picnic coolers to the beach and spend the entire day having fun in both the surf and especially the sand. Nights are spent partying the street, singing and dancing to the band's music, and cart dining on tacos, carne asada (thin strips of beef seared on a hot grill), deep fried tongue, tripe, or pork and. for the less adventurous, pizza, hamburgers and hot dogs wrapped in bacon or not, which sell for the incredible low price of 3 for 25 pesos (about $2.10 at time of writing).
Entire families ranging in age from 2 months to 95 years hang about in the shallow waters of the beach for hours on end, frolicking and holding extended conversations in the water and burying each other in sand. The less affluent swim in their clothes and no one seem to care a whit about what they look like at the beach. This is quite refreshing after coming from Vancouver where people at the beach often look like they are competing to appear on the cover page of Sports Illustrated. The beach is for fun! Considering that is legal to drink on the beach and that everyone seems to have a bottle of Modela, Corona or Pacifico beer on hand, most everyone is well behaved. All in all considering the crowds and liberal liquor laws here in Mexico, the event is relatively trouble free.
Sadly, the vast majority of snowbirds return home before Semana Santa begins, and many North American expats who reside in this area take a vacation in order to avoid the crowds, traffic, and noise of Semana Santa. A few, however, stay and partake in the merriment and take the time to appreciate a different cultural experience.
We moved here in large part to enjoy the tranquility and beauty of living in Jaltemba Bay and, while Semana Santa is not our favourite time of year, we do enjoy watching the people and feel fortunate to share the experience. Mostly we admire the importance and appreciation of family togetherness plainly exhibited in the Mexican culture. To us this is what differentiates the Mexican culture from the North American culture; and if everyone could learn this the world would be a better place to live.
Published or Updated on: April 10, 2011