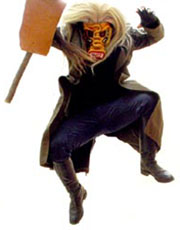 Masked dancers take to the streets on July 25 to reenact an age old battle fought in Spain long before the conquest. The ceremonial tastoan (sometimes spelled tastuan) rituals come from the 12th century and were originally known as the dance of the Moors and the Christians. In Spain's version, the dance symbolizes the expulsion of the Moors by the Christians, while Mexico's variation is commonly interpreted as the representation of the Spanish conquest of Mexico in the 1500s.
In Spain, Saint James — known as Santiago Matamoros — was invoked by the faithful during the during the struggle to rid Spain of the Moors. From the fifth through the fifteenth centuries, troops rallied to a rousing battle cry of "Santiago y cierra España!" ("James and close Spain!") He became known as Santiago Matamoros, or "Moor slayer," and was brought to the Americas along with all the other Roman Catholic saints during the conquest.
The dances may vary from town to town, but all utilize bizarre masks and wigs. In Jocotan, a former indigenous settlement on the outskirts of Guadalajara, the sound of clashing swords mingles with drumbeats and flutes as fighters on horseback make their way to the town plaza. There, good eventually triumphs once more over evil.
Published or Updated on: July 25, 2010