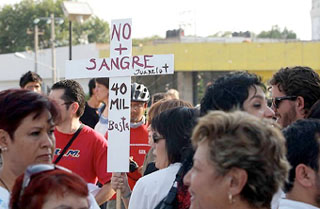 Question: There is so much bad news along the border. Does anybody ever smile?
Answer: Of course — and sometimes we laugh out loud.
With all hell breaking loose around them, Border Patrol agents in the Juarez region caught a crowd of bad Barbie dolls trying to sneak into the United States.
These were not genuine Barbies by Mattel but they sure looked like her. The fakes, stuffed into 457 cartons, were probably manufactured in China. Like other illegals, they had made their way from Mexico in the general direction of money.
U.S. Customs agents, always on alert, captured a big load of unlicensed T-shirts just before the Super Bowl. Maybe you heard the cheers and chuckles from the NFL. Officials also stopped 58 pounds of Mexican iguana meat from entering the U.S. taco market.
Nobody was laughing but Border people did tip their caps to the ingenious drug delivery ring that used catapults to throw bundles of marijuana from Mexico over the fence into Arizona.
The devices, copied from Greek and Roman history, were 10 feet tall and mounted on flat trailers, one towed by a husky SUV, the other by a pickup truck. A Mexican army officer said the catapult he saw could hurl eight kilos per swing.
Catapults captured near Naco and Agua Prieta. No arrests. Sorry about that.
* * * * *
Question:
 Is the drug war affecting the Mexican economy?
Answer: It depends on who you ask. Based on PR announcements, business is booming. Wal-Mart de Mexico says it will spend 19 billion pesos this year to expand operations.
Wal-Mart already has a couple of thousand retail stores and restaurants and intends to open 365 new businesses. Those crunching numbers say that will generate 20,000 jobs.
On the flip side, I know for a fact that moviemakers, contracted for filming in Baja California, fled for Australia because of concerns about violence. You don't see or hear much about movies moving but the loss was considerable.
Come to think of it, I probably wasn't going to watch Voyage of the Dawn Treader even if this version had been shot in Mexico.
The Ladies Professional Golf Association cancelled the Tres Marias championship scheduled for Morelia this month. An LPGA voice said "Our security firm determined safety issues were too severe."
Mexico sports are not sheltered. Soccer players took some hits in January. Officials are privately fretting about the Pan-Am Games coming to Guadalajara in October. The current coaching tip is practice ducking.
Thorndike "Dike" Dame, a real estate developer from Portland, Oregon, says violence is fouling up fishing.
He was chasing trophy bass on Lake Huites in the Sinaloa highlands ($1,275 plus tips for a three-day adventure) when bandits shot him in the face and shoulder, took an unfair share of his worldly possessions and left him to die in the bottom of his boat.
Dike didn't die but he got really angry and sued the fishing lodge for $4.8 million.
* * * * *
Question:
 You tell good police tales. Got any new ones?
Answer: How convenient that you would ask. It took awhile but police in Leon just captured a guy who had been on the lam for 21 years.
Adam Zachs killed a guy in Connecticut during an argument about a 1987 NCAA basketball tournament game. He was sentenced to a long time in prison but disappeared into Mexico while his conviction was on appeal.
Zachs found a wife, fathered some children, blended into the scenery and was in the computer repair business when taken into custody.
This is not a warning about computer repairmen. It does say the long arm of the law keeps reaching and stretching. Count on it.
* * * * *
Question:
 Have you ever purchased Mexican ripoffs of famous brands?
Answer: At the risk of self-incrimination, yes, once, a Rolex, but I have repented and changed my ways.
Microsoft has a bad rip problem and I sympathize. The company says drug cartels, between shootouts and kidnappings, are selling counterfeit copies of its products on street corners in Mexico.
I can't imagine who is counting but Mexico attorney general Arturo Chávez says counterfeiting crooks are generating more than 20 million pesos per day. One raid found a large room with 50 machines for duplicating Microsoft Office and Xbox video games.
I don't know but I've been told that some of them actually work.
Published or Updated on: April 7, 2011