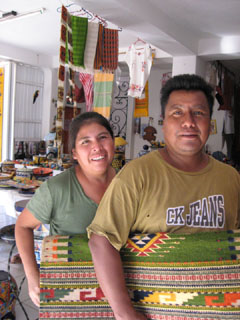 Reynaldo the Rugman has a problem. He and his relatives have made more rugs (beautiful colors, skillful weaving) than he can sell.
Reynaldo Vasquez Hernandez is a fifth or sixth-generation artisan in spring, summer and autumn and a traveling salesman — representing the entire clan — in winter.
Home base and workshops are outside Teotitlan del Valle, north of the Pan American Highway, a few minutes from Oaxaca city.
The chosen marketplace is 1,012 kilometers away, one block from the Pacific Ocean, in suburban Melaque, a rustic mecca for Canadians and other budget tourists.
Barra de Navidad, a wee bit more artsy and stylish (code for more expensive), is just around the bay.
For 12 consecutive Decembers, Reynaldo and several bundles of rugs have made the trek — by bus. The route is always the same, Oaxaca to Asuncion to Tehuacan to Puebla to Texmelcan to Mexico City to Toluca to Morelia to Guadalajara to the coast.
"Twenty-four hours on the bus or in the bus stations."
Think about it: A family of five, wife Teresa, Felipe, Jessica and Reynaldo Jr., travel the long, hard way. They spend the winter in cramped quarters behind low-rent retail space, on a dusty street corner.
Teresa does everything a mother does plus run the shop and do some sewing on the side. The two older children enroll in school. Reynaldo lugs rugs to neighboring villages for market days.
Nobody complains. The plan is sound. Reynaldo Vasquez Hernandez has sold many, many rugs.
"Last year we sold out."
This has not been a good year. Tourism is down. Melaque hotels and bungalows have vacancy signs. There are empty restaurant booths. There is no line at the bank.
"I don't know if it is the economy or the drug war."
So, what to do, slash prices for a going-away sale and try to make something out of nothing?
"Oh no," said Reynaldo, a hint of horror on his face. "All our rugs are correctly priced. If no one buys, we will gather them up, get on the bus in April and go home."
Relatives will be disappointed.
Reynaldo thinks Teotitlan del Valle is indeed the world hub of handmade rugs. For hundreds of years, the faithful Zapotec villagers have sheared sheep, washed, carded and dyed wool, spun it into yarn and woven it with tender, loving care.
Some weavers are more famous than the Vasquez family. Some are in show business, demonstrating their craft to tour groups. Some are featured in magazines. Some sell at the Oaxaca co-op. Some export their goods to the United States.
What they sell is knowledge, effort, authenticity, natural dyes, rugs made by hand on traditional looms.
Reynaldo glows when you seek details.
Yes, the technology is simple but the determination is beyond belief. Fathers teach sons, telling the truth that keeping the tradition alive does not mean an easy life.
No, Oaxaca craftsmen will not give in to Chinese synthetics and shortcuts. They will go right on gathering plants, minerals and bugs to create the vivid colors — alfalfa for green, cochineal larva for red, pomegranate skin for yellow, indigo for blue, pecan shells for tans, huizache pods for black.
Reynaldo's rugs hanging in Melaque range from small room size, 4,800 pesos, to decorative pieces that might go in front of hearths or chairs or beside beds — or on walls. They cost 1,200.
Designs go from Zapotec traditional to Navajo to birds, fish and turtles. Reynoldo and associates are very creative.
Several winters Reynoldo has accepted special orders (sketches on notebook paper) for delivery the next, half price in advance. His reputation is impeccable.
Here is the problem: Friends and acquaintances already own Reynoldo rugs. Unless a large cruise ship runs aground in the bay, unless there is a late rush of new customers, he will load up leftovers, endure the long bus ride and face an unhappy homecoming.
Artists deserve a better fate.
Published or Updated on: March 8, 2011