Tales from the Sierra Madre including The Woman in the Trunk: A Mexico book by Jenny McGill –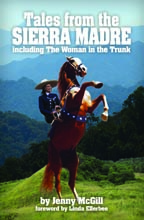 Tales from the Sierra Madre including The Woman in the Trunk
Jenny McGill
Create Space, 2011
Available from Amazon Books: Paperback
Joy, joy, Jenny lives on. The "other" Mexico book by the late Jenny McGill has made it to market.
Tales from the Sierra Madre is not a miracle, just a beautiful, dedicated, determined effort finished by husband Howard and a few dozen of the McGills' hundreds of friends.
Jenny thought it was almost ready before she died the last day of December 2009. It is an unusual book about many people and places and happenings, a delightful collection of her best columns, even favorite recipes and those who mixed, stirred and cooked. You might or might not want to try Helen Corbitt's Pickled Black-Eyed Peas.
Do not miss the adventures of the Virgin of Talpa. Amazing!
There are other intriguing legends. The featured story of the woman in the trunk starts on page 191.
If you read with a open mind and the TV off, you may see and hear Jenny tell the tales, excitement here, sensitivity there, a chuckle, a tear, conflict, ceremony, deep feelings. Real stuff. A few dangling details delayed publication — organization (we who write call it flow), editing, layout, illustrations, more editing, don't mess with the meaning, just eliminate typos and verify spelling.
Howard did it. And all-pro Carol Wheeler. And Barbara Sands. And William B. Kaliher. And media celebrity Linda Ellerbee, the one who promised both McGills that it would be done.
If you read Jenny's first book, Drama & Diplomacy in Sultry Puerto Vallarta, you already know the background. If you didn't read it, find one.
Jenny was a U.S. consular agent, understanding but tough enough, treated to tidbits of pomp and circumstance but mostly busy solving ho-hum dull, depressing problems. Off duty, she was a happy, warm, caring, highly principled woman who loved life and Mexico.
She and Howard did the PV scene forever, then semi-retired to Talpa de Allende which translated into another point of view, a new set of friends and more tales, some tall.
Okay, just a hint.
"Talpa charro horses wear pantyhose! It is the truth! There is a special product made just for polishing horses' hooves. After the desired shine is achieved, the hooves are sprayed with hairspray, the same as we women use. To keep the hooves clean and shiny before the parade, two pairs of pantyhose are split up the middle through the crotch and the horses' legs are encased in the hose. Roy Rogers would have fainted!"
Ever been to Mascota? Go with Jenny.
"Mascota is a thriving, bustling farming community. Mascota's fans call her 'The Emerald of the Sierra Madres.'
"It is a green jewel worth exploring. Think of robin's egg blue; set that to the tune of Hoagy Carmichael's "Ole Buttermilk Sky" and you will not only feel, but also see the color of the Mascota skies shimmering over the green mountains…
"On the right side of the road to Mascota from Talpa is an awesome over-hanging rock that defies gravity. I am sure it will continue to do just that because the locals built a shrine under it and offer up prayers daily that the rock stays exactly as it has for centuries.
"Christmas in Jalisco?
"End-of-year holidays in small Mexican towns have a very special meaning. Folks come home. Highways are bumper-to-bumper. People are loaded with gifts.
"You can spend a few lazy hours sitting in the plaza counting foreign-plated cars. Most are from California or Texas. Occasionally, we see an Idaho, Montana or Oregon plate, and now and then one from British Columbia.
"Home folks try to get holiday decorations up by December 1 and don't take them down until after January 7. Some keep decorations up until after Easter, and I know a few who never bother to take them down.
"There is sure to be a nativity scene in a corner of the front room or in the center of the main table. It seems the more humble the family, the larger the crèche.
"Father Antonio Corona, who lives in the shadow of the 40-foot statue of Christ on the mountain behind the church, maintains a life-sized crèche outside his front door year round. Visitors climb 78 steps up the hillside to view this manger scene. Father Antonio only flips the light switch on during the Christmas season."
Like Jenny was, the new book is vigorously alive. Characters are colorful but real.
Tales from the Sierra Madre is from Jenny – and for Jenny. With love.
Published or Updated on: September 12, 2011