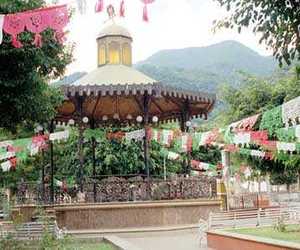 Mexico's economic downturn may be worse than those of other nations, because so much of Mexico's economy depends on tourism. Mexico City's solution is the Tourist Assistance Card, offering insurance for medical, legal, and flight delays. Cancun has a problem with no sand on their beaches, a problem so severe that the Mexican Navy was dispatched regarding the theft of sand from one hotel by another. Said one visitor from Uruguay, "They promised us a beach. This is very unpleasant."
What about Ajijic? We have the Lake Chapala Society, a magnificent lake, and a nearby airport. So how can we attract more tourists? First, visitors have to get here, probably by plane. Lots of airline accidents lately could discourage visitors, unless they fly on a safe airline, bringing us to Benefit Number 1.
Safe PlanesMexicana Airlines has had only three accidents since 1969, the last one being 1986. Aeromexico has had only six accidents since 1973, and none since 2000. Source: AirDisaster.Com accident databases.
Low Crime RateAccording to Frommers, Guadalajara has much lower crime rates than Mexico City. Crimes against tourists and foreign students are infrequent and most often take the form of purse snatching. Ajijic is a short 35 miles south of Guadalajara.
HotelsDisclosure: I can only personally recommend where I stay, La Nueva Posada, on Lake Chapala. The price is better than right (and includes a divine breakfast), service is excellent, food tasty, rooms beautiful, and there is no ambience in all of Ajijic that's more conducive to relaxation and comfort than this wonderful home-away-from-home boutique hotel. No matter where you are, you'll have a room with a view.Friends highly recommend Casa del Sol, two blocks from the plaza. The spacious residence has been transformed into a boutique bed and breakfast inn, and has one of the few elevators in Ajijic.

Archeology

The U.S. has pyramid clubs and pyramid schemes, but no actual pyramids. However, there are a couple that are not too far from Ajijic. Guadalajara has the Iztepete pyramid, now located on the edge of the growing metro area. Just outside the town of Teuchitlan, 25 miles due west of Guadalajara, Guachimontones is an impressive ceremonial center with distinctive circular pyramids. Once upon a time, the Guachimontes complex was the cultural center of Western Mexico, home to 25,000 people. Unless tourists are intent on seeing the famed and awesome Pyramids of the Sun and Moon near Mexico City, they could just as easily be bowled over by Guachimontes.

MusicWant to get away from rap music? Come to Ajijic and try public transportation: a little bus that tilts if there are more passengers on one side than the other and where, more often than not, someone on that bus will be playing soft music on a sweet guitar. It's polite to thank the musician as well as the bus driver. For parties, hire the Ballet Folklorico dancers. The price is reasonable, they are all great looking, and it was in the State of Jalisco that the Jarabe Tapatío, or Mexican Hat Dance originated. Best of all, Michael Eager of La Nueva Posada locates the best dancers, and can supply a wooden floor to install over your lawn for dancing. Nothing musical is impossible in Ajijic, especially if you like the tuba.
Lake Chapala SocietyThere are no strangers here, only friends you haven't met yet. New in town? Looking for a place to rent? Videos? Books? Spanish lessons? Volunteer work? Need to know how to move here? Anything can either be found at the LCS, or someone there will know where it is. And you won't find more beauty than these large grounds and gardens, bequeathed to LCS by author and benefactress, Neill James.
Fresh Air
Remember that from when you were a kid? Just add floral fragrance drifting on a warm breeze, and you'll have the scent of Ajijic.
I suppose we could always offer a Tourist Assistance Card, like the big boys in the big cities do, but what would tourists need insurance against – too much food, or tomatoes that taste like tomatoes instead of damp cardboard? And if Lake Chapala lost the sand on its shore, would the Mexican Navy invade? Highly doubtful.
Until it becomes illegal to breathe clean air, listen to good music and make new friends, Ajijic may be that magical place you're looking for.
Published or Updated on: April 8, 2010