Photo gallery: Loreto Bay: The greenest place in Baja, and quite possibly in all of Mexico!
Loreto Bay, a 3-billion-dollar, 6,000-home development in Baja California Sur, may be the most eco- and socially-aware resort project anywhere in the country.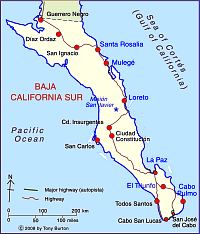 At first sight, this is rather strange, given that Loreto Bay, eight kilometers (five miles) south of the town of Loreto, was originally conceived by the Mexican Tourism Development Agency, Fonatur, which has the dubious distinction of having planned the tourist resorts of Cancún, Los Cabos, Ixtapa and Huatulco, none of which merits any award for ecological awareness.
Back in the 1970s, Loreto Bay, then named Nopoló, was billed by Fonatur as the next big thing – a bustling modern resort around a marina and golf course, on the coast of the Sea of Cortés, on land that would otherwise be useless Baja California desert. Fonatur built a hotel and golf course, but when it tried to sell off surrounding parcels of land, there were few takers. Investors preferred the existing Fonatur options, deciding that Loreto was too much of a gamble, having a limited local workforce and being relatively isolated, with poor transportation links.
Fast forward thirty years, and the potential of Loreto Bay is recognized by a developer in tune with the rapidly growing demand, especially among the baby boomer generation, for ecologically sensitive homes and communities.
Fonatur's loss has been Loreto Bay's gain. The Biblical saying that "the last shall be first, and the first last" could not be more true than in the context of Loreto Bay. Considered a white elephant for years, and the least successful of Fonatur's planned resorts, Loreto Bay is now well on its way to overtaking all of them in becoming the greenest eco-resort in the nation. Loreto Bay is being developed with far more thought and attention to the environment than any previous Fonatur project.
The Villages of Loreto Bay is one of the largest resort communities in North America committed to the principles of sustainable development and "New Urbanism". The natural focus of this spectacular stretch of coastline, Loreto Bay is being developed by the Scottsdale, Arizona-based Loreto Bay Company (founded in 2003), part of the Trust for Sustainable Development. Partners of Loreto Bay Company include Citigroup Property Investors, who selected Loreto Bay as the first investment in their 10-year, 50-billion-dollar drive to address global climate change, BuildGreen Developments, and the Mexico Green Building Council.
The development is planned as a series of "romantic, walkable, seaside villages." Each village will be pedestrian-friendly, including retail, entertainment and recreational facilities, where bicycles and electric cars are the primary means of transportation. In the Founders' Neighborhood, homes are connected to each other via a network of cool, shady passageways, interspersed with small intimate communal garden spaces. Many of the details, inside and out, are in keeping with the philosophy advocated by Christopher Alexander and his colleagues in their seminal architectural treatise "A Pattern Language". They make for varied and friendly, comfortable spaces, which (unlike so many modern developments) do not feel cold, impersonal or forbidding, but warm, welcoming and inviting.
Loreto Bay's commitment to sustainability is obvious throughout. Eventually, all the electricity required will be generated from wind turbines. Construction of an initial 20-megawatt wind farm is scheduled to begin this year. Energy-efficient homes incorporate ultra-modern Perform Wall technology and solar-powered hot water systems. A very high proportion of all waste is recycled.
To avoid any further stress on the San Juan Londó aquifer, which supplies the Loreto region with water, a combination of water conservation, watershed restoration and desalination at Loreto Bay will ensure that more water will be available than the Villages require for self-sufficiency. Village landscaping uses native plants, well adapted to the warm, semi-desert environment. The revamped golf course (the first nine holes are scheduled to reopen in April 2008, and the next nine within 12 months) uses recycled wastewater from the town of Loreto in its state-of-the-art watering system. The course has been replanted with saline-tolerant varieties of paspalum grass that thrive on brackish water.
More than 2,000 hectares (5,000 acres) of the 3,200 hectares (8,000 acres) in the master plan are being set aside as a natural reserve, where water can infiltrate freely into the underground aquifers, flora and fauna can multiply unmolested, and walking and biking trails allow people to get close to nature.
The current (second) phase of the development, Agua Viva, involves the revitalization of 8 kilometers of estuaries and 25 hectares of mangroves to create a community entwined with nature. Loreto Bay has the largest mangrove nursery in Mexico. In the developer's words,
Agua Viva will be a living example of how a sustainable community can co-exist with a vibrant and abundant ecosystem.
The Loreto Bay Company has already contributed more than 1 million dollars to the Loreto Bay Foundation, and pledged a further 2 million dollars. The Foundation is involved in numerous projects, including a new full-service medical facility for Loreto, a local youth soccer league, and construction of a new environmental center in the town to be managed by Grupo Ecologista Antares.
Even at Loreto Bay, some questions remain to be fully answered. Will sufficient low income homes be provided nearby for the workforce required to service and maintain a community of this size? Will the people who move to Villages meld into a genuine community? How rapidly will the social facilities, clubs and volunteer opportunities that characterize active communities come into being? Will most people remain snowbirds, living less than half the year in Loreto Bay, or will they become year-round residents?
At present all the signs are positive. More than 750 homes have already been sold in The Villages of Loreto Bay. The Founders' Neighborhood, the first stage, is nearing completion. The second phase, Agua Viva, is well under way. Several more phases are planned, so that the eventual community will encompass a variety of homes ranging from town houses and ocean front properties to view properties on the slopes behind the golf course.
With its superior quality and attention to detail, Loreto Bay represents both an investment and a worthy lifestyle choice for discerning buyers. Eschewing the strategies of high-pressure salesmanship, Loreto Bay prefers low-key informational meetings throughout North America, as well as regular events at the Inn at Loreto Bay. The next scheduled event at the Inn at Loreto Bay is March 6-9, 2008. The company encourages potential homeowners and investors to visit the Villages at Loreto Bay and see the development for themselves. All are welcome.
Sustainable development is a reality at Loreto Bay. We plan to produce more energy from renewable sources than we consume, harvest more potable water than we use, and there will be more biodiversity, biomass and habitat than existed when we started. Loreto Bay is proud to set this standard and hopes that future developers in Baja California Sur will follow suit.
There can be no doubt that Loreto Bay is rapidly gaining momentum and is now well on its way to finally gaining its rightful place as the one true jewel in Mexico's planned coastal resorts.
Where to Stay:
The Inn at Loreto Bay
+52 (613) 133-0010
The Inn at Loreto Bay, in the Founders' Neighborhood, has great rooms and excellent facilities, with restaurants, pools, a tennis center, golf course (scheduled to reopen in April 2008) and helpful, personable staff. The beach center provides kayaking, windsurfing and snorkeling equipment. The spa offers a range of massages as well as manicures and pedicures. The hotel arranges a variety of tours, from mountain biking (usually 1-2 hours of cycling) to sightseeing, sports fishing and scuba diving.
To Find Out More:
The Villages at Loreto Bay
The Sustainability of Loreto Bay
Photos, unless otherwise stated, © Copyright 2008 by Marisa Burton.
Text © Copyright 2008 by Tony Burton.
All rights reserved.

Published or Updated on: April 1, 2008