Photo Gallery: A perfect Mexico camping spot on the Costa Esmeralda of Veracruz
I know better, but can't help it. Helmet off and strapped to my motorcycle, I've gotta feel the breeze as I whiz over the foothills and take the soft curves. The deep green waters of the Gulf of Mexico on my right mesmerizes as I head north. It's too nice. I may not swim, but I'm going to get a room and ride this stretch of Mexico's Costa Esmeralda a few more times.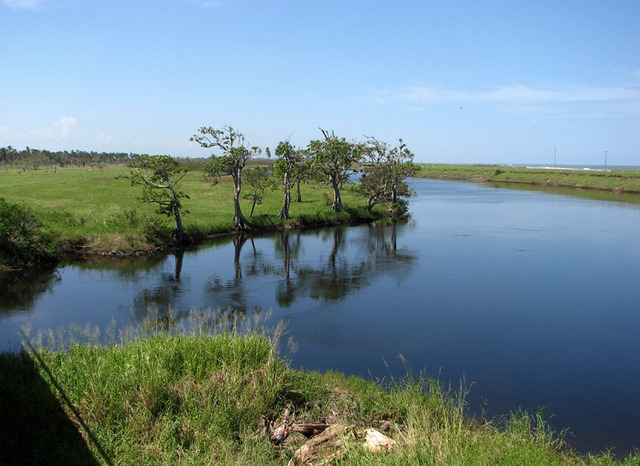 The term Costa Esmeralda covers a stretch of highway about fifteen miles long from Hotel Riachuelos to Casitas. Five tiny beach towns, occasionally broken by cattle farms and small rivers running down to the sea, enliven the stretch. These Mexican Gulf beaches are veritable tropical gardens. The location is 259 kilometers south of Tampico and 205 kilometers north of Veracruz on Highway 180.
If you decide to pitch your tent at Ci Ci campground, talk with the owners Anna Maria and Fernando. They're great people to point you in the right directions. The campsite is primitive with good restrooms, and provides a scenic spot to sip tequila and enjoy the sea.
On my 2007 trip, I stopped at Costa Esmeralda. I'd probably spent the night along this section of coast five times while hurrying through. I'd motorcycled the stretch in two different decades, ignoring the little settlements and only enjoying the ride the gentle curves provided. This time I wanted to linger. I could still camp just as well — almost as well — as when I was younger. Hopefully, when you hit Costa Esmeralda you won't make my error and wait forty years before truly enjoying the area.
If you're camping, but need to soak in a tub one day, even some of these hotels have reasonable prices.
Most of the year, hotel rooms are extremely inexpensive. Tent spaces under coconut palms yards from the ocean are too attractive to believe and cost even less. (Semana Santa — the two week Easter celebration — is the exception and prices increase.) I like inexpensive living arrangements so I have more money for more important pursuits. One of those involves seafood. Thankfully, a shrimp cocktail filling a large milkshake glass doesn't damage my budget either.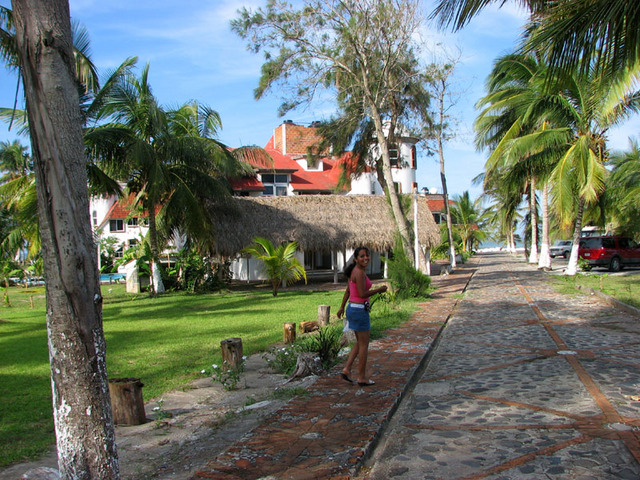 Costa Esmeralda makes a perfect rendezvous point for the first time adventurer as well as for old hands to Mexico. The location is almost like a breaking point as far as getting away from the border and immersing yourself to start your tour. The area is ideal for acclimating to Mexico as it's rural and not overwhelming to a newcomer. Additionally, due to its proximity to the United States and three major Mexican cities, if a first time visitor encounters a serious problem, he or she has easy access to help or returning home.
Should you try the area, I'd suggest a bus from Matamoros, Mexico/Brownsville, Texas to the Carretera Poza Rica-Nautla km. 71. At that point, you'll need to hike, hitchhike or find a taxi until you learn the local bus schedule.
Costa Esmeralda can serve as a convenient base camp for those exploring Mexico on a budget. The rooms and camping spots are quite reasonable. Papantla and the archeological zone of El Tajin aren't far away. The more adventurous explorer may even tackle lesser known pyramid sites that dot the coastal mountains. The Cascada el Encanto and manglares (mangroves) provide other interesting settings to explore when one needs a diversion.
You'll quickly learn the cheapest spots to eat as well as the fine seafood restaurants. The coastal side of the highway is pretty much for the beachgoers while small Mexican pueblos dot the interior side of the road. Several Americans live permanently in some of the trailer parks, including one seventy-five-year-old rascal who goes by the name "Wild Bill." You'll run into expatriates if you stay a few days. Talk with them; they know the bus schedules and the special tourist sites that never make the professional guides.
The months of November through February provide ideal weather. Otherwise, the heat and humidity compare to the coast from Jacksonville, Florida to Charleston, South Carolina during their hottest July days. Making matters worse, mosquitoes can be a problem. But, like in the southeastern U.S., if campers pitch their tents close to the beach, the wind lowers the temperature and removes those pesky insects.
Well, I've got my tent pitched and a pot of regional coffee brewing. After a swim, I've gotta figure out how to borrow a motorcycle. These easy curves with soft ocean breezes are still too inviting to ignore.
Published or Updated on: February 26, 2010