Photo Gallery: Mazatlan: why snowbirds keep coming back
Getting Around Mazatlan
Taxis to and from the airport
run around $34 for the hotel
zone and around $30 for centro.
Be sure to write down your
hotel name and address, in case
your driver is unfamiliar with
the place (or your pronunciation
of it).
During the day, buses are an
excellent means to see the city
and will take you just about
anywhere you want to go. Pick
up schedules at your hotel and
ask the front desk people which
buses go where. The big air-
conditioned green buses cost 9
pesos and have direct routes.
The smaller, older buses are
5.5 pesos and will stop at
virtually every street corner
and in between.
At night, and when you want to
go directly to your destination,
get a taxi or one of the open-air
pulmonías. Pulmonías
are like golf carts on steroids,
seat three people and are the
vehicle of choice to go bar-
hopping. Rates are the same
for taxis and pulmonías.
Agree on the price before you
get in, and get a heads-up on
expected costs from your hotel.
Tours and Activities
Attractions in the 500,000-
population city include a
world-class aquarium, water
park, boat tours around the
harbor and coastal islands,
the 1856 baroque cathedral, the
Mercado Central with handicrafts
from all over Mexico, flower
and shrimp markets, museums
of art, archeology and local
history and the world's
highest natural lighthouse.
Baseball, bullfights, sportfishing,
sailing, kayaking, golfing and
shopping are all plentiful.
Many tours can be done on foot
and at your leisure. Tour
companies come and go and
quality varies widely. Be-
fore you book, check recom-
mendations on Trip Advisor.
Insider Tips
Cruise ships dock on Tuesdays,
Thursdays and Saturdays and all
the shopping areas are crowded
on these days.
Water is purified just about
everywhere, both in restaurants
and hotels. But stay away from
street food — some is just fine,
some will make you sick.
Changing money: Rates are
best at the airport and local
banks. Most banks are closed
on weekends and some stop money
exchange at 1 p.m. You must
have your passport to exchange
money at a bank.
Tipping: Check to see if your
bill has already included a tip.
If not, tip as you would at home.
Don't give U.S. coins —
there is no place in town where
people can exchange these. If
you want to give U.S. currency,
give paper bills.
Best Sunset View is from the
roof of the Freeman Hotel on
Olas Altas in the Centro. You
must buy a drink to stay — and
why wouldn't you?
Popular "Salty Toes" Hangout:
Puerto Viejo,an unassuming
bar-restaurant on the malecón
a few steps from the Freeman Hotel,
has stunning views of the beach and
draws a crowd of seasoned expats
and North Americans who come for
the cold beer and hot gossip.
Environmental & Wildlife
Conservation: Highway
15, which runs through the
State of Sinaloa, leads right to
the U.S. border and is a
favorite for both drug smug-
glers and wildlife traffickers.
Conservation and Rehabilitation
of the Habitat (CONREHABIT) is a
non-profit working to promote
conservation and educate local
residents about the effects of
economic development on the
fragile Mexican tropical dry
forest ecosystem. According
to Conrehabit, for every bird
that makes it alive to the
border, eight die. While cam-
paigning against wildlife smug-
gling, the group also rescues,
rehabilitates and releases
wildlife.
Group nature walks by appointment.

Events of Note
Carnaval
Mazatlan is home to Latin
America's second largest
Carnaval — second only to the
one in Rio de Janiero. It
begins the week before Ash
Wednesday and peaks on
Shrove Tuesday with a parade
joined by everyone in town
and highlighted by a huge fire-
works show from boats in the
harbor.
The second event is set for
January 2010.
There are more than 400 bird
species in the Mazatlan region
including 35 West Mexican
endemics. Highlights include
tours, conferences, workshops, art
and photography exhibits.
The closest of Mexico's Pacific beach resorts to the U.S. West Coast, Mazatlan is a favorite winter destination for snowbirds who love its casual, sometimes gritty atmosphere, low prices, fresh seafood and miles of golden beaches. Many Canadians and West Coasters return year after year, settling in for a couple of weeks or half a year, drawn back by a city that is, in turns, gritty and glamorous, calm and frenetic, dishearteningly ugly and quietly beautiful.
Don West, owner of Lloyd Center Pharmacy in Portland, OR, travels to Mazatlan every year with his wife for a few weeks of sun and liberation from work, commuting and television. Their faces light up when they talk about it: "We're in love with Mazatlan. It's such a wonderful lifestyle — you can just sit on the beach or go to Canuk's for a beer and run into people from home."
Canuk's, a rambling bar/restaurant looking onto the ocean from the northern edge of the old town, is home central for most every norteamericano — a place to check in when they arrive, to find old friends and to do their part to help the poorest of the poor in Mazatlan. Annual fund-raisers for the local orphanages are huge events, well attended and well supported.
Leigh Ann and Rich Baker, Milwaukee residents who've been coming down here for more than 30 years, volunteer with Rancho de los Niños, an orphanage for children for disabilities in El Castillo, just outside Mazatlan. And they both work alongside Martha Armenta, president of the city's only wildlife conservation group, to help rehabilitate animals rescued from wildlife smugglers.
So, why Mazatlan? Leigh Ann and Rich traveled all up and down the Pacific Coast years ago. "We kept coming back here," he says. "This is a real town. It's not just for tourists. The people are wonderful, and we can have a lovely life here."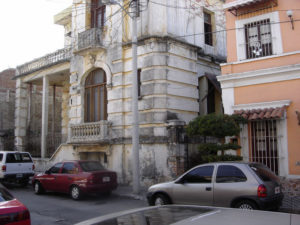 Their stay usually beings with the big celebration for Day of the Dead in October, joining in the parade through Old Town, or Viejo Mazatlan to visit altars and mingle with old friends, both Mexican and English-speaking. Next up is a beach clean up and right on its heels is the huge Rancho de los Niños fund-raiser they help organize and stage at Canucks.' This year, they built a house and have plans to stay there at least half the year from now on.
Born and raised in a rural area outside Portland, Ronald Fantz is an Oregonian who considers himself a "local" in Mazatlan — or as he describes it, "a salty toes." In the early '70s, he spent four years in the Yucatan and up and down Central American, returning to Portland to work on the waterfront running crews for container ships while he got his college degree. When he retired in 2003, he and his wife sailed a double-master to Mazatlan and south.
"We looked at other places along the coast, but kept coming back," he says. "We always had so much fun in Mazatlan — it's a working town and doesn't rely too much on tourism. There is great theater, music, art and restaurants. The people are proud of their city, they're not jaded."
Janet Blaser, a transplant from Santa Cruz, California, publishes M! Magazine, a monthly entertainment/arts tabloid that is the city's first serious English language publication. She also talks about how proud residents are that "this is a real city." According to Janet, the tension between a growing Mexican population that has very little and the relatively wealthy tourist and expat crowd is a fact of life, but one that is tempered by a live-and-let-live philosophy. Graffiti scars much of the town, and the many mazatlecos who are working to restore the Centro see it as a challenge to be dealt with, rather than a "given" to be endured.
At bottom, says Blaser, Mazatlan is a small town with an openness to change as well as a respect for the old ways. The best thing about Mazatlan, she says is "its heart, its corazon. It can be easily missed if you get lost in the vacation aspect of 'beer & beach.'"
Though the original residents of the area were the indigenous Totoromes and a tiny group of Spaniards officially founded a site here in 1531, Mazatlan itself was not developed by the Spanish nor the Indians but by a group of enterprising German immigrants who developed the port facilities in the 1820s in order to import agricultural equipment. Once they got started, heavy international trade followed quickly.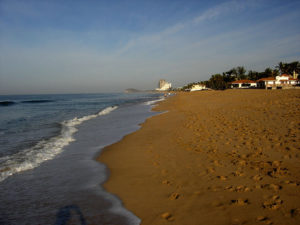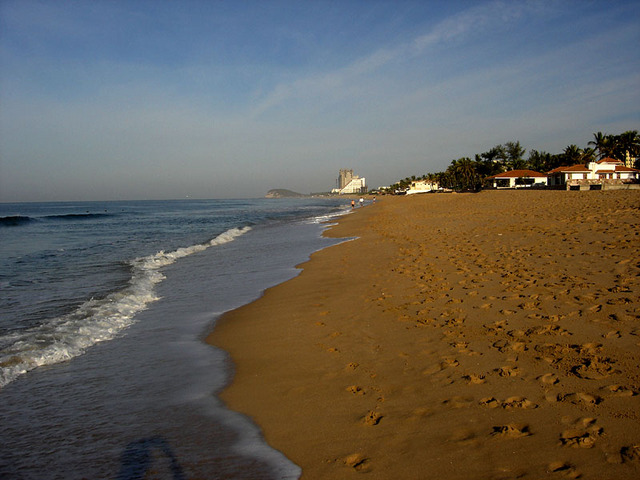 The Port of Mazatlan was occupied by American troops in 1847 during the Mexican American war, in 1864 by the French, during the American Civil War and by the British Navy in 1871. In the 1950s, Mazatlan came into its own as a popular tourist destination for Hollywood stars drawn to the sport fishing, glorious winter climate and cosmopolitan air.
As the city aged and newer Mexican destinations — Puerto Vallarta, Cancun, Cabo — grew, Mazatlan's tourist status slipped. The city began to rely more heavily on shrimp fishing and the population became more blue-collar. A push to encourage tourism in the 1980s began to breathe life back into the crumbling old town and a new cycle began. As Fantz says, "It's developing and changing so quickly in the historic center. Every time we go down it's like a quick time lapse — the older buildings are being restored and people are keeping the facades."
Today the Fantz couple keeps a boat in the harbor there and have a condo at the marina. In the old town core, wealthy Mexican families, ex-pat Americans and Canadians are restoring 18th century mansions — that were once empty ruins — to glory. Known as the Centro Historico or Viejo Mazatlan, the small area fans out from the city's original main square, Plaza Machado. Just off the plaza is the Angela Peralta opera house, a graceful theater built in the 1870s and originally named Teatro Rubio for its owner.
Over time, the building became a movie theater, vaudeville stage, boxing ring and parking garage. A 1975 hurricane destroyed the interior and it stood abandoned until restoration began in 1987. When it re-opened in 1992, it caught the attention of locals who had dismissed the area as hopelessly old and out of date. In 2001 the Mexican government declared the 50-square-block area around the plaza a National Monument, including almost 500 buildings of historical interest and value.
Alfredo Gomez Rubio, a fifth-generation mazatleco whose family once owned the opera house and still lives in a building a few blocks from Plaza Machado, is the passionate head of the formal association that works to protect the flavor of the Centro Historico and gently shepherd it through the pitfalls of increased tourism and development.
Rubio took the run-down Machado building, once a headquarters for some of the city's best-known clubs, and transformed it into Pedro y Lola, which some say "is Plaza Machado." Named for Pedro Infante and Lola Beltran, famous Mexican singers and movie stars from the state of Sinaloa, the restaurant is the focal point of Plaza Machado, and Plaza Machado is where you meet everyone sooner or later — either for coffee and gossip in the morning or dinner, people watching and live jazz at night. When the sun goes down, Pedro y Lola sets up tables in the street and the whole square seems to vibrate with a happy buzz. On Saturday nights, arts and crafts booths fill the square and every Sunday is a holiday, with vendors selling cotton candy and balloons and local families enjoying the sun.
A wide-ranging entrepreneur, Rubio also fixed up the old Melville Hotel, first as a retirement home, then as a hotel catering to Canadian and American tourists who wanted simple kitchen units, low prices and a charming location just a block off the plaza.
The area has blossomed into a delightful entertainment and restaurant neighborhood, with live music, arts and crafts galleries, museums, hotels, bed and breakfasts and vacation apartments. Restoration of the 1940s Hotel Freeman in 2002 has worked similar magic on the shorefront neighborhoods.
From Centro, it's a short stroll to the public market for fresh food of all kinds, and just a few blocks to the beach, where Avenida Olas Altas and the malecón (seawalk) look onto a little slice of buff sand and gentle waves. The beach runs for a good 15 miles north, through an older business area, past the Zona Dorada of high rise hotels and shops, up to Marina Mazatlan and "Nuevo Mazatlan," where mega-resorts are dwarfing the landscape.
Mazatlan's future
Those mega-resorts pose an interesting set of challenges to the laid-back atmosphere of Mazatlan. Many of the largest have opened in the past five years, bringing in new waves of tourists and money to the area, along with new jobs for locals. That's a boon for this working-class town where jobs are at a premium. But, most of the jobs available for the mazatlecos are in housekeeping, gardening and other service areas, with pay hovering around 70 pesos a day. In the meantime, the city's aging infrastructure totters along. Sewer systems and roads are patched haphazardly and the government has no money for new construction.
Plans to enlarge Marina Mazatlan would mean a huge development with its own golf course, a small hospital, the long-anticipated Mazatlan Convention Center and a large shopping mall. Build-out calls for 50,000 people. Water worries may be addressed by a 5-million liter holding tank to store municipal water and a sewer system separate from the city's, but details about sewage disposal and transportation are lacking.
Word is also flying about a new development on Stone Island, the quiet little peninsula just off the southern edge of the city. Gossip says that the area's ejido — farming families who have owned communal land here since 1936 — may have sold or leased a major portion to a development consortium made up of Mexican and Arabian companies. If true, the development would add more hotels, condos and traffic.
Meanwhile, last year, the Mexican government announced plans to invest around $500 million to create "another Cancun" in Teacapan, a quiet little town 75 miles south of Mazatlan. Massive development there would wreck havoc with the area's natural estuaries, wildlife and peaceful atmosphere, and would certainly have spillover effects, for good or bad, on Mazatlan. The sour global economy is slowing all of these plans, but as Mexico becomes more and more dependent on tourism to take up the slack in its economy, changes are inevitable.
For now, despite the growth to the north, little Centro's pull for a more seasoned traveler is mighty. There's a sweet, slightly bohemian vibe that welcomes strangers to join the old-timers at Canuck's or Puerto Viejo or on the roof of the Freeman Hotel to soak up the sunset, sip a cold beer and banter about politics.
You can arrive alone and leave with new friends, strolling over to Pedro y Lola for a leisurely dinner under the golden glow of streetlights. When the night winds die down, you can walk back to your hotel in perfect safety through the quiet, well-lit streets. The rough cobblestone streets and high sidewalks lead past ghostly abandoned buildings with trees growing wild through their broken roofs, shoulder to shoulder with meticulously restored mansions in ice cream colors, tiny apartments and small businesses shuttered for the day. You can hear the waves breaking at Olas Altas and there's a warm breeze ruffling the tidy ficus trees on the street.
This is the corazón of old Mazatlan, the magic that endures beyond "beach and beer."
Published or Updated on: November 18, 2009