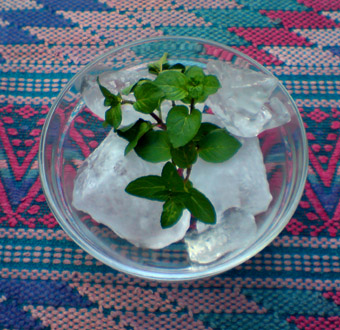 A light dessert or a refreshing palate cleanser, this uses one of the most popular herbs in Mexico, but it also goes well with Thai food, with which Mexican cuisine has several ingredients in common.
Ingredients
1 cup fresh spearmint leaves (hierbabuena) washed
3 cups water
¾ cups sugar
Juice of ½ fresh lime (or more to taste)
Place mint in a saucepan, cover with water and bring to a boil. Reduce heat, cover and simmer for 5 minutes. Remove from heat, add sugar and stir to dissolve.
Allow to cool, add lime juice and puree in a blender. Strain puree through a fine sieve, pushing to extract as much liquid as possible.
Freeze in an ice cream maker, following manufacturer's directions. Alternatively, freeze in a freezer tray, removing every 1 ½ hours to stir. After 3 hours, return to the freezer and cover the sorbet. Freeze overnight before serving. Makes 3 cups.
Link to Source Article:
Mexican frozen treats: Helados, nieves and paletas
Published or Updated on: August 9, 2009