Photo Gallery: There's a lot to see and do in Veracruz, Mexico
If you tell someone you're going to Veracruz, they'll tend to ask, "What is the name of your ship?"
There's no cruise to Vera. Veracruz is the Mexican state that borders the Gulf of Mexico. It isn't the typical Mexican resort area, nor is it that easily accessible. Few natives speak English. U.S. dollars or credit cards are not readily accepted.
But don't sweat those things. This is an affordable destination that oozes with charm. Like the Latin beat of danzón — the Tuesday evening social dancing in the zócalo (main plaza or city square) — Veracruz has a rhythm of its own. Whether it is the pounding of the Pescado River or the surf at the beaches of Boca del Rio, the tantalizing music of Agustin Lara, the ruins of El Tajin or the World Heritage Site, Tlacotalpan, Veracruz reverberates with a deep sense of tradition and history. This is, after all, where Hernan Cortés first set foot and made it the birthplace of Spanish colonialism in North America.
The locals call themselves jarochos (ha-RO-choes) — friendly people who like to have a good time.
"We have music inside… Even if you don't speak Spanish and they don't speak English, they will try to talk to you just to make you feel comfortable," says our guide, Myra Luna.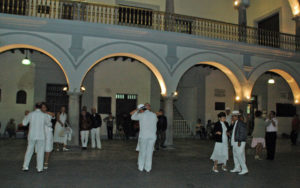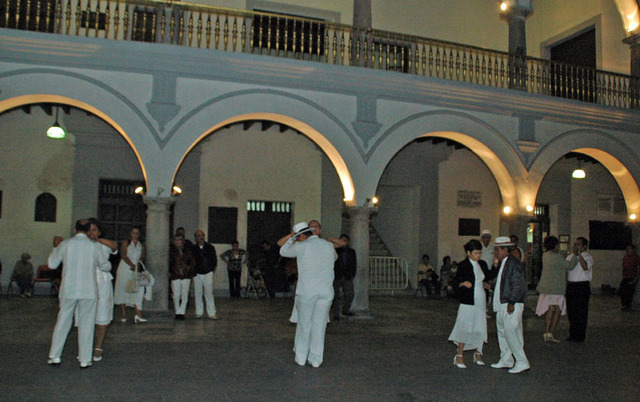 Veracruz City's Plaza de Armas or zócalo is alive with smiling people and food, chotchke and balloon vendors. Like most colonial Spanish cities, a Cathedral and Palacio de Gobierno frame the zócalo. (Check out check out the José Chaves Morado murals at the Palacio.) At night the illuminated buildings glow. The Sunday night folk dance has white-suited pre-teen boys dancing around fan waving, white lace-clad young girls. Their proud parents crowd around the stage.
Once walled, the city is Mexico's largest port. For more than 470 years, the massive, coral-walled, Moorish-styled Castillo de San Juan de Úlua has guarded it. Its construction of was begun by the Spanish in 1535. Wander past the canal that was once filled with sharks. They were further protection of marauders from the north such as Sir Frances Drake and John Hawkins. You can see the barracks and the prison. If you think the place looks familiar, you are right. It was the backdrop of the chase scene in the movie, Romancing the Stone.
It is a short ride from the fort to Acuario de Veracruz (aquarium). You enter via La Sierra Los Tuxlas. Indigenous reptiles, turtles and toucans fill perches and tanks of the dimly lit room. Other areas host fish from around the world as well as giant groupers, turtles and sharks. The ecological-minded aquarium takes animals with disabilities so you might see a turtle that cannot swim properly or a fish with a missing fin.
Attractive government buildings line the nearby Marina Mercante. It is a short walk to the many artisan stalls and La Gran Café La Parroquia Restaurant. It seems like the whole town is there sipping coffee. Jarochos love their java. It is served in a glass about 1/3 full. Someone quickly comes by with a kettle of hot milk to top it off. Some sort of sugary sweet — maybe an elephant ear — usually accompanies it.
Jarochos also make a mean guacamole and a slushy, fruit-filled sorbet-like concoction to which I became addicted: nieve ("snow"). There is nothing more refreshing on a hot day. My favorite flavor is nanche, a cherry-like tropical fruit. You might find this treat elsewhere, but it will be without the traditional nieves hawker who shouts "güera, güera" (which sounds like "waya waya" and means "girl or woman with a light complexion") at every passerby.
The real tourist area is Boca del Rio. Brown, sand beaches like La Bamba Beach, big hotels, shopping malls, nightclubs and lots of restaurants hug the Gulf shore.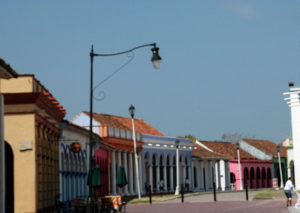 But you'll want to see more than just the city. Travel a bit south to sleepy Tlacotalpan (pronounced tla-lock-TAL-pan). The World Heritage Site looks much the same as it did in 1778. Like most Mexican plazas, it has a church to its left, a city hall and a military building. The square, a favorite napping spot for the town's healthy looking dogs, has a Moorish-domed gazebo and an English garden.
Arches, trimmed and white pillars adorn the bright pink, gold and blue homes strike a stunning contrast to the white church across the curved street. Diagonally across the square are the antique furniture and artwork of the times in the Museum Salvador Fernando.
You have to be alert to spot Spooking Island, near Doña Marta Plaza. Once a popular, lover's lane, it got the name because the sounds the couples made spooked out the passersby. When lights were installed, lovers ditched the place.
Speaking of lovers, you might want to pay visit to the Museum of Augustín Lara. This skinny guy had nine beautiful wives, even though he never divorced any of them. (He kept changing the wedding venue!) His claim to fame were the 400 songs he wrote like You Belong to My Heart. He wrote rousing ones about Spain — "Valencia," "Madrid" and "Granada" — even though he never visited the place. His inspiration came from reading a book about the different cities.
At a local bar, Snow White and the Seven Dwarfs, you can check out the Lara pictures and memorabilia while sipping one of the many flavors of Toritos liqueur. Peanut was my choice.
North of Veracruz is the tiny village of Zempoala (also called Cacique Gordo de Cempoala). We drive down the street and are jolted out of our seats by a booming speaker atop a pickup truck. It sounds very threatening until we learn it is a marketing ploy for selling oranges and watermelons.
Totonacas (toh-toh-NAH-cas) once inhabited Zempoala's impressive Templo Mayor pyramid, Templo de las Chimineas. The stucco and coral that they used to cover these pyramids and platforms glittered in sunlight. To Cortés, this "city of silver" was pay dirt. He convinced the natives to convert to Catholicism by promising to end Montezuma's high tariffs and human sacrifice. They joined forces and the rest is history.
In 1519, Hernan Cortés, along with his 300 slaves, 300 horses and his mistress, Marina, set up shop nearby at Antigua. (His mistress abruptly departed when the wife came.) Today, gnarled roots twine around the ruins of his 22 room castle from which he ran the new Spanish colony. The original church that was built in 1523 still stands.
Legend has it that the huge ceiba tree toward the water is where they tied down the ships. Since Cortés landed on here Good Friday, the first thing he did was plant a cross and call the place Veracruz — "True Cross."
If you are a ruin junkie, travel farther north to the "City of Thunder," El Tajin. With its 17 ball courts, a huge market at the entrance, 168 palaces, pyramids and altars, it will knock your socks off. The Pirámide de los Nichos rises 656 feet (20k). Its six receding tiers are punctuated by niches — one for each for each day of the year. No one knows their exact meaning. Built between 300 and 900 A.D and wedged between the Rio Bianco and the Rio Papaloapan, the nearly one-square-mile complex was once populated with 30,000 residents.
These people were not faint-of heart. One of the rituals was to wear the skin of a human sacrifice. Human hearts were given up to the sun. There are some pretty gruesome reliefs, like the one with a guy being stabbed in the neck and the god of death coming to get him. There is also a platform for self sacrifice. Women would take a fish bone and cut open their mouth by the lip and bleed, sometimes to death.
Every hour, just outside the complex, the drumbeat and flute signal the ritual of the Papantla Fliers, a tribute to the gods for good crops. Five, brightly costumed Totonacs slowly climb a 118-foot pole. Crank your neck to see them wind long leather strips around themselves. One fellow stays atop asking the gods for good crops while the four others, who represent the four seasons, throw themselves off the pole head first. Dangling by their feet and looking like a human Maypole, they make 13 revolutions around pole, slowly descending to the ground.
If you miss the El Tajin show, the the Papantla Fliers also perform every hour by the church in the nearby village of Papantla, a place where traditional Totonac life still thrives. The whole town is scented with vanilla — its main product. You can find it for sale all around this hilly hamlet, especially in the town square or up the steep incline to the church where there is a relief of El Tajin and charming craft shops.
Delightful people, amazing ruins and much history… there's a lot to see and do in Veracruz.
Rafting on the
Pescado River in Veracruz
Veracruz offers some awesome adventure sports in a pristine area near the village of Jalcomulco, about 90 minutes from Veracruz City. Expediciones Mexico Verde safari camp offers semi-luxury tent hiking, rappelling and whitewater rafting on the Pescado River.
Our choice was a float trip. Our guide, Arturo, launched the raft over a 25-foot cliff — our first clue that this would not be the usual cruise down the river. We wobbly walked down a steep path to the river's edge. On a 10-foot cliff above us, a man named Algo sat in a kayak.
"If you are into kayaking, you might try water instead of land," I told him.
"I will. I am the safety boat," he answered. He then sailed through the air and plunged into the water.
My husband, Lou, turned pale. He doesn't swim, but because I love the water so much he was being a trooper.
"Don't worry. This is easy — only Class II rapids," said Arturo.
Okay. We climbed into the raft and began our 18k trip over 22 rapids which would take us through the beautiful, pristine wilderness that borders the Pescado River. At the second rapid, the boat smashed into a four-foot high rock and got stuck. It sat at a 45-degree angle. I heard a splash and saw Lou had joined the fish.
Getting my 6'2″ husband back into the raft was a challenge. Arturo — almost a foot shorter and 100 lbs. less then Lou — tried. It didn't happen. Algo retrieved the oars and came to the rescue. Only now the raft's position had shifted to about an 85-degree angle. The water was up to my neck. I looked up and saw a flock of vultures circling overhead.
After several attempts, Lou was hoisted into the raft, but the craftremained stuck on the rock. Our only option? Everybody out of the boat. Noticing that the vultures had multiplied, we cautiously jumped in and grabbed a rope. Algo towed us feet first to some slippery rocks. Even though we were drenched, we didn't panic because our guides seemed to have things under control.
Soon the raft was righted. The vultures left.
"The water is low which is why there are a lot of rocks," Algo explained.
This was not reassuring to Lou. So, Algo put his kayak atop the raft and climbed aboard. He and Arturo took charge. While the rest of us paddled, Lou just sat and enjoyed the scenery.
About halfway through the trip, I noticed light-skinned Lou had exposed legs.
"Why aren't you wearing your pants? You will get sunburned," I said.
"I don't need them. I have my bathing suit.," he replied.
We paddled into a canyon. Orchids hung from its walls. The tinkling of the water and the rushing of the rapids were the only sounds heard. Cormorants with out-stretched wings stood on the rocks drying themselves. We passed fisherman, people doing their laundry, kids frolicking in the water and even a guy washing his horse. These peaceful scenes were interrupted by more rapids. Thank heaven Algo and Arturo were so adept. They hopped in and out of the raft to nudge it off the seven other rocks that blocked our path. But the obstacles did not detract from our fun excursion.
We returned to the camp to change our clothes. Lou came out of the men's bathroom, looked at me and asked, "Are you wearing my pants?"
I laughed. He was serious and asked again. If I were wearing his pants, they would be baggy and dragging on the ground. The camp staff started searching for them. They had vanished.
Once home, I uploaded our pictures. Funny thing, Lou was wearing pants when we set off on our watery excursion. They probably left him when he was trying to get back into the raft and he was too nervous to notice. I am happy he was at least wearing a bathing suit underneath. Otherwise checking into our nice hotel could have been a serious problem.
Rafting in Veracruz was such a riot that we can't wait to return and do it again. But this time, Lou will bring some extra pants.
Published or Updated on: December 13, 2009