Aguascalientes' Museum of Death welcomes you
As October draws to an end, a period of profound mysticism dawns in the heart of Mexico, a time to remember the departed but not without joy.
In the hometown of José Guadalupe Posada, the celebrated creator of the hollow-eyed, grinning skull known as Catrina, festivities are already well underway days before the November 2 Day of the Dead. Catrina skeletons pop up everywhere around town, in window displays or at local restaurants' entrance door. Neighbors throw Day of the Dead block parties and grocery shelves are well stocked with the traditional dulces de Calaveras (sugar skulls) and pan de muerto (a sweet yeast bread topped with sugary "bones"). And, of course, there's the Festival de las Calaveras, Aguascalientes ' unique Festival of the Skulls set to begin on October 28.
What's more, Aguascalientes is home to the Museo Nacional de la Muerte, Mexico's only cultural institution dedicated to the theme of death. The museum is especially popular at this time of year, with as many as 400 visitors dropping by daily.
El Museo de la Muerte is anything but spooky. In lieu of Halloween "haunted" house creatures, toothy vampires or scary witches clad in black robes, the museum's skeleton inhabitants are lively characters, such as bullfighters, brides, children, Mexican Revolution heroes and even skeleton lovers in bed — all reflecting a light-hearted approach to death, viewed as a continuity of life in Mexico and the rest of Latin America.
At the entrance of the museum, the visitor is greeted by a life-size Catrina in a turn-of-the-20th-century black gown and a large, lace-trimmed hat.
"Catrina is a symbol that represents us internationally — Catrina is our flag as Aguascalientes residents, and I dare say even as Mexicans," said museum cultural promoter José Antonio Padilla Pedroza. "The representation of death is customary; in different words Mexicans identify themselves with these representations. Joy is the essence of the portrayals of death.
"Regardless of your cultural background, (these representations) give you a sense of joy," he continued.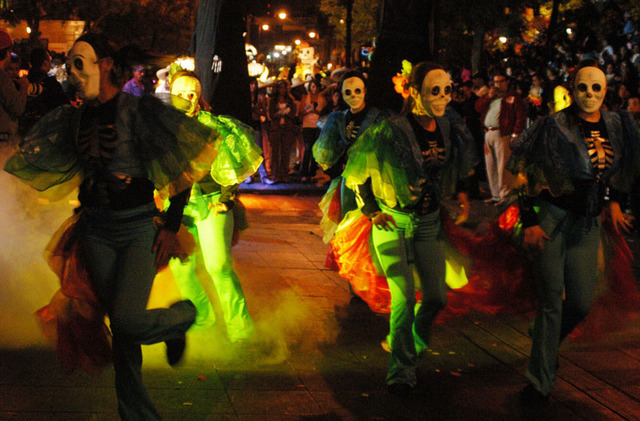 Joy is what one feels while touring the various galleries of the museum blending Maya and Aztec artifacts, contemporary fine art and artisanal works.
Housed in the 17th-century building of an old convent, complete with a courtyard, the museum has been in operation for two years — under the auspices of the Universidad Autónoma de Aguascalientes — and has attracted more than 80,000 visitors.
In addition, a travelling exhibit presenting clay skulls and skeletons by sculptor Carlomagno Pedro Martínez will be on show until Jan. 24, 2010. The Oaxaca-born artist draws his inspiration from ancestral folk tales told by his grandparents.
The highly-anticipated exhibit entitled "Death in black clay" opens on October 28, the day the 15th edition Festival of the Skulls is also slated to begin.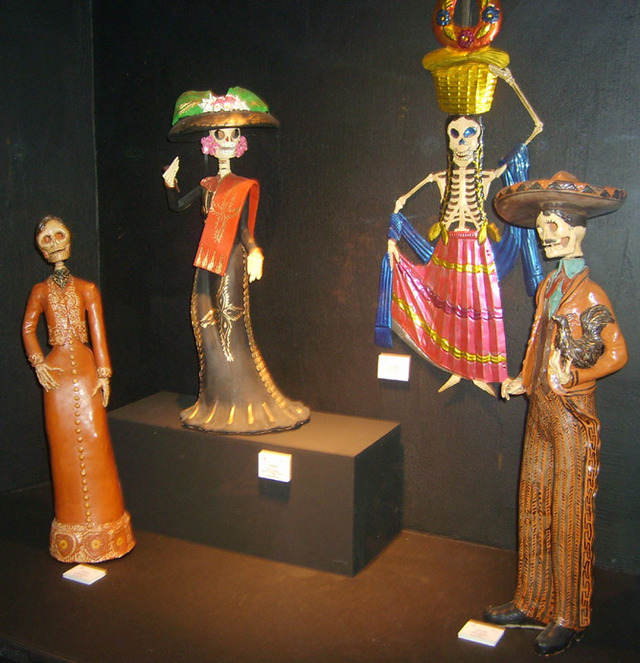 The week-long annual fair is a colorful display of bread of the dead contests, endless processions to cemeteries, callejoneadas (student bands performing in the streets), sporting events, theatre and dance shows and even a skeletons' parade on November 22. Israel, this year's guest country, brings its own cultural flair to the fair through performances by Hebrew folk dance group Anajnu Veatem as well as singers Sandra Dichi and the Klezmerson group.
Festival highlights also include a candlelight vigil to the Cerro del Muerto — an Aguascalientes natural landmark named for its unusual shape described as a dead man lying on his back, and the traditional Corridas de Calaveras on October 31 and November 1. Don't miss the offerings ceremony at the statue of Cristo Roto at Calles dam also on November 1.
Most of the program's 200 events are free of charge, according to Aguascalientes Tourism Secretariat. Event organizers put the overall cost of the fair at 3.5 million pesos.
About 270,000 participants are expected to turn up, with an estimated 27 million pesos to be injected into the local economy, a much-needed relief following the cancellation of a bigger fair last spring in the wake of the H1N1 flu outbreak.
"We saw a drop of 24 per cent in the number of tourists coming (to Aguascalientes ) between January and May due to the cancellation of the Feria de San Marcos (the fair honoring the city's patron Saint Mark)," said Eduardo Hernández Tovar, head of marketing at Aguascalientes Tourism Secretariat.
Located 300 kilometers northeast of Guadalajara, Aguascalientes became independent in 1836 — thanks to a kiss. At the time, Aguascalientes was part of Zacatecas, an important silver mines center. The legend recounts how Mexican president Don Antonio López de Santana had a crush on Doña Luisa, the beautiful wife of a local politician, and allowed Aguascalientes' independence in exchange of a kiss.
While you are in Aguascalientes, take a walk in Plaza de la Patria and admire the architecture of the Catedral Basílica and Teatro Morelos. Templo de la Merced and the nearby Casa de la Cultura are a must-see. Visit the José Guadalupe Posada museum in El Encino Park.
For complete fair schedule, restaurant and hotel accommodations, go to www.festivaldecalaveras.com.mx
Museo de la Muerte
Edificio 19 de Junio
Rivero y Gutiérrez Esq. Morelos
Tel. (449) 910-7400
Open: Tuesday through Sunday,
10 a.m. to 6 p.m.
Admission:
20 pesos for adults,
10 pesos for seniors,
students, children under six,
and groups of more than 10 visitors.
Free on Sundays.
Published or Updated on: October 28, 2009