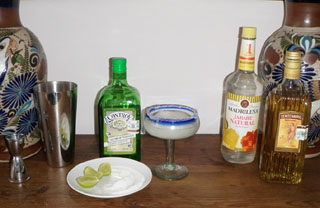 When you think of Mexico and its hot summer days, think of a cool, and flavorful cocktail with the national drink, tequila — like the classic margarita.
Many legends surround the margarita, but all of them affirm that this drink was created for a special lady who — in most of the stories — stole the heart of its creator. In all of these, the name of that special lady was Margarita. And just like the lovely lady, this cocktail has made its way into people's hearts.
In fact, it has made its way all around the globe and people ask for it even in some of the most remote places in the world.
This drink has basic three basic ingredients: tequila, triple sec, and lime juice. Many versions of this very Mexican cocktail are icy frappes, which are served with a salt on the rim of the margarita glass and a lemon wedge. There are versions made with sugar or with a basic syrup.
Due to its popularity, this drink has all the alterations imagined and some of the best ones are the fruit flavored ones, which can range from the cherry margarita to mango, tamarind and even passion fruit.
But you can't forget the most important and the most Mexican ingredient of this drink — the tequila with a denomination of origin in only five states of the country. The one most recognized is Jalisco with the lovely Pueblo Mágico of Tequila.
This recipe is for the most basic frappe tequila. It's perfect for a hot summer day or just to get the party started.
Margarita Frappe
1 1/2 oz tequila
1 1/2 oz Cointreau
1/2 oz fresh lime (limón) juice
1/2 oz bar syrup or simple syrup (jarabe natural)
ice to taste.
Pour salt in a plate. Moisten the rim of a margarita glass by rubbing it with a lime half. Invert the glass in the plate of salt so that it adheres to the rim.
Place the tequila, Cointreau, lime juice and syrup in the blender with ice, to taste, and blend to a frappe. Pour into the glass. Serves 1.
Margarita on the Rocks
Same as above, but stir the margarita ingredients together and pour over ice cubes. Serves 1.
Cherry Margarita
Add 10 cherries.
Blue Margarita
Omit the Cointreau and add Curacao Bleu.
Golden Margarita
Omit the Cointreau and add Grand Marnier y damiana.
¡Salud! ("Cheers" in Spanish)
Published or Updated on: July 29, 2010