This 2,000 kilometer driving tour serves the needs of vacationers to Oaxaca who also want to take in the sights in central Chiapas. It is also useful those who want to at least consider visits to the Pacific coastal resorts in Oaxaca and the Gulf beaches and cultural sights in the state of Veracruz… all without foreclosing a side trip to Puebla. The south central circuit of Mexico provides travelers with a leisurely and culturally diverse driving segment within the context of a two or three week vacation, with virtually no backtracking.
For this particular trip, our first day took us from Oaxaca to Tuxtla de Gutiérrez, then to Chiapa de Corzo. After visiting the impressive lookouts at the Parque Nacional Cañón del Sumidero, the following morning we carried on to San Cristóbal de las Casas where we spent two days in the city and visiting nearby villages. The morning after, we drove to Agua Azul, and then on to Palenque, touring the ruin the following morning. That afternoon, we continued through Tabasco, then Veracruz, spending our final night at Orizaba. Our sojourn concluded with a return home to Oaxaca, via Puebla. As a result of personal time constraints, the excursion lasted only six days. It easily could have been extended by a week or more, taking in many additional sights and cities. Accordingly, while we saw many of the highlights noted in the tour books, a close examination of all that is available is highly recommended, in particular for those with time to spare.
For most of the drive the highways were excellent. We passed through 14 toll booths and nine military checkpoints, at the latter having been stopped, questioned and required to pop the trunk, only once. We did experience, however, one disturbing incident involving state police, in Acayucan, Veracruz, noted as an Addendum. It convinced us to deviate from our otherwise steadfast rule against night-time driving.
Distinct from Oaxaca, in Chiapas there is signage encouraging drivers to use the paved, wide, right hand shoulder; warning that physical abuse of women is met with jail time; cautioning that the fine for littering is ninety times your (daily) wage; and along many stretches of two lane highway there are small home-made signs indicating where gasoline is for sale (from householders; sometimes in plastic 10 or 20 liter containers out front as your notification). In addition, one encounters checkpoints aimed at regulating and policing the transport of animals.
Oaxaca to San Cristobal de las Casas
The drive from Oaxaca to San Cristóbal takes about 8.5 hours, but is best done in two segments, with an overnight, assuming you want to visit more than one sight en route.
As you leave Oaxaca for the drive towards Mitla along Highway 190, fill up with gas, since there are lengthy stretches of highway without stations after you turn off and head towards the coast. You'll approach that first interchange after close to a half hour of proceeding along straight, essentially flat highway. Take the 190 cut-off to Tehuantepec/Matatlán. After about five kilometers of rolling hills, you'll reach the "world capital of mezcal," Matatlán, with production facilities and shops peppering the roadsides for about three kilometers. The billowing smoke is from deep pits being readied for baking agave and, to a lesser extent, the stills fueled with firewood.
For the next hour and a half you'll be climbing, at times up considerable inclines, then descending into fertile river valleys, along curvy, well-paved yet at times repaired highway. If you hadn't filled up for gas earlier, do so just beyond the first military checkpoint, an hour into the drive, at San Pedro Totalapan.
The predominant vegetation is agave under cultivation — occasionally on the steepest of hillsides — and mixed brush, with pole cactus and palm interspersed. Towns are encountered, with small stores, restaurants, pharmacies, mechanic shops, and even a guest house at about the two hour mark, in San José de Gracia. In the area around El Camarón you'll once again encounter a few fábricas de mezcal.
Your final descent towards the coast begins at about three hours into the drive, when you'll finally find yourself speeding along straight-aways. Once you reach Marilú, you'll feel you're in the tropics, with signs offering fresh fish (mojarra) and cold coconut milk. You'll then have the option of heading up the coast to Huatulco, or down towards Salina Cruz, Juchitán and Tehuantepec.
The new toll road to Chiapas, along Highway 200, has an interchange which can potentially create a bit of confusion. At kilometer 240 of the trip, more or less, you'll encounter a traffic circle with signs which do not assist in terms of reaching your destination. Take the exit that includes the words María Romero, and then ask to ensure that you have the right highway. Traffic and pedestrian activity, at least as of early 2009, are sparse. You'll be heading towards La Ventosa, so when you see a sign so directing you, you'll know you're on the right road. At about four hours into your trip, near kilometer 270 of your day's drive, you'll pass through the La Ventosa toll booth, with clean washrooms and a gas station close by. From this point, until your arrival at Tuxtla, you're home free.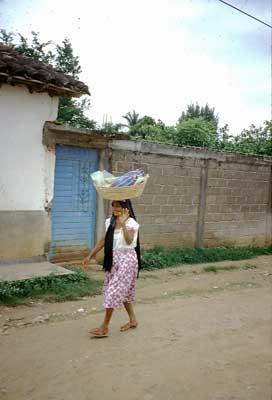 For the next 60 kilometers you'll be driving across flat winding plains. There's a stretch of 15 kilometers with two sets of large white windmills, very unusual and impressive to the eye, the second set with power generating equipment apparent. There are thereafter a couple of provisional checkpoints along sections of new, and then old and badly pot-holed road in the process of being repaved.
Your arrival at San Pedro Tapanatepec follows along good highway traversing mango orchards, with a bit of ranching. In town you'll find a gas station, Banamex, etc. After passing through the next military checkpoint, once again you'll begin your climb into the mountains, arriving in the state of Chiapas approximately six hours into the drive.
The approach to Tuxtla is uneventful, marked by continuing periods of ascent and descent, stretches of plains, and traveling through a couple of small cities. Upon arriving you'll encounter a traffic circle, easy enough to navigate. You are not required to enter the city, but rather, will be traversing a number of overpasses in the course of about 20 minutes. You'll be passing high above and to the left of the city, then descending towards the fork in the road leading you to Chiapa de Corzo. Note that the cut-off is not well marked, so when you see the choice of veering to the right or left, turn off to the right.
The two main attractions which you may find at Tuxtla and/or Chiapa de Corzo are the zoo and the Cañón del Sumidero. Both are easily accessible via Chiapa de Corzo, but could require a bit of backtracking. The advantage of staying in Chiapa de Corzo is that it's quaint, you do not have to enter the metropolis of Tuxtla de Gutiérrez, and it makes for an easy morning beginning for a boat tour of the canyons. However, if you wish to take the boat trip as opposed to driving through the national park, you may have to wait an hour or two in the morning until there are sufficient tourists to fill up one of the many waiting vessels. It all depends on the time of year in terms of level of tourism. We arrived at the docks shortly after the 8 a.m. opening, only to be told that we'd likely have to wait at least an hour. We therefore hopped back in the car and drove to the lookouts in the Parque Nacional Cañón del Sumidero. The site, via boat or drive, should not be missed.
The highway from Tuxtla to San Cristóbal de las Casas is perhaps the best quality stretch of roadway and most pleasant to navigate on the whole trip. Unfortunately the drive takes only about 35 minutes. It begins immediately after you pass through the toll booth as you leave Chiapa de Corzo. Almost all of the drive is ascent with easy curves. You'll descend to San Cristóbal over the final five minutes of the brief ride. "Must" visits while in the area of San Cristóbal, preferably with a guide – notwithstanding that you'll have your own vehicle – include Chamula and Zinacantán.
To be continued….
Published or Updated on: April 4, 2009