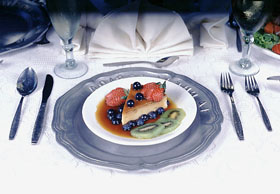 Ingredients
2 cups of whipping cream
1 cup milk (do not use low fat)
1 pinch of salt
1/2 teaspoons natural vanilla
1 cup of sugar
4 large eggs
2 large egg yolks
7 teaspoons sugar
Position rack in center of a preheated 350 P. oven. Combine cream, milk,salt and vanilla. Bring to a simmer over medium heat. Remove from heat and let cool off for 30 minutes.
Meanwhile put 1 cup of sugar in a heavy saucepan. Stir over low heat until sugar dissolves. Cook until sugar is a deep amber and is totally dissolved. Quickly pour caramel into six 3/4 cup ramekins or custard cups. (you could also use one round 7-inch cake mold.). Tilt each ramekin or mold to coat bottom with hot sugar mix. Set into a 9 x 13 empty baking pan. Then whisk eggs, egg yolks and 7 tsp. of sugar in a medium bowl. Gradually add cream mixture. Pour custard into ramekins. Pout enough water into baking pan to come halfway up the sides of the custard cups.
Bake 40-50 mm. until centers are set and slightly colored. Transfer flan to rack and cool. Chill at least 2 hours.
To serve, run a small, sharp knife around the flan to loosen. Turn over onto plate. Shake gently to release flan. Carefully lift off ramekin allowing caramel syrup to run over flan. Garnish with your favorite fresh fruit (blueberry, strawberry, kiwi etc.) Serves 6.
Buen provecho!
Menu by The Nueva Posada's former Executive Chef – Lorraine Russo
Published or Updated on: January 1, 2006