We usually think of weddings and baptisms as rites of passage we attend on separate occasions. But November 27, 2008, marked the celebration of both in San Lorenzo Albarradas: the nuptials of a couple in their early twenties, and the baptism of their three-year-old daughter. What resulted was a melding of highly organized custom characterized by extremes of indulging, giving, and all-out merriment.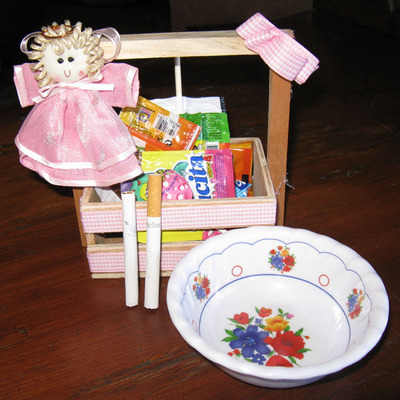 San Lorenzo Albarradas ("San Lorenzo") is a village with about 1,900 inhabitants of Zapotec ancestry, located 60 kilometers east of the city of Oaxaca. It's accessed by a paved highway which, beyond Mitla, winds as it ascends foothills of the Sierra Madre del Sur. San Lorenzo has the usual municipal building housing the office of its presidente municipal (mayor) and local police, a health clinic, school, marketplace, and of course Catholic church and cemetery. Residents engage in predominantly subsistence economic activity: cultivating corn, beans, squash, palm leaf and agave; tending sheep and goats; gathering firewood; and servicing the local population as well as tourist vans en route to and from San Isidro Roaguía ("San Isidro"). San Isidro, designated a marginal community by the federal government, is home to the bubbling springs and petrified waterfalls known as Hierve el Agua. San Lorenzo, San Isidro and environs are home to seven small, rudimentary yet wonderfully functional fábricas de mezcal (mescal factories).
The marriage of Gladis and Eli and the baptism of their daughter Lexy were planned in early autumn. Santos and Lupita were selected as padrinos de boda (godparents of the wedding), and long-time grade school friends Daniel and wife Alma as padrinos of the baptism.
If not through blood or marriage, then through compadrazgo (fictive kinship), most people are related one way or another in small Oaxacan towns and villages. On this occasion, about a quarter of the residents were invited to partake in at least some of the festivities. Many have relations in nearby San Isidro. But as a result of a longstanding dispute between the villages regarding the right to exact a fee from tourists visiting Hierve el Agua, only recently resolved after years of Hatfield and McCoy antics, invitations were extended to only residents of San Lorenzo, apart from that extended to me and my wife Arlene.
As custom normally dictates, we arrive in town for the mass shortly after the designated 12:00 noon start time. Daniel and Alma, and Daniel's parents Hilarino and Sara, had counseled that we would be expected to remain until the madrugada (middle of the night, generally until just before sunrise), and to thus be prepared. We really didn't take the advice to heart. As once again custom normally dictates, we were just as clear that we would arrive fairly early on, with no guarantees regarding the duration of our visit.
We'd known Hilarino, Sara and family for about four years, initially as a result of purchasing mescal from Hilarino's roadside Palenque (mezcal facility), and subsequently from eating and imbibing in Sara's adjoining eatery. We'd broken bread in their home, and they in ours. We'd laughed and traded stories of differences in our respective cultures, and cried over the death of their forty-day-old grandson. They'd missed our 25th anniversary, and we Daniel's wedding. But for this occasion, they required our assurance that our attendance at the festivities would not be pre-empted.
Booming bottle-rocket fireworks direct us to the standing-room-only church service. Guests cram the entranceway and sit under the shade around the courtyard. Dress ranges from Sunday best to workday usual. Gladis, Eli and Lexy emerge about a half hour after our arrival, shockingly early based upon our prior attendances at functions with a religious component. But perhaps ritual was rushed in anticipation of more important local custom to follow. In rural Oaxaca there is often not very much to rejoice, so when the opportunity arises, no expense is spared, figuratively and literally.
As rice showers the honored celebrants, and candies shower the rest of us, the six piece brass and percussion band begins with upbeat traditional song. I spot a familiar face, Santos the palenquero, competitor of Hilarino.
"Hilarino invite you? He's my cousin you know."
"And what about you and your wife?," I ask.
"Lupita and I are the padrinos de boda, so you have to come to our home with the procession. Hilarino's coming too."
I've yet to see Santos without his stiff, off-white cowboy hat, and this occasion is no different. Others wear the softer felt-like version in beiges, greys and blacks, many adorned with peacock feathers. The groom, Eli, is dressed in a smartly tailored, very formal light olive suit with all the trimmings, while his bride is in a traditional white strapless gown with long train. Their daughter's dress is equally appropriate, and yes, predictable. Several downtown Oaxaca retailers have found their niche marketing dresses for weddings, quinceaños (celebration when a girl turns 15, similar to the Bat Mitzvah in the Jewish faith), baptisms and confirmations. Clearly in San Lorenzo they go all out. In fact the young family, aside from being in this physical environment could have passed for urban Oaxacans of much greater means.
After the wedding ceremony
As the band, bride and groom leave the church grounds, Hilarino informs me that I'll accompany him and others to Santos' house, my wife Arlene will stay with the rest of his family at theirs, and we will reunite in a short while. Arlene and her group trail off. Close family members stop at the bride and groom's residence to make final preparations for later festivities. Our procession walks about a mile further, to the padrinos' home at the end of a meandering potholed roadway.
During the period between 2005 and 2007, pavement of the main street through town was completed. However with few exceptions, the rest of the roads are dirt, connected by narrow pathways. Land ownership is in the process of reform, with privatization on the way and promised for 2009. Homes range from extremely modest adobe construction with laminated metal roofing, to a number of large, contemporary-styled two storey clay brick and block abodes. Foundations are often made of locally mined limestone, known as cantera. The padrinos' compound is somewhere in between, with a couple of buildings composed of brick and adobe, plastered and brightly painted, and a few outer structures for cattle, cooking and storage. The mescal trade has been good to them.
Our arrival is greeted with fireworks. Without missing a beat, the band takes its place aside a manger. About 15 of us are now inside a room with couches facing an altar where Gladis and Eli are kneeling. Additional seating is brought in, along with mescal and then beer. I take both, as is now my custom, not unlike that of many others. I follow the lead of the elder to my right, pouring a few drops of mezcal on the floor, a sacrament in this village. I think back to the past 57 years of annually spilling ten drops of wine at Passover Seders, recalling the plagues heaped upon Moses' people by Pharaoh. Chuckling ensues as I then knock over and spill Hilarino's beer to my left. At first I decline a second beer, but after convincing I accept. After all, the bottle had already been opened for me. Where custom dictates, I rarely decline.
Beer and mescal are the most typical alcoholic beverages served at rural celebrations in and around the central valleys of Oaxaca. Urbanites of the middle classes tend more towards tequila and scotch, usually Johnny Walker Red Label, simply referred to as whisky. But we all have our favorite mescals, usually produced in small mom-and-pop operations peppering roadsides in specific regions of the state, usually much better than the commercial labels.
The presidente municipal, Hilarino's brother, mistakes me for a priest acquaintance of his… a Spanish guëro (white person) with moustache and grey hair. "Not even close," I answer to laughter. A couple of children begin rhyming off numbers in English. I inform that Arlene gives private English lessons. The ears of each in attendance perk up, since while learning English is valued, aside from very limited instruction in the local school there is no one to teach.
"I'll make you a deal, Mr. Mayor," I say. "Once privatization arrives, you find me a small plot of land or very modest home for Arlene and me to buy so we can spend the odd weekend in San Lorenzo, and I'll make sure she gives free lessons to the kids." More chortling, and of course the obligatory "salud!" as we toast the idea.
Someone spots a bull seemingly charging towards the house, having broken loose from its tie. "No es bravo," we're assured, so we re-take our seats and continue with levity and further small talk.
The first feast
After the better part of an hour, following the lead of Santos and the newlyweds, we move outside to the covered dining area, taking our seats on benches accommodating about 20 of us. The band continues. More family has arrived and is milling about along with those involved in meal preparation. A large bowl of traditional hot chocolate is placed before each of us, together with two loaves of bread, one small and the other the size of a regular unsliced rye. This is pan de yema, a type of egg bread, similar to challah, the bread that accompanies many Jewish celebrations and Friday night dinner.
Pan de yema is a Oaxacan tradition, served at many rite of passage fiestas as well as for yearly celebrations such as Day of The Dead, when it's known as pan de muertos. Many villages are known for the distinctiveness of their bread, some baked with cinnamon, others anise, and so on. Hot chocolate, a customary beverage in the state, is almost always accompanied by the challah-like bread. Oaxaca is known for its chocolate, made in small mills in virtually all towns and villages. Oaxacan chocolate is made from toasted cacao beans, sugar, usually a bit of cinnamon stick, and at times a small quantity of almonds. Many Oaxacans have their own recipes of stipulated percentages of ingredients, and so instruct the mill operator. Witnessing the simplicity of production is fascinating, and as a non-native Oaxacan, having one's own chocolate made, even more so.
Barbacoa de chivo (barbecued goat) in a broth with vegetables arrives in deep ceramic soup bowls, along with tortillas and platesful of chopped onion, cilantro, cabbage, fresh chili and radish. "The radish will give you twice as much stamina," I'm assured, to the amusement of all. More mescal follows, this time pursuant to statewide custom because of its tendency to cut the grease of barbacoa, whether goat, sheep or beef.
Raw chopped vegetables and greens are traditionally served alongside barbacoa, enabling you to control level of spice and type of flavor, on your own. Another typical Oaxacan dish, pozole, is similarly served with accompaniments on the side, in this case including small dishes of chopped dried oregano and chili powder.
While we're seated a teenage girl distributes clear plastic bags for carrying home the leftover bread. Some have eaten not a bite, while others have broken off chunks to use as dippers in the chocolate. None, however, comes close to putting a dent in all that has been given. We get up, and the next shift, including band members, takes its turn.
"Who decides who gets to eat first?," I inquire, needing to know that I did not take someone else's place. Hilarino enlightens.
"Everyone knows. That's just the way it is. Those who stay sitting down near the band are aware that their turn will come later on, and that we eat before them."
The women wait at home
I am anxious to compare notes with Arlene about our respective comidas, so Hilarino agrees to drive us back to his house in an old pick-up. Arlene was sitting with eight women and children in a tiny dark living-room jam-packed with sofas and an entertainment unit crammed with electronic equipment… eating peanuts, drinking tequila, and watching Bambi II for the second time. All unfolds while Alma, whose infant had died some eight months earlier, watches her 40-something-year-old mother nursing her own newborn.
Arlene whispers, "I'm starving. They didn't feed us anything except this. It's already three o'clock. We're supposed to be waiting for the procession to arrive, and then we'll all be going to the fiesta for comida."
"Well I'm stuffed, and the barbacoa was great," I respond, to her mild disgust. "Have some of this bread. It was great with the hot chocolate," I continue to tease.
We wait, and we wait, until I get bored with Bambi. To pass the time, I go out to son Daniel's adjoining pool hall to play snooker with him and a couple of friends.
"I just opened the place a couple of months ago. There's nothing in town for kids to do at night except drink and have sex, so I figured that with a pool table, card games and dominos, and pizza and other snacks, it would be a winner."
I would later learn to better appreciate Daniel's motivation.
At long last fireworks resume, signaling that the procession is once again departing. We hear the band starting up far off in the distance. The procession has finally begun to retrace its tracks, heading back to the couple's homestead, its outer fence now draped with white ribbon and floral bouquets. Earlier in the day we had noted two other homes duly decorated with white banners and streamers. We had been told that those residences were to be the focus of later festivities, but were uncertain as to when and why.
The second feast
We walk to the newlyweds' home to await their arrival. The fiesta will take place in an open, dirt floor courtyard facing the village's main street. Tables are set, adorned with flower arrangements. Smoke billows from the two, primitive in-ground barbecue ovens. Women are busy coming and going to and from two close-by buildings sheltering food and storing stacks of ceramic dishes and pails of plastic spoons. I spot another palenquero I've known for a few years, already mildly inebriated, sitting at a table holding court with his friends. But familiarity breeds comfort, so we join them, and there we continue to drink, more beer and more mescal. At this household the latter is not of particularly good quality, so after downing a small plastic cupful I stick to seconds of the former. "How do you know the gringos?" I overhear. I pipe up with the answer, correcting that we're Canadian.
In Oaxaca most use the word "gringo" in a non-derogatory way, yet are usually sensitive to its common connotation. While always setting the record straight, I make it clear that I know that no offence is intended and none is taken, and that I simply want all to be aware that we're Canadians, and not gringos. Gringo is a term thought to have been coined during the revolutionary wars, when the American soldiers in their green uniforms were shouted down, "green go home," or simply "green go."
The procession arrives just as I'm finishing another hot chocolate (Arlene, her first), and contemplating what to do with four additional loaves of bread, two for each of us. This time all are super-sized. Once again I hear the ripping off the roll of plastic bags.
But the band and revelers pass right by the house. We hurriedly join in, stopping a block down the road to bring back baptismal godparents Daniel and Alma and everyone else still at their home. By now the pyrotechnics have become continuous and the music is at a feverous pitch. Some 50 well-wishers arrive back at the party. Slowly another 100 or so arrive and seat themselves. A rose bush is placed on each table, two on ours pursuant to the instruction of Sara. "You'll take this one, so don't forget. I'll take the other, and someone else can take home the centerpiece."
Hot chocolate, no, three are placed before me, along with two more loaves and a bag. And then more beer, followed by mescal yet again, foreshadowing another heavy comida for me, and the first, at long last, for Arlene.
Mescal in the pueblos is served from either a multi-liter plastic gasoline container (purchased new for selling and transporting the spirit), or a 2.5 liter plastic coke bottle. Purists, upon arriving home after purchasing in such receptacles, immediately transfer their liquor into glass, the fear being that leaving it in plastic may taint the subtle nuances.
Barbacoa de res (beef barbecue) arrives, similar in presentation and with the same cut-up legumes and leafy herb as I had enjoyed only three hours earlier. But it's not often one gets to indulge in such proportion. The band continues, the number of musicians somehow having grown to ten.
Bands are an extremely important part of Oaxacan society, cultures and the multitude of micro sub-cultures. Musicians are highly respected not only because of their training and talent, but also because of what they offer the community – familiar tunes, an opportunity to dance ranchera, cumbia, danzón and the pinotepa, and more generally a medium for advancing the celebration.
Towards the end of the comida, Tupperware-style containers are distributed to everyone, marked "Recuerdo de nuestra boda, E y G, 27/11/08" (Souvenir of our wedding, etc.). In goes the leftover beef and broth. We decline to take home tortillas. We're then showered with an array of gifts commemorating the baptism, each personalized with particulars of the event: a wooden basket containing lollipops and other assorted sweets, adorned with pink ribbon and a small pink baby doll; a plastic bowl; a frilly, pink cotton doll blanket; children's birthday loot bags. Everyone packs up his bounty. I walk back to our vehicle to stow away umpteen bags and containers, as well as the rose bush. I return with our wedding gift, placing it in a designated room.
Wedding gifts
Very few gifts at rural Oaxacan functions arrive in a wrapped box or gift bag with card affixed. Instead they are fashioned so that all in attendance will know who is giving what. The present, be it a set of dishes or mugs, a blender, clothing, linens or even a lamp, is taped or glued to a piece of decorated particle board, then shrink wrapped with cellophane. The gift can then be proudly paraded in front of everyone as it's put in its proper place. Hence, often guests do not even include a card. Of course this makes it difficult for the recipient to know who gave what, unless he or she has a keen memory. But there are no worries, since thank yous are not the norm, and sending a note of appreciation is unheard of.
Tables are quickly cleared. When they're then folded, it signals that guests had better stand up. At the same time an 11-tier wedding cake is being assembled, along with a somewhat more modest cake in honor of the christening. At first the taking down and setting up all seems rather incongruous, but only until the band takes to the street and guests follow behind, once again signaled by the commencement of fireworks.
By now it's nightfall. We're clearly a spectacle as we march through the town's main thoroughfare, picking up more celebrants as we proceed, turning onto a dark dirt road, and then into an alleyway, followed by a right, continuing up a steep dusty gradient, and finally some 20 minutes later arriving at the home of the bride's godparents from her own baptism. Tradition dictates that on the occasion of her wedding, they present her and the groom, in the presence of the throngs, with a large wooden wardrobe. But not before prayer and advice. All the while, the band's tempo picks up and dancing begins on a large makeshift patio.
"Don't you remember me?" I'm asked by a young girl toting a four-year-old. "I used to work for Sara in the comedor, but now I can't because I have to take my son to school every day. I'm already 21. It's been a while, hasn't it?" She appears closer to 16, slight, short and moderately attractive, clearly pretty enough to attract the attention of a local suitor. "I live with my parents and sister."
The bride, groom, her godparents and other honored guests emerge from the well-wishing, together with four men holding up the white ribbon adorned wardrobe, and yes, dancing with it. We're showered with candies. More beer. I accept, only reluctantly since it's getting late and the thought of the drive back to Oaxaca begins to weigh on my mind. Next time perhaps I'll opt for the bottled fruit drink being offered. If it's good enough for young mothers to feed their infant children, then maybe it's okay for me.
An older man passes out unfiltered cigarettes, in singles, from a plate: "It's a tradition, so take one." I comply, and get a light. More mescal, this time much smoother. I decide that soft drinks can wait until a little later. The band continues, as do the four friends dancing with the closet. It looks heavy to me, but they persevere for perhaps fifteen minutes. The merriment builds. Bags of goodies are distributed to the extraordinary number of young children, most supervised by teenaged moms.
The band leaves its designated playing area, and begins to trace its steps. The wardrobe follows, along with the rest of us. We stop at the bottom of a hill for more deliberate and formal dancing. Then at the residence of the bride's godparents of her confirmation, tradition once again prevails: more drink, more candies, more cigarettes (this time filtered), and more milling about, but this time in a large, poured concrete floor courtyard of a relatively lavish looking home. And of course dance. These hosts are required to present the couple with a metate, the large grinding stone used for hand-milling corn for tortillas and tamales.
The metate remains a common and highly appreciated gift for special occasions, at least in towns and villages. It's usually painted with brightly colored flowers along the sides, with a dedication such as "Souvenir of my wedding" followed by the year, or other wording appropriate to the occasion. At all weekly town marketplaces there's at least one metate vendor and, at the large Abastos Market in downtown Oaxaca, there are several metate stalls. Metates were traditionally as important to a Oaxacan family as a car for most Americans and Canadians today. Even though blenders are now a more common wedding gift, the tradition of gifting a metate in this and other villages remains well entrenched. And why not? It's use probably dates back some 3,000 years, albeit in simpler form.
A man is dancing with the 135-pound metate strung across his back. A woman is parading a large galvanized aluminum wash basin, another gift. Someone else is entrusted with carrying a huge clay cooking vessel with a petate (palm leaf mat) rolled up inside. About 40 others are dancing, accompanying those who are presenting these additional gifts.
Now more under the influence than before, our third palenquero acquaintance takes me over to his wife for a chat. His daughter is also present, clutching her infant son.
"Our son's getting married December 29, and we want you to come, so I'm going to give you a special invitation the next time you're at my palenque."
It's common for people to give last-minute or unexpected invitations to rite of passage celebrations in both rural and urban Oaxaca, even, perhaps surprisingly, for the middle classes. Especially in the villages, extra tables are set up if necessary to accommodate additional guests, and there's always an abundance of food and drink on hand. It's a custom with which most North Americans are not familiar, and when confronted with such an 11th hour offer or request to attend, we usually feel insulted or at minimum a little uncomfortable. But the intention is generally to honor and show respect and friendship.
The festivities continue
We are now back on the street, once again with music, dance, fireworks, and upwards of 300 in the procession, having picked up invitees from the last two stops, and undoubtedly others along the way. The furniture-foursome continues, joined by metate-man and others, strolling with the most recent gifts.
We finally arrive back at the party site. The band repositions itself off to a corner. But now, with the last of the endowments having arrived, it's time to take notice of the riches being heaped upon Gladis, Eli and Lexy. All presents are brought out, and each is given to a different person, to rejoice and dance with above the head. A spectacle of potlatch proportion ensues, with baskets, dishes, small appliances and every other class of gift hoisted to the starlit sky and spun around as the band plays on. Those not directly participating clap in unison.
Many are in the street, oblivious to the odd passing vehicle. Children are playing, men and women imbibing. A municipal police pick-up stops out front. The mayor goes over for a chat. All is under control.
Oaxacans returning from the United States to their rural Mexican roots, in the course of expressing their reasons for coming back home, frequently comment about the excessive regulation and control exercised by the American government over its residents. "Why shouldn't I be able to have a beer in the street out in front of my home as long as I'm not drunk?"
"Why can't I keep the music turned up until midnight if I have a party only once a year?"
"If I can't afford to keep my car's catalytic converter functioning well, it's not fair to pull my vehicle off the road."
The bride and groom are getting more advice, and providing all assurances that they will be faithful and remain together, be good Catholics and lead forthright honest lives, always supporting one another. A conjunto (combo), the more contemporary musical group with amplifiers, electric guitars, singer and emcee, is setting up just as the band packs up. It's after 9:00 pm. Chatter continues, now about the upcoming waltz, la culebra (snake dance), toast, and other traditions. Many comment that they're ready for dessert. Dancing with a live turkey is not a custom in this village as it is in many others.
A young girl approaches, yet another former employee of our friend Sara of roadside eatery fame. She's 20, with a two-year-old. But she's holding her 15-year-old sister's three-month-old. Her sister also has a two-year-old.
"So she had her first at thirteen?"
"Yes, I guess that's right."
"Do you have a boyfriend?"
"No, I don't like boys, and I don't think they like me now."
"My parents are very strict. They never want us going out with boys, so we have to sneak around."
"But don't you see how it hasn't worked? Look at your sister now."
She looks confused. She doesn't get it. In a flash the wisdom of Daniel's one room billiard parlor strikes home. Giving young people something to do might just have an impact on the youth of his village.
There are class distinctions in the village of San Lorenzo Albarradas. But fiestas seem to transcend economic distinctions in terms of the guest list, at least for the middle and lower classes. Those with barely a skill set are noteworthy – the youngsters getting pregnant at 13, working for Sara for perhaps $6 – $8 a day, appearing to be going nowhere, and barely subsisting. Then there are Hilarino and Sara, and Santos and Lupita, with drive and motivation. Their children, while having families when relatively young as compared to current North American trends, aspire to be in long-term monogamous relationships, learn trades and attend higher education. They aim towards a future, while others seem to not. It's perhaps never even entered the realm of their worldview.
But neither San Lorenzo nor San Isidro has a school beyond junior high. There is no preparatoria (high school) in the area. The closest are in the towns of Mitla and Tlacolula. It costs approximately $20 a week to get there and back by public transit, money that most don't have. And if a family does send a son or daughter to high school, apart from the cost of doing so, there's one less income earner in the household.
Arlene is whisked away to the waltz, forming a ring with young women and female children, arm in arm, while Gladis and Eli begin to dance. They hadn't taken dance lessons. The circle moves ever so slowly to the right. Arlene catches on pretty quickly. The emcee begins to call out names of guests to be honored by being invited to dance with bride or groom. Every other surname called out is Martínez.
The snake dance
A half hour goes by, with more drink, talk and laughter. Daniel asks me to participate in the long awaited snake dance. He instructs me to remove my glasses. I initially decline, but then recall from prior experience what it entails, so off they come. The bride and groom each stand on a chair about three yards apart, Eli holding onto the end of Gladis' train. I and four other men grab onto the bride's chair, holding it firmly, while another group does likewise with the groom's. Women begin circling around the main attraction in the center, bumping into us and trying to topple us over, and consequently the bride and groom from their chairs. As the pace of the music picks up, likewise the movement of the snake… the women circling. So does the fervor in trying to knock us over. It's a draw. Next, the men do the same, but the bumps and grinds are more deliberate and severe. We are firm in our resolve to protect Gladis by ensuring that our feet remain firmly planted on the ground and our hands are not dislodged from her chair. Those hanging onto Eli are similarly steadfast. The second snake slithers away as the music dissipates, both newlyweds still standing.
The waltz
By now, Hilarino and Sara have left for home to put their other son, a two-year-old, to bed. The village's main street remains alive with drinking, coming and going, and of course sporadic bottle rockets going off. The conjunto is now playing in full swing as the next ritual unfolds. The groom, suit jacket removed, is being ushered around the courtyard by Daniel, so as to enable guests to write a congratulatory note on the back of his shirt, and then affix a peso bill to it with a safety pin. At the other end, Alma is similarly assisting Gladis. Gladis is approaching guests with a crystal slipper, inviting each to fill it with coins or bills. Alma, trailing, periodically empties the slipper's contents into a decorative wooden box.
The expense involved in throwing a wedding in Oaxaca can be significant and, while most cannot afford much of the pomp and ceremony involved, they nevertheless pull it off. It's tradition. There's a saying that most people in Oaxaca have two jobs, one to meet their normal day to day expenses, and the other to fulfill their social obligations. Asking for direct contributions assists in defraying the cost. Honoring specific friends and relatives by asking them to be godparents of a particular aspect of the function further reduces the outlay – godparents of the music, the cake, the wedding rings, and so on.
Time to go
It's now 10:30, and it's a long drive home over dark winding roads. Gladis and Eli continue to solicit contributions. Cider has been distributed in small plastic cups in anticipation of the toast, but no one knows when it will occur. And still to come are the cutting of the cake, the bride or groom having his or her face smashed into it, and other longstanding traditions, not to mention dancing to familiar song… sure to continue throughout the night.
To a person, our friends and acquaintances are shocked at our "premature" departure, Daniel ready to burst into tears, Alma pouting. Weeks earlier we had indeed spoken about spending the night and sleeping over, but not without qualification. I do a quick calculation of the number of drinks I have had over the past ten and a half hours, to assure myself, and Arlene, that we'll be safe for the drive home. I had been conscious of my intake all day and evening long, for that very reason.
A week later, I see Alma at her mother-in-law's comedor. She is clearly still disappointed, as well as angry. Many partied until six in the morning. Others closer to our age called it a night at about two or three. But there's always an opportunity for us to redeem ourselves, perhaps at the next wedding in a month's time, now that we are much better acquainted with the customs and traditions of San Lorenzo Albarradas.
Published or Updated on: March 16, 2009