Interactive Map of Chiapas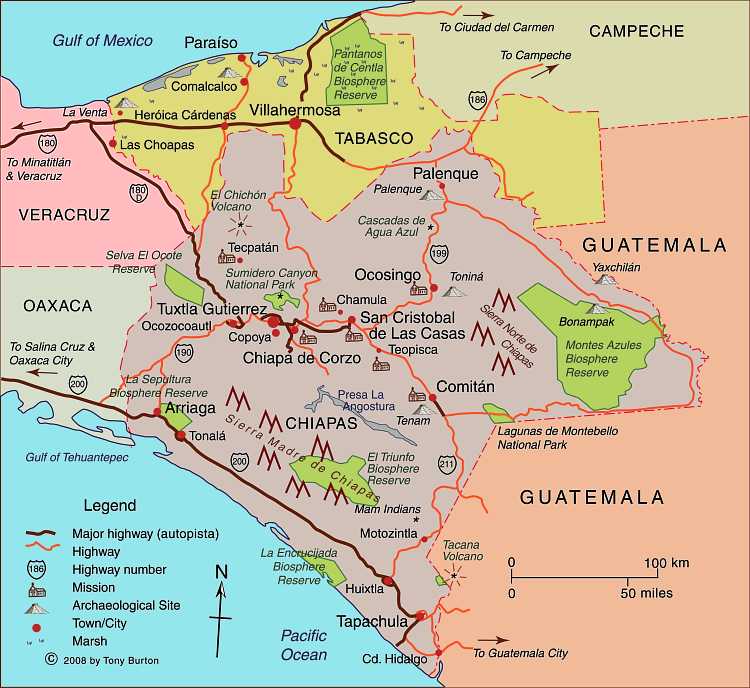 About 20% of the 4.8 million people living in Chiapas, Mexico's southernmost state, belong to one or other of the state's numerous indigenous groups, including various Maya groups and the Lacandon Indians. Development and cultural issues relating to indigenous communities in Chiapas are many and varied.
The state's El Chichón Volcano unexpectedly burst into activity in 1982 with disastrous consequences for several local communities. For details, see this Geo-Mexico post: The eruption of El Chichón volcano in 1982
Chiapas has huge tourism potential, including the Mayan site of Palenque, the state capital Tuxtla Gutiérrez, and the beautiful colonial city of San Cristóbal de las Casas (a former state capital). "Magic Towns" in Chiapas include San Cristóbal de las Casas, Chiapa de Corzo and Comitán de Domínguez.
The El Triunfo Biosphere Reserve is part of the mountain range known as Sierra Madre de Chiapas. It straddles the continental drainage divide. Short rivers on one side flow to the Pacific Ocean. The rivers on the other side of the divide are the start of one branch of the mighty Grijalva-Usumacinta River (Mexico's largest river in terms of discharge) which flows into the Gulf of Mexico.
The mountainous state of Chiapas has an important agricultural sector, focused on tropical and semi-tropical produce such as coffee, bananas and cacao. The site of the Zapatista uprising, it remains one of the poorest states in Mexico in GDP terms and on socio-economic indicators.
Clickable interactive map by Tony Burton