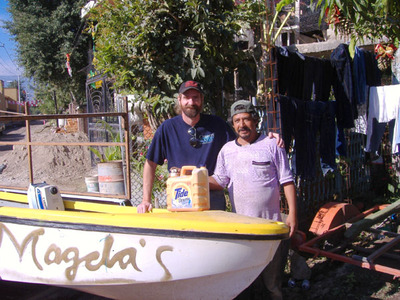 A fishin' we will go, a fishin' we will go; hi, ho, the merry-o, a fishin' we will go.
Second son Gary came to the west end of Lake Chapala, to the suburbs of Jocotepec, in the colorful state of Jalisco, for a winter holiday, free food and probably an inspection of his aging parents' modest housing investment and choice of Mexican friends.
He seemed surprised.
From the third-floor sunset window in the guest suite, he could look across the dirt and cobblestones to Salvador Ramos' home and see a small fiberglass fishing boat anchored in the yard. It was inevitable that Gary and Salvador would talk. Gary has fished since boyhood.
Salvador's English vocabulary is limited. Gary's Spanish is rooted in a pocket-size handbook. The yellow and white boat was the common denominator. Gary went over to check it out.
Salvador was delighted to discover someone interested. Surprisingly, they communicated well enough to establish a time to go fishing. You should have seen the preparations.
Together, they untangled, stretched and inspected a net. They gestured and laughed and talked at some length about the outboard motor, a four-horse Evinrude that appeared to have several years of experience.
Gary looked the boat over carefully and focused on the built-in fish finder, a clear plastic panel in the floor, permitting an unobstructed view of what would be swimming underneath.
Together, they discovered a flat tire on the boat trailer. Together, they picked up the boat and made some of it fit into the back of Salvador's pickup truck. There was an overflow of four or more feet.
Salvador produced an empty fuel container, a recycled two-gallon plastic jug that said Tide detergent on both sides. Pemex had just raised the price of gas.
Salvador resisted inflation by siphoning some from his truck. Gary gathered enough snacks for an office party — bananas, oranges, tangerines, cucumber, peanuts, chips, crackers and soft drinks.
A fishin' we will go, a fishin' we will go.
And they went, happy, excited, optimistic, even confident. As soon as they were out of earshot, Sarah and I discussed what we've heard about the water quality of Lake Chapala, about the level of pollution, about heavy metals and other toxic substances, about questionable waste water treatment.
We don't know but we've been told about high levels of phosphorus and more than enough cyanide chromium, lead and mercury and maybe some unidentified industrial drainage. Fresh fish? No thanks.
Don't misunderstand. We like to look at Lake Chapala.
We live where we do because of the view. We see good men earn their living catching and selling fish from Lake Chapala. We see satisfied customers, all of whom remain upright, each with two arms, two legs, two ears, two eyes, one nose.
Nevertheless, the vote was 2-0 that the entire catch should be awarded to others, neighbors up and down both sides of the street if there was an excess. There wasn't.
For openers, the four-horse Evinrude motor wouldn't start. The fishermen took turns tugging the cranking rope until they grew weary — and then they rowed.
Gary got a blister.
They encountered obstructions, mostly commercial nets and traps and two old tires. They looked and looked through the fish finder but never saw a fish. They threw out the net in all different directions, pulled it in an equal number of times and caught only sticks and lirio.
When the wind picked up a few knots for just a few minutes, waves splashed into the boat. Both being survivors and conservationists, they dipped up the water and threw it back into the lake.
The fishing trip turned into a pleasant philosophical discussion, a sight-seeing adventure and a picnic.
Salvador was pleased to hear how much Gary was enjoying his Mexico visit. Gary was impressed when Salvador spoke with pride of "my lake, my town, my country."
Mount Garcia developed into a favorite subject. Gary was curious. Salvador, as best he could, passed on intriguing stories and maybe some facts.
Gary knew about white pelicans and egrets but asked the names of other birds. Salvador had answers. They exchanged other English and Spanish words, including colors they identified on an oil can. Red, rojo. White, blanco. Etc., etc.
Eventually, they ran short of food and beverage and paddled to shore, reloaded the boat on the truck and chugged home. They endured laughter and teasing about the shutout.
No pescado? Not even a little one? Only very bad, sad fishermen catch no fish. They heard how all of us had expected big fish dinners, how everybody was suddenly very hungry. There was more laughter.
Neither Salvador nor Gary is easily discouraged. They installed the motor in a 55-gallon water barrel and devoted another hour to tinkering with sparkplug, carburetor and other moving parts. Suddenly, the motor sprang to life and ran perfectly. The failed fishermen waved off the applause.
"Fishing" stretched into the edge of darkness with more talk, such as it was, and hot chocolate around a small fire.
If community relations were just a little better, if the language barrier wasn't so great, if Mexicans and Americans could somehow just get along, this fishing adventure might have run late.
Published or Updated on: February 1, 2008