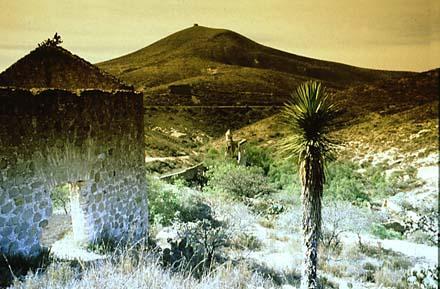 Nestled between the hills and clouds at 7,500 ft. above sea level and only 25 miles from San Miguel Allende, is Pozos, Guanajuato. This once opulent colonial city lived through several gold bonanzas from 1576 through the Revolution of 1910, and was declared a Historical National Monument by the Mexican Government in 1982.
The weather in Pozos is sunny, but never hot in summer, and cool to cold in the winter. Fireside chats can be enjoyed almost all-year round, or campfires and, tents can be set-up along the surrounding hillsides. Exploring Ex-Haciendas, old ruins, chapels and underground mine tunnels are some of the popular adventures awaiting you here. Take a mountain bike to the top of Cerro Pelon, (elevation 8,200 feet) and visit the historical chapel. As the writers of OUTSIDE magazine noted, "Attention bikers: the trip up to Iglesia de Santa Cruz is a thigh-burner, but the downhill is a screamer!!"
Shopping for souvenirs here is limited to one local craft. Artisans make elaborate hand-carved replicas of pre-Hispanic musical instruments, deer skin drums and rain makers. The instruments are original one-of-a-kind designs. At a store named "Camino de Piedra: OHTETL" meaning "STONE PATH" you find the best quality carvings each one titled and signed by the artist. During certain festivals celebrated in Pozos, demonstrations of these musical instruments and pre-Hispanic dances are performed by these local artists.
The town's population fluctuates between 1,000 to 4,000 people. A visit to Pozos is remembered for its serenity and solitude, which has become non-existent almost everywhere else. Pozos is a soothing getaway, where you can escape crowded sidewalks, tour buses and congested traffic, and street vendors won't push souvenirs into your face.
The most prominent buildings in downtown Pozos are those surrounding the main town square with its ubiquitous kiosk and the main church across the street, the Iglesia de San Pedro. Across from this Iglesia is housed the recently opened Hotel Casa Mexicana and Cafe des Artistes providing hotel and restaurant services for the overnight tourist.
Pozos, Guanajuato is 35 minutes from San Miguel Allende, approximately 3.5 hours from Mexico City. About 2 hours from Leon, Guanajuato and 45 minutes from Querétaro.
This article provided courtesy of Hotel Casa Mexicana, Pozos, Guanajuato.
Published or Updated on: July 1, 1997