Introduction
Michoacán is recognized in México for its perfect combination of colors and flavors, the melancholy and joy of its music, the joy and vitality of its dances, its cultural wealth, its traditions and history, its villages and towns, and its natural beauty. All of this makes Michoacán ideally situated for travel into the extraordinary heart and soul of México, answering the call of alternative tourism — whether it's adventure tourism, ecotourism, or rural tourism.
The geographic location and grand diversity of Michoacán permit development of activities such as hiking and walking, climbing and mountaineering, observing flora and fauna, mountain biking, horseback riding, canyoning, star-gazing and camping, as well as adventure sports such as rock scaling, spelunking, rappelling, diving, snorkeling, sport fishing, hunting, speedboat racing, windsurfing, hydrospeed, kayaking, canoeing, free flight in wing delta and paragliding.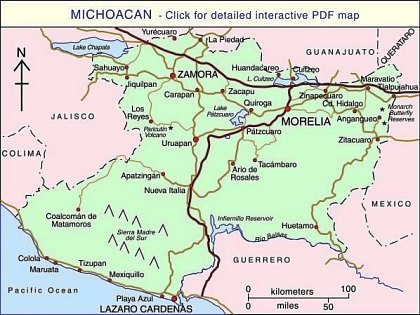 The geologic and hydrographic conformation of the state favor the development of native plants and wildlife, varying as much as the climates of the state do, from cold forested mountains to the warm tropical coast and from the temperate central region to the dry heat of the Michoacán's warmlands, the Tierra Caliente. Michoacán begins in the mountain range of the Sierra Madre Occidental, with its canyons, valleys, dales, plains and summits rising more than 3,000 meters above sea level. Michoacán also is a state with an abundance of water, expressed in extensive rivers, lakes, lagoons, springs and waterfalls of incomparable beauty.
The rich landscapes, the geographical diversity and the broad range of climates of the state create optimal zones for the hibernation of fauna such as the Monarch butterfly, white pelican flocks, and sea turtles of the Golfina, Black and Laúd species.
This article is intended to inform and introduce Michoacán's alternative tourism opportunities to professional adventurers and the adrenaline-fueled, providing tips, guidance, maps, operators, regulations, and a brief explanation of what alternative tourism means. To maximize your experience in Michoacán, please send for a map of the region you intend to visit — Morelia, Pátzcuaro, Uruapan, Zamora, Zitácuaro or Lázaro Cárdenas — for more information about the city and its environs, food and handicrafts, hotels and restaurants, nightclubs, shopping centers, travel agencies, bars, taxis, and emergency telephones.
Protected Natural Areas
The state of Michoacán, with its fantastic landscapes, abundant vegetation, great lakes and rivers threading throughout the area, is splendid with its colorful natural beauty framed by climates ranging from warm on the coast to fresh and invigorating in the central areas.
Several protected natural areas exist in Michoacán. Notably important are the Monarch Butterfly Biosphere, with two sanctuaries: Sierra Chincua and El Rosario, near the city of Zitácuaro; followed by Bosencheve National Park within the municipality of Zitácuaro, Michoacán, and the state of México; Campo del Gallo ("Field of the Rooster") in Tlalpujahua; Los Azufres ("The Sulfurs"); and Las Palomas ("The Doves") encompassing the municipalities of Hidalgo, Zinapécuaro and Maravatío; and the Eduardo Ruiz National Park in Uruapan. There are also preserves to be visited and enjoyed among the beauty of the Riverbanks of Cupatitzio, the Peak ("Pico") of Tancítaro, the Hill of Garnica, Lake Chapala with its pelican flocks and the beaches of the Michoacán coast, abundant offshore shoals for the protection and safety of sea turtles.
In some of these places, a tourist can stay in natural areas, participating in activities such as hiking, camping, horseback-riding, mountain biking, star- and bird-watching, hunting, sport fishing, and interpreting and exploring nature.
Each of these areas offers nearby lodging, restaurants, supplies and provisions.
Mountaineering and Climbing
Michoacán, a refuge of mountains and adrenaline, a fusion of cultures and emotions, offers the tourist long walks along and within protected areas, from the Transversal volcanic axis and the Sierra Madre Occidental, both with countless peaks for mountain-climbing, to the Pico de Tancítaro, Paricutín Volcano in Uruapan, Codembaro in La Huacana, La Aguja in Tumbiscatío, Dolores in Huetamo, San Andrés in the county de Hidalgo and Patamban in Zamora.
The volcano Paricutín (the youngest in America, and the only one whose birth was witnessed by a living human), surrounded almost entirely by lava, is a paradise for those who love hikes amid the sandy banks and lava fields left by the 1943 eruption. Here the advancing flow of the lava can be appreciated, revealing a path of destruction of all in its way, save the tower, facade and altar, and a few walls of the church of San Juan Parangaricutiro. The image of Christ was rescued from the church and later installed in a new church constructed in San Juan Nuevo Parangaricutiro, where it is now known as the Miraculous Christ of San Juan.
In addition to the volanco Paricutín and Pico de Tancítaro, it is possible to practice mountain-climbing skills at the hill of Tecolote in Zacapu and on Tzirate in Quiroga, the latter revealing a panoramic view of Lake Pátzcuaro and the villages along its shores.
In most of these mountains, it is possible to safely camp or to find lodging and food in the nearby villages.
Walking and Hiking
Walking is the best way to discover the beauty these natural landscapes. The slow rhythm of walking creates a progressive sensation of communion with nature and its elements.
Michoacán's climate and geology make it a paradise for the walker or hiker in valleys, canyons, sandy spots, lava fields, mountains and coasts in venues such as Mil Cumbres ("Thousand Peaks"), Paricutín, Dos Aguas ("Two Waters"), Amatique, Picachos de Cucha ("Peaks of Cucha"), Los Azufres, Zirahuén, the shores of Lake Pátzcuaro, Cañón de Guarimo ("Guarimo Canyon), and Sierra Chincua.
Its hydrography and geomorphology make Michoacán one of the areas of the country where natural elements formed splendid waterfalls, cascades and enclaves of exuberant and varied vegetation, as seen in the Chorros del Varal in the area of Los Reyes, Tzaráracua, Tzararacuita and Eduardo Ruiz National Park in Uruapan, El Salto del Moro in Tuxpan, Las Goteras in Taretan, El Salto de Aguililla, El Salto de Enandio in Juárez and El Salto de Dos Aguas in Aguililla, among others.
Those who love long walks can visit these beautiful places, as well as spend the night camping there, so backpacks, tents, and camping equipment are recommended. Another option is to return to the town of departure, where food and lodging can be easily found.
Rock Climbing and Rappelling
Adrenaline addicts will find Michoacán filled with walls of hills, mountains, and suitable risks to practice scaling rocks and rappelling. It is said that rock scaling is the extreme sport where the goal is to challenge the force of gravity while conquering the peak, all the while climbing farther and higher. Only one enemy exists: all that which is below the climber's feet.
To climb mountains is to live alongside nature in its purest state, confronting and facing its challenges and dangers without help from outside forces. Rock scaling is emotion, pure air, physical challenge and danger.
Michoacán has innumerable resources which are ideal for rock scaling, from La Alberca in Patzingo, the great walls of Picachos de Cucha, Peña Blanca in the community of El Caracol, El Oasis in Tumbiscatío and Cerro La Tortuga in Senguio, just to name a few. The walls and the peaks were formed by different types of rock ranging from slate, granite, limestone, and aggregates. Fans of free climbing in deep waters should visit the rocky areas of San Juan de Alima in the municipality of Aquila. And for those just beginning, in various parts of the states destinations exist for climbing simply among blocks and boulders. In Morelia are endless walls along the city's periphery of varying degrees of climbing difficulty, and within the city are artificial walls to be climbed.
Michoacán is one of the states with the most agricultural resources in México, possessed of several waterfalls, making up in beauty what they may lack in height. The most important are Los Chorros del Varal, in the municipality of Los Reyes; Tzararacuita in Uruapan; El Salto del Moro in Tuxpan; and El Salto de Enandio in Juárez. Each is different in form, shape and altitude. The surroundings bear a rich variety of vegetation throughout the year, fed by the dewy mist of mountain waters. These waterfalls are accessible by state highways to principal cities in the area. In these falls, it is possible to practice rappelling, hiking, and rock scaling.
Finally, we recommend that those planning to scale El Oasis or Los Picachos de Cucha prepare for camping. The walls of those peaks reach 800 meters above sea level, and more than a day may be required to conquer them. Because it is possible to ascend and descend other sites within the same day, spending the night in a nearby town is an option.
Rappelling
A mountain can be descended with ease or with a sense of adventure. Nevertheless, some sections can only be descended by rappelling, generating adrenaline. The technique consists of sliding one's harnessed body along, using a cord and friction to control the velocity of the descent.
In Michoacán exist great quantities of optimal spaces for rappelling, as seen in Los Picachos de Cucha, Salto de Aguililla (110 mts), Chorros del Varal, La Alberca in Patzingo, Salto de Enandio (70 mts), Dos Aguas, Cerro la Víbora en Tuxpan, Cerro de la Tortuga, rocky walls along the Río Toscano, Peña Blanca in el Caracol, Cañon del río Lerma in Tepuxtepec, and the area of Contepec.
All of these sites are easy to access either by the federal highway or by guarded breaches.
With the exception of Los Picacho de Cucha, where the difficult grade requires technical skills, the rest are right for true adventurers.
As much as part of the practice of rock scaling as well as rappelling, do not forget cords, lugs, harnesses, a variety of large and small hooks, helmets, and other appropriate and vital equipment so that your experience scaling Michoacán peaks is successful. If you do not have the necessary equipment, we suggest that you contact some of our tourist operators to facilitate a safe trip in our state.
Camping
Michoacán, with its beautiful landscapes, abundant vegetation, great aquatic network of large lakes and rivers distributed throughout the territory, and volcanic zone, is a paradise. It is said that in each corner of the forest and beach is an ideal spot for weekend camping, enjoying the beauty and quiet peacefulness of night, gazing at the stars, long and short walks through nature, appreciating the diverse local flora and fauna, as well as knowing the rural communities, sharing their traditions, rituals, folklore, and cuisine.
Its shape and variety of destinations makes Michoacán one of the places preferred by groups of Scouts for camping among the beauty of its forests, lakes and lagoons.
The great meadows are enjoyed just as much for camping as are the forests. Wherever one opts to camp or scout, the enchantment of Michoacán promises rest and harmony in nature.
Those who want the silent witness of starry nights, foggy mornings and waking up amid nature should consider camping in Laguna Larga, Zirahuén, La Alberca in Patzingo, Paricutín, Tzirate, Cerro Hueco, Presa de Pucuato, Presa de Umécuaro and Las Cuevas in Huetamo, among others.
Definitely, Michoacán is a piece of paradise transformed in ecotourism.
Observing Plant Life and Wildlife
Observing the flora and fauna of Michoacán is an activity which is not limited only to those students of natural science. It's also an activity available for any enthusiast to observe species in their natural habitat. Every year birds, sea turtles, and Monarch butterflies migrate to Michoacán to reproduce. The kind of plant or wildlife the tourist seeks to observe will determine his or her route — camping in the mountains, the beach, or in one of the many hotels in the principal cities of the state.
Birds
Bird migration takes place from November to March as birds fly from colder countries in search of a warm place to reproduce and raise their young.
In the eastern part of the state, in the municipality of Senguio, ideal climate, relative humidity, and food sources create a nesting environment for some 370 species. Most of the birds which reach this zone are the songbird variety (finches, hummingbirds and sparrows, among others) of varying size and colorful plumage. The mountainous landscape offers birdwatchers perfect conditions to enjoy long walks in the wooded areas and to admire birds from natural viewing locations, or to locate their nesting areas. Ornithologists from national universities as well as foreigners studying bird migration patterns, styles of flight and feeding, as well as the morphology of these birds, flock to this zone.
In the region of the Michoacán coast it is possible to admire and learn about birds such as guacos, chatterboxes, larks, cardinals, parakeets, woodpeckers, buzzards and hummingbirds, just to name a few. Reptiles such as the scorpion, boa, salamanders, iguanas, chameleon and whipsnake, and mammals such as deer, wild boar, raccoon, snow leopard, badger, bobcat and panther, among others, abound, as well as many indigenous plants and other animals.
Heartily we recommend a visit to Sierra Chincua in the municipalities of Angangueo and Senguio; Petatán in the municipality of Cojumatlán de Régules in Lake Chapala; Lake Cuitzeo; Cerro de las Guacamayas in Huetamo; Lake Pátzcuaro; Faro de Bucerías in the coastal municipality of Aquila; and the coastal lagoons of Mezcala, los Tules and La Colorada in Coahuayana, in these areas one can admire the beauty of the birds, while enjoying an excursion in a small boat, in the same spirit we recommend Esteros Barra de Pichi, Mata de Carrizo, and the immense damn of Infiernillo, in the municipality of Lázaro Cárdenas.
Migration of the Species
Michoacán is a state famed for migration of species, presenting favorable climatic conditions for the winter home of various animal species such as the Monarch butterfly, white pelican flocks, and the sea turtles, which visit Michoacán year after year.
Monarch Butterfly
The state presents favorable climatic conditions for the migration of various species of animal life; the most important from a world-wild perspective is the phenomenon of the Monarch Butterfly, which year after year makes a trek of about 4,000 kms. from southern Canada and the northern United States, arriving in the middle of November to find the ideal habitat for reproduction in the pine and oyamel forests at an altitude of between 2,200 and 3,000 meters above sea level in the la Sierra Chincua and in the Ejido El Rosario in the municipalities of Angangueo and Ocampo, in the eastern part of Michoacán.
At the sanctuaries of Chincua and El Rosario an estimated more than 60 million butterflies emigrate during the month of March of each year. If you are interested in visiting these sanctuaries, we suggest that you ask at the tourism office for informative pamphlets about the Monarch butterfly, where you can learn more about the migratory phenomenon and the reproductive cycle, as well as suggestions and travel information.
Flocks of Pelicans
Bird of white plumage with wings extended in flight, reveal dark feathers and clear pink and yellow tips flock to Michoacán.
Those birds, the same as the Monarch butterfly, migrate from Canada, passing the winter in the warm lands, find propitious conditions around Lake Chapala in Petatán, in the municipality of Cojumatlán de Regulés, close to the city of Zamora. To observe these white flocks of birds during their hibernation is genuinely a spectacle worthy of itself. Their migration takes place annually from the months of October to March.
Sea Turtle
At the coast, where indigenous towns of Náhuatl origin can be found, are three classes of sea turtle can be found: Golfina, Black and Laúd. Their abundance is due to the turtles' pattern of laying eggs in the virgin beaches of Colola, Maruata, Mexiquillo and Ixtapilla. These turtles land to spawn their eggs at the same beaches where they were born, guided by instinctive memory of the same water and sandy beaches where they were hatched.
In order to protect these species from the danger of extinction, governmental and non-governmental organizations have developed camping areas to nurture the nests and assure the return of the young to the sea, treating them incrementally with greater abundance of sandy shoals and, little by little, making sure that the sea turtles do not join the ghosts of extinction. This phenomenon occurs annually between the months of October and March.
Archeology
The roads of Michoacán lead to magic adventures in pre-Columbian history. The Michoacán highlands are characterized by a harmonious combination of lakes and forested mountains, territory where the Purépecha decided to establish their dominion during the final epoch of the Mesoamerican world. The old sovereigns of ancient Michoacán were unified by their language and in artistic and cultural expressions emphasizing woodworking, feather art, metallurgical arts, weaving, ceramics, and stone carving.
The invincible Purépecha Empire founded several establishments that still endure: Huandacareo, Pátzcuaro, Ihuatzio, San Felipe de Los Alzati, Tingambato, Tres Cerritos and Tzintzunzan. Additional sites can be found along the borders of the River Balsas, and intact vestiges remain covered with vegetation in the coastal areas of Coahuayana and Aquila.
If you are interested in knowing and entering the Purépecha culture, we encourage you to ask the tourism offices for the pamphlet map: Archeological Michoacán, featuring explanations of each archeological zone and identifying areas of sufficient infrastructure such as hotels, restaurants and highways.
Rural Tourism
From the forest to the coast, Michoacán is a multicolored array of natural beauty, typical villages, art and culture. This unique combination of attractions has been divided into four regions for visitors who enter into our communities, known by their lifestyle, cuisine, arts and crafts, traditions, customs, folklore, music, dance, architecture and history.
"Lake Region and Meseta Purépecha" (Pátzcuaro and Uruapan): it includes the typical towns along the shores of Lake Pátzcuaro and Zirahuén.
"Eastern Region" (Zitácuaro): mining zone, old haciendas, caves and grottos, forests, dams, thermal waters, spas and the sanctuaries of the Monarch butterflies.
"Northwest Region" (Morelia and Zamora): includes the architectural and cultural wealth of the areas surrounding Morelia to the typical towns and villages framed by forests, mountains, springs, landscapes, aquatic parks, the geyser in Ixtlán de los Hervores and Lake Camécuaro in Tangancícuaro in the county of Zamora.
"Coastal Region" (Lázaro Cárdenas): offering a great horizon of the ocean's rocky shores and sandy shoals, beaches, bays, and indigenous Náhuatl towns, excellent places to rest and engage in aquatic sports.
In each of these regions, as well as the avenues and side streets of our towns, there's plenty of opportunity for ethnotourism, spiritual and religious tourism in the religious fiestas, and health tourism in spas and aquatic parks. Hiking, camping, horseback riding, and mountain biking are also possible.
For the best routes of the highways and back roads of Michoacán, we suggest that you ask for a pamphlet map of each region, containing information about the cities of the region, as well as its environs, transportation options, distances, hotels, restaurants, travel agencies, cafeterias, bars, night clubs, and emergency telephone numbers.
Spelinking
Abundant water and the mountains of Michoacán produce innumerable subterranean formations such as vaults and underground traces. In these calcareous (limestone) formations are grand halls and rooms, narrow passages, underground rivers, stalactites and stalagmites where fossils of ancient plants and animals have been preserved among the calcified walls and ceilings, products of trickling water throughout thousands of years. Michoacán's topography is ideal for the professional and amateur spelunker.
Man occupied some of the caves in ancient times, because vestiges of humans have been revealed in cave paintings and zoomorphic figures. A collage of marine fossils has formed some cave walls, an indication that thousands of years ago, the sea covered these caves.
Among the subterranean formations are: the Grutas ("Caves") of Tziranda in Hidalgo, La Virgen, La Bomba ("The Pump"), Cruz de Simón ("The Cross of Simon"), La Vinata, y Las Conchas ("The Shells") in Aguililla, La Cueva de las Manos ("The Cave of the Hands") and La Bocona in Huetamo, La Cueva de los Monos ("The Cave of the Monkeys") y El Toro ("The Bull") in Tumbiscatío.
The greater number of caves can be found in the municipalities of Aguililla and Coalcomán, and this is why spending the night in the picturesque town of Dos Aguas in Aguililla or preparing to camp in the mountain range is recommended. Dos Aguas is the departure point for almost all caves in the area, and in this community lodging in rustic guest houses is available, as well as food supplies for the adventure. Those planning to visit other caves should plan on spending the night in the nearest town, as well as to contract the services of professionals and experienced guides in the area of alternative tourism to maximize their excursion.
Finally, the presence of various kinds of bats in some of the caves should be mentioned.
In the caves of Tziranda, there exists one cave (not open to the public) where thousands of bats comprised of 18 species, some the only ones of their kind, live. It is hoped that soon a sanctuary protecting the habitat of these singular species can be established.
Kayak and Drafting
The sensation of feeling and hearing the force of water striking rocks in inaccessible corners is an experience that can be lived on the kayak and raft, descending Michoacán's rivers. Still, the best part of this adventure is the diversion and camaraderie of adventurous friends.
Those who are dedicated to this kind of extreme sport know the risk of this activity requires the use of special and resistant equipment such as helmets, life preservers, rafts, and pneumatic kayaks in good condition, as well as rescue equipment to protect against accidents which can be produced by the river's volume and flow.
Worldwide, the level of difficulty of rivers ranges from 1 to 6, depending upon the water level and its flow. The grades 3 and 4 refer to rivers with water sufficient for sail with difficulty to pass natural objects such as rocks and trees (this grade considers technical reduction). Grade 5 is when the river contains so much water that obstacles are covered, requiring precautionary measures against dangerous internal currents. Grade 6 is considered almost nonnavigable because of the force of the currents, and is left only to the true experts to conquer.
In its different grades and levels of water, Michoacán offers up the adrenaline of its rivers, such as the Zicuirán, in Huacana, the Taximaroa in Hidalgo, the Tuxpan in Tuxpan, the Lerma in Contepec, the Ostula in Aquila, the Nexpa between Lázaro Cárdenas and Aquila, the Balsas, in the municipalities of San Lucas, Huetamo and Churumuco, the Puente del Márquez in the municipality of Gabriel Zamora, hydrospeed in the Copullo in Tzitzio. The lagoons and along the seacoasts are ideal for kayaking. The best time to conquer the rivers is from the months of July to October.
Near these rivers, all types of services are available. Motor vehicles should be driven only on land during the summer rainy season. While tent camping is an option, the better alternative is to return to the nearest town.
Surfing
The art of mounting a wave before its violent death — surfing — is one of the sports that is winning more and more followers in Michoacán. Originally this activity was practiced by the ancient Polynesians, men of the sea, mainly fishermen, and today it's an adventure all over the world. This sport requires balance and love of the ocean, as well as knowledge of the waves' surges, tasks which require much dedication and practice.
Michoacán and its 213 km. of coastline, blanketed with palm groves and wooded dales, is connected with the neighboring states of Colima and Guerrero by Federal Highway 200 and with Morelia by the new Morelia — Lázaro Cárdenas toll road, designed to connect the city with the shore in only four and a half hours.
The beaches of La Ticla and Nexpa are the favorites of national and international surfers, and national surfing competitions are held in both locations. Both beaches have cabins and camping zones for surfers' shelter. The waves of La Ticla and Nexpa originate in Australia and Hawaii.
Amid international Bohemian surroundings, the Michoacán coast also features estuaries with abundant vegetation and rock formations, where sea carves endless and whimsical forms, creating a refuge of nests for a huge variety of marine birds.
Come and surf with us on our beaches, remembering that in surfing, each wave is your first wave!
Diving and Snorkeling
The Michoacán coast is the right place for open-sea diving. In the tranquil beach along Faro ("Light") de Bucerías, the conditions are just right to explore the remains of a sunken ship from depths ranging from 2 to 20 meters. A small but barren island in this bay is singularly attractive. The remains of this coral-covered ship have become a refuge for a variety of fish. To the east of this ship are a small canyon and rocky formations.
For a more intense emotional experience, visit the bay at Caleta de Campos, where you can dive among the "Carrizalillo" and the "Corraló," areas averaging 20 meters in depth, a pristine place where black coral branches have been preserved.
Aside from its splendid beaches, Maruata has zones for diving at a depth of 18 meters. Like Caleta de Campos, a great number and variety of marine life are represented. There are excellent places to camp and enjoy nature in addition to diving. Here, swimming and snorkeling is feasible, but the rocky formations demand experience.
The islands in front of Faro de Bucerias are refuges for large numbers of marine birds and tropical fish that can be appreciated close-up. Because these are untouched areas, the animal life does not avoid human presence, as in other places. This spectacle is worthy of admiration.
In the months from November to February, the Pacific Ocean offers aquatic visibility from 6 to 30 meters and mild temperatures, but other months should not be excluded.
In the interior of the state, there are lakes which present the conditions prerequisite to a good diving experience. Zirahuén, a lake with a sedimentary bottom and average visibility of 2 meters, is known for freshly cool to cold temperatures, depending upon the time of year. There are various diving zones, among the most popular and protected is Agua Verde ("Green Water") with an average depth of 15 meters. In other parts of the lake, the depth descends to as much as 30 meters with lengthy slopes, displaying little underwater life but instead a bounty of surrounding beauty, touches of emotion and adventure. The tourist infrastructure, combining diving with camping, hiking, rural tourism, and the splendid landscape and tranquility of nature, makes this a delightful sojourn. It is important to note that the characteristics of this lake limit diving only to experienced divers.
The dam of Pucuato has been less explored underwater, but it bears an attraction of clarity at 2 to 6 meters, depending upon the diving spot and depth. Here it is possible to observe abundant vegetation and fish, adding to the attractions the farms and schools of Trucha Arcoiris ("Rainbow Trout"). After an excellent underwater adventure, it's a pleasure to enjoy delicious trout prepared several ways by local restaurants.
If you are a novice or only equipped with basic snorkeling equipment for an underwater adventure, we suggest you visit the Lago de Camécuaro with crystalline waters, excellent visibility, cool to cold water, and an average depth of 2 meters. Snorkeling brings the underwater vegetation to life, while swimming over it all like flying over a dream forest! It is also possible here to observe the water births that the area produces. If you like to free dive, Lago de Camécuaro is the ideal site to visit. Scuba diving is possible, but the shallow depth makes it ideal for snorkeling.
Nautical Tourism and Sport Fishing
Michoacán's rivers and mirrored waters permit the enjoyment of contact with nature, where there are propitious places to fish for rainbow trout and black bass. At the Dam Sabaneta, every year in the months of February and March a fishing tournament takes place as part of a national sportfishing series. In Lázaro Cárdenas annually are international sportfishing competitions on the high seas, one during the month of March and another in December, focusing upon catching sailfish, marlin and mahi-mahi, attended by Mexican and foreigner sportsmen alike.
At most of the dams, lakes and lagoons in Michoacán the use of kayaks, sailboats, jet skis, and motorboats is permitted. The dams are Pucuato, Sabaneta, Mata de Pinos, Brockman, Del Bosque, Tepuxtepec, Laguna Larga and El Fresnillo in the eastern region of the state; Presa de Cointzio in Morelia, Malpais in Queréndaro; and the Lakes Pátzcuaro, Zirahuén, Camécuaro and Cuitzeo, the last of which is perfect for observing migratory and local birds in colorful array.
Mountain Biking
Mountain biking requires strength and a fighting spirit. Climbing mountainous hills and slopes requires strength, and gravity's descent demands courage.
This sport is becoming more and more popular every day by adventurous tourists crossing the plains and mountains of the countryside. In Michoacán, it is possible to traverse the Sierra Chincua, the fields adjoining the volcano Paricutín, and the shores along the state's lakes. In each of these places are defined routes from one to four days of continuous biking. Some of these routes are part of competitions on a national scale with internationally ranked competitors, and some attract a thousand participants. Most of these routes are operated by specialized guides, who can provide camping or hotel lodging facilities.
Healthful and safe mountain biking can take place in the forests, plains, and mountain ranges such as the Monarch Butterfly Biosphere Preserve, Jesús del Monte, and Los Azufres. The Morelia- Pátzcuaro-Zirahuén route is an excellent opportunity to discover the flavor of indigenous communities.
Mountain cycling is the best way to traverse Michoacán, exploring totally hidden routes, crossing farm fields, steep mountains and tree-filled ranges, experiencing the range of climatic changes from the forest cold to the heat of the Tierra Caliente and the tropical warmth of the coast. Each year Michoacán features a National Mountain Cycling Competition.
Free Flight: Paragliding, Delta Wing and Hang Gliding
Few sports in the world can compare with free flight, for the spectacle of flying and the exclusivity of observing the landscape from the sky. When one flies, the communion of man and the wind starts with the natural viewpoints in the Michoacán mountain range, vertigo and pleasure defined by parachuting and paragliding.
The natural vantagepoints in the Sierras, with splendid vistas and favorable winds, are suitable places for lovers of the free air, the vertigo and pleasures of free flight. Flights with wing delta and paragliding can be made in the Sierra Chincua in the municipalities of Ocampo, Angangueo and Senguio; Quinceo in Morelia; the Mirador of Mil Cumbres and La Escalera ("The Stair"), the municipality of Charo; the town of Caracol in the municipality of Hidalgo; Cerro del Estribo ("The Hill of the Stirrup") in Pátzcuaro; and along the coast, from the miradors of Las Brisas and San Juan de Alima. In some takeoff sites, access is by paved roads, and in others, rural dirt roads require pickup trucks.
Come fly with us in Michoacán, where all you need is a favorable wind!
Horseback Riding
In addition to mountain biking and hiking routes, another way to enjoy the natural beauty of Michoacán is by horseback. Routes from one to three days, varying in distance, pass by old mines, pack animal paths, rustic enclaves set in mountains amid great diversity of plant and animal life.
Some of the suggested routes are along Angahuan over the lava fields leading to the volcano Paricutín; and Kilometer 23 in Mil Cumbres, a scenic route where oak and pine forests punctuate a mountain range. In addition to these routes, riding along the shores of Michoacán's lakes, without forgetting the routes of the Tierra Caliente such as Aguililla-Coalcomán-Aquila, which begins in the Sierra of Aguililla and ends at the Michoacán coast.
Horseback riding is an activity full of surprises, because horses can traverse otherwise inhospitable landscapes to reach areas of natural beauty and scenery. Definitely, horseback riding is a delightful escape for nature lovers who trek the rhythm of life from the back of a horse.
This activity makes the inaccessible accessible for all types of tourists. In some of the places mentioned above, cabins and rustic restaurants can be found.
The Route of Health
The harmonious conjunction of a natural beauty in a broad range of varied landscapes, far and wide, make Michoacán the perfect spot to restore and rejuvenate one's body and soul in its diverse regions.
In the northern part of the state a band of copious springs extends from the eastern border to the extreme northwest edge of the state at Lake Chapala. This strip is known as the Route of Health, comprised of more than 400 springs, waters known from the pre-Hispanic era for curative properties. The chemical composition of the special therapeutic waters, coupled with favorable climatic conditions, strengthen the possibilities for tourist which is good for your health.
In Michoacán, mineral and thermal springs ranging in temperature from 21ºC to 82ºC are located in ecological spaces which have been brought to life by magnificent spas, health resorts and aquatic parks framed by aromatic forests and gorgeous mountains, offering up health, rest and entertainment with the joy of the sun and the sparkling flow of crystalline spring waters. Excellent services and warm hospitality abound.
Regulatory Agencies
The governmental agency SEMARNAT (Secretary of Environment and Natural Resources) is the regulatory agency charged with controlling and protecting animals and birds in Michoacán, establishing hunting calendars and schedules, enforcing the federal laws regulating sport hunting of mammals and birds, setting the seasons and amount allowed per hunter per day. Sport fishing is regulated by SAGARPA (Secretary of Agriculture, Cattle, Rural Development, Fishing and Feed), which sets the rules for fishing seasons in each body of water, lakes, lagoons, rivers, estuaries, and the seashore to promote conservation of the species. Additionally, a State Fishing Commission coordinates applications with the federal government to issue permits, declare prohibitions for waters located within the state.
Observations
Exercising these activities requires the use of adequate and necessary equipment.
Most of the rock climbing sites do not have established routes, because the activity takes place on virgin territory, creating even more pleasure for its enthusiasts who can determine their own routes, naming them as they conquest different peaks and summits.
Preferably, the services of an Alternative Tourism operator should be retained to provide the proper equipment as well as technical and logistical guidance to make the venture safer and more pleasurable.
Definitions
Alternative Tourism
Those trips which are made with the objective of engaging in recreational activities in direct contact with nature and the cultural expressions surrounding it, with an attitude and commitment to learn about, respect, enjoy and participate in the conservation of natural and cultural resources.
Michoacán offers a great variety of tourist services. Among the most important recreational activities are those which take place in nature's environment. Michoacán has innumerable places to practice Alternative Tourism, which has been divided into three categories for better understanding: Ecotourism, Rural Tourism, and Adventure Tourism.
Ecotourism
This covers tourist activity developed in contact with nature of interesting scenic value and in a diversity of landscapes, as well as the observation of a wealth of plant and wildlife species. Ecotourism includes the conservation of ecosystems.
Rural Tourism
Those trips which are made with the objective of harmoniously sharing and interacting with a rural community, learning its social, cultural and productive expressions such as traditions, folklore, fairs, fiestas, cuisine, and handicrafts.
Adventure Tourism
These are activities (extreme sports) conducted within a natural environment, under geographic conditions which generate a high level of adrenaline. The idea of danger and difficulty are often confused in the argot of alternative tourism. The one certain aspect is that the summits and depths reached by the adventure tourist are found in a state of magnificent and primitive valor, making the adventurer a universal traveler.
Special to Mexico Connect from the Secretaría de Turismo de Michoacán
Published or Updated on: October 9, 2008