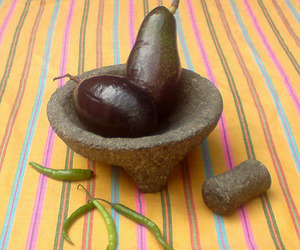 Originally from the tropical coastal state of Tabasco, where a chilled dish is always welcome, this soup is a perfect first course for a light summer meal, such as grilled chicken or fish. Try adding a tablespoon of sherry for a delicious, unusual twist.
Ingredients:
2 tablespoons butter
½ medium onion, chopped fine
2 serrano chiles, chopped fine and seeded or not, according to taste
4 cups cold chicken broth, completely skimmed of fat
4 avocados, pureed with a bit of the chicken broth
½ cup Mexican crema or heavy cream
chopped cilantro for garnish

In a medium saucepan, melt the butter, add the onion and chile, and sauté over low heat until the onion is soft and translucent. Remove pan from heat.
Add the chicken broth, avocado and cream, stirring to blend well after each addition. Chill, covered, for 1 hour.
Serve cold with a garnish of chopped cilantro.
Serves 4.
Link to source articles
Cool and refreshing: Mexican summer soups
The avocado: On beyond guacamole
Published or Updated on: January 1, 2003