The following is a quick guide to the cuisine of Nayarit. This guide was discovered by Conner and adapted from the original Spanish version by Camille. There are several foods listed for which there are no translation as they are native to the region.
The Nayar Mesa is famous for its chiles and, as such, Nayarit offers a wonderful chile sauce called Salsa Huichol. This sauce is made from a variety of chiles, spices, vinegar and salt and is sold in bottles under different names. Akin to tabasco sauce, it has a much better flavor.
We would love to assign the proper credit for this piece to he/she/they who wrote it and ask that you please notify us if you have this information.
An introduction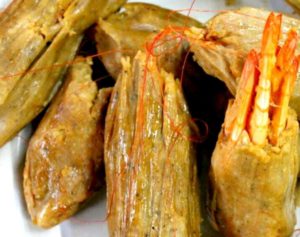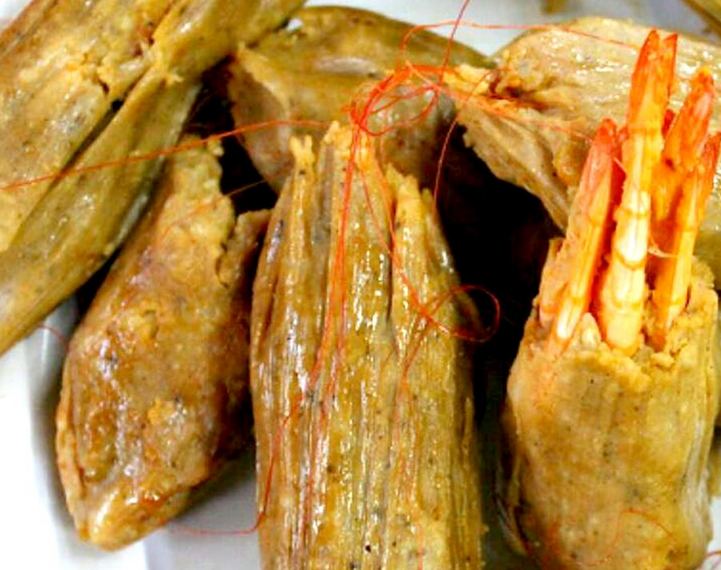 Nayarit is blessed with a unique geographic location. It is situated on the Tropic of Cancer which provides it with an excellent climate that offers abundant rains in the summer. This, along with its fertile soil, produces a great variety of beautiful flowers and fruits with an incomparable flavor.
Nayarit produce includes coconuts, corn, wheat and beans and it is the largest producer in the nation of tobacco, bananas (there are 14 varieties grown in this region), mangos (the famous "petacones" come from here) and sugar cane. The best example of the fertility of Nayarit soil is seen in Jala, a town near the state capitol, where the corn stalks grow to a height of 70 cm.
From its seas come shark, dog fish, sea bass, sierra, shrimp and oysters, which explains why seafood takes center stage in Nayarit's gastronomy. Exquisite oyster enchiladas and sopes, shrimp tamales, barbecued fish (one of the region's specialties), shrimp soup and fish cooked over a manglar wood fire are just some of the delicacies offered here.
Representative dishes of Nayarit
Following are descriptions of some of the wonderful regional dishes you can experience while in Nayarit.
Mezquite grilled fish: Pescado sarandeado
This most typical dish originated on the isle of Mexcaltitan. It is usually prepared with the pargo (sea bream), one that does not readily dry out when exposed to heat because of the fat content of its skin. The fish is smoked over a mangrove (manglar) wood and palm frond fire and is previously marinated in a combination of lemon juice, soy sauce and chile. This is then served on large platters accompanied by sliced onion, tomato and cucumber, tortillasm tostadas and a special salsa. Truly unique!

Chicken Ixtlan del Rio: Pollo al estilo Ixtlán del Río

After boiling the chicken, it is fried in lard and served with potatoes which have been fried in the same lard, zucchini with a vinaigrette dressing and chopped lettuce; all smothered with a typical Mexican tomato sauce prepared with plenty of ground oregano. If you visit Ixtlan del Rio and try this dish, we know you'll love it!

Pipian sauce with pumpkin seeds: Pipián de pepitas de calabaza

This thick sauce is prepared with pumpkin seeds, peanuts and a variety of toasted grains and seeds which are then ground and combined with broth to make the sauce. When done, it has a light brown color and is served over meat with tortillas and refried beans or frijoles refritos.

Pork beans: Frijoles puercos

A special kind of beans called azufrados are cultivated in Nayarit for local consumption and are the preferred beans for this dish. Chorizo and Szechwan chiles (chiles de árbol) are sautéed in pork lard then the beans are added and mashed. This dish is usually garnished with farmers cheese and served with corn chips. In some places along the coast, they serve these with sardines.

Chitterling tostadas: Tostadas de chanfaina

Pig innards are prepared in a unique and traditional manner then chopped and served atop tostadas with a dried red chile and vinegar sauce (marketed commercially as Salsa Huichol), which is made from the best chiles available on the Nayar Mesa.

Oyster soup: Sopa de ostión

Onions, garlic and tomatoes are sautéed until soft, then water, bay leaf, oregano and coriander are added and brought to a boil. Oysters are added one by one in order not to break them, and the broth is simmered and served. Delicious!
Raw sierra fish is scraped to remove the flesh from the bones and then placed in a bowl and mixed with lime juice and allowed to marinate until "cooked." Chopped carrot and onion is added to the fish and allowed to marinate a bit longer before serving.

Charred fish: Pescado tatemado

Normally the fish used for this dish is liza, or mullet. It is cooked over an open fire made of manglar wood and is another one of the typical Nayarit dishes you will find served in San Blas.
Fresh shrimp is marinated in lime juice, salt and chile. It is then served with onions, cucumbers and condiments.

Shrimp in garlic: Camarones al mojo de ajo

In a pan butter is melted, then the garlic is added, followed by shrimp, a touch of vinegar and spices. This mixture is sautéed until the shrimp are well flavored.
Prepared as above but with chile sauce instead of the garlic.

Ranch style shrimp rancheros: Camarones rancheros

Shrimp is peeled and butterflied and placed in an oiled frying pan. Chopped fresh tomato, onion and green chile is added and the mixture is sautéed until the tomatoes become soft.

Shrimp broth: Caldo de camarón

In Nayarit, shrimp broth is customarily called "juice" (Jugo). The shrimp is simmered with bay leaf, oregano, coriander and tomato and the broth is served with chopped onion and lime and saltine crackers.

Shrimp paté: Pate de camarón

Shrimp is finely chopped and mixed with spices until it forms a paste. It is then bathed with white wine or port and allowed to repose in the refrigerator. It is served with saltines or black bread.

Tlaxtihuille

A haute cuisine dish with pre-Hispanic origins which consists of atole — a thick grumade from ground corn — powdered shrimp and chile. It requires delicate preparation and those who know how to prepare it truly deserve recognition.

Oyster sopes: Sopes de ostión

The most famous of these are the ones prepared in the typical restaurants found on the main square of San Blas. These are prepared just like the enchiladas with the exception that the tortilla is smaller and has edges to contain the filling. Don't miss these!

Shrimp cockroaches: Cucarachas de camarón

A small amount of butter or oil is heated in a pan. Then the whole, unpeeled shrimp are added and covered with a dried red chile and vinegar sauce (marketed commercially as Salsa Huichol) to taste and sautéed until the shrimp are well done.

Shrimp tamales: Tamales de camarón

There are two varieties of shrimp — fresh and dried. Tamales with fresh shrimp are made following the traditional recipe — masa, lard and baking powder, which is then filled with whole, peeled shrimp. Tamales made with dried shrimp are also prepared as above with the following additions to the masa: ground chilacate and shrimp powder. Both are a delicacy.

Rice with shrimp: Arroz con camarones

This dish is the traditional Mexican rice with dried shrimp added along with the broth. This gives the rice dish a unique and delicious flavor.

Shrimp and prickly pear cactus fritters: Tortas de camarón con nopales

These fritters are prepared with dried shrimp, powdered chile and egg. The cactus is simmered in a tomato and chilacate sauce with which the fritters are then served. This dish s most common during Holy Week, the week preceding Easter Sunday.

Oyster chichichangas: Chichichangas de ostión

A dough is prepared using corn masa and the liquid retrieved from oyster shells. This dough is then formed into tortillas and filled with oysters, tomatoes, green chile strips and onion and folded like a taco and then fried in oil.

---

Typical sweets: Dulces típicos

Shredded coconut mixed with a variety of fruits like pineapple, strawberry or lemon.

Sweetened sun dried bananas: Plátano pancle

Once dried, bananas are sweetened with raw sugar (piloncillo). These are now sold commercially in stores.

Coyules

A regional fruit prepared with raw sugar (piloncillo) syrup and cinnamon. It is common to find them in school snack shops. Once you've eaten the syrup that sticks to it, it is broken open to extract the nut inside which is also edible.

Grilled sugarcane: Cañas asadas

Nayarit, one of the principal producers of sugarcane, offers its inhabitants this unusual treat. On the streets of Tepic during the harvest or "safra," you will find vendors selling bags of tender, peeled, cooked sugarcane. Aside from being sweet, cane juice is said to contain a number of minerals, making it healthy as well.

Melado

Another delicacy of this region, melado is sugar cane syrup. It is served with cottage cheese.

Jericallas

A custard made from milk, eggs, sugar and cinnamon then baked. It is normally served cold.

Agualamas

A wild regional fruit that is cooked with raw sugar (piloncillo) and cinnamon.

Ante

A delicious bread made with eggs and butter, covered with sweet cream, raisins and nuts. It is served in individual portions in clay dishes and, during the month of September, is decorated with a Mexican flag.

Corn tamales: Tamales de elote

There are two versions of these sweet tamales. The first, colados, are made with ground corn which is then sieved. The second, oyejos, are made with crushed corn. Both are made with young corn.

Gorditas de maíz horneadas

The corn is prepared with eggs and raw sugar (piloncillo and then formed into small cookies and baked. A true delicacy.

Arrayán cubierto

The arrayan is a wild fruit which abounds in this region. The fruit is made into a paste, covered with sugar and sun dried.
These tasty fried cookies are made form wheat flower, milk and eggs. Different patterned molds are dipped into the batter and then into hot oil and fried. When golden, they are removed and sprinkled with cinnamon and sugar. Buñuelos are a common desert at Christmas.

Banana bread: Pan de plátano

As mentioned at the beginning of this article, Nayarit is one of the largest producers of bananas in the nation. The banana bread is made with flour, cinnamon, eggs and baking powder and has a soft consistency and a wonderful aroma.

Jocuixtles

A wild fruit most commonly prepared with piloncillo syrup.

Torrejas

A delicious egg bread which is sliced then dipped in egg and quickly pan fried, covered with piloncillo syrup and cinnamon. Before serving, it is sprinkled with sesame seeds.

---

Beverages: Bebidas

Tejuino

A drink made from fermented corn.

Nanche liquor: Licor de nanche

The nanche fruit macerated in alcohol and sugar. Also available as an "agua" or "-ade" (fruit drink).

Barley drink: Agua de cebada

A refreshing drink made from barley. Most commonly consumed by people living on the coast, especially in summer.

Fermented pineapple tepache: Tepache de piña

Pineapple rind is soaked in sugar water until it is fermented then served chilled.
Published or Updated on: June 1, 1997