Last month's column contained a list of
Mexican culinary herbs
– some as well-known as
cilantro
, and others a bit more esoteric – and their uses. This month's column contains recipes using fresh Mexican herbs, as well as a list of sources for ordering seeds. Most are extremely easy to grow, and all of the herbs in the following recipes can be found in Hispanic markets and large supermarket chains north of the border. They are among the most common and versatile of the herbs listed in the guide. The first recipe, which uses
hierba buena
– spearmint – is a perfect example of this versatility.
Caldo de Pollo con Hierbabuena – Chicken Soup with Mint
While hierbabuena is primarily used for tea, it is perfectly delicious in chicken soup. The first time I tried it this way I was very skeptical indeed. A friend who grew up here in Puebla ran out to my kitchen garden, plucked a sprig, and popped it into the caldo de pollo we were preparing before I could open my mouth to ask what he was doing. I was informed that his mother (one of the best cooks I know) always put hierbabuena in her caldo. My skepticism was cured when I tasted the final result, and now I always add a little spearmint to chicken soup.
Mole Verde con Hierbas – Herbed Green Mole
Green mole is most commonly found in the states of Puebla, Tlaxcala and Oaxaca, where it is one of los siete moles – the seven famous moles, each with a distinctive color, flavor and aroma. Unlike the other moles, which nearly always contain nuts and seeds, this recipe gets its characteristic flavor and bright green color from fresh herbs. If you prefer chicken, it may be substituted for pork in this recipe. When cooking pork stews, I usually add my friend Bernarda's "secret" seasonings – salsa inglesa, salsa de soya, jugo maggi – which turn out to be none other than worcestershire, soy sauce, and Maggi sauce, found in every grocery store in Mexico. While the use of lard is certainly not encouraged for the colesterol-conscious, it does give a wonderful flavor to Mexican stews, although vegetable oil can be substituted.
Arroz Verde- Green Rice
Visually intriguing, tasty and and a bit different from the usual Mexican red rice, this side dish is perfect with chicken or pork. It is guaranteed to jazz up even the simplest grilled meat or vegetable meal. Avocado slices are a nice garnish for this dish.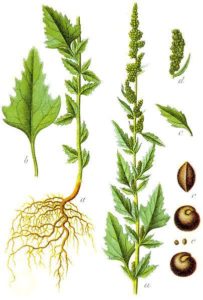 Sources for Ordering Mexican Herb Seeds
Mail Order:
J.H. Hudson, Seedsman
P.O. Box 1058
Redwood City, CA 94064
(Special catalogue of Zapotec seeds and plants.)
Horticultural Enterprises
P.O. Box 810082
Dallas TX 75381
(Epazote and Mexican vegetables)
Redwood City Seed Co.
P.O. Box 361
Redwood City CA 94064
(Mexican Herbs and vegetables)
Patti's Herbs
Route 1, Box 31J
Pearsall TX
(epazote and hoja santa)
On-line Catalogues:
New Mexico Chile Co.
https://www.nmcchile.com
Davis Plant and Seed Co.
https://www.davisseed.com/viewcat.html
Virtual Seeds
https://www.virtualseeds.com
Published or Updated on: May 1, 1999