In a magazine interview, I was asked who had the most beautiful face of all time. I unhesitatingly answered, "Dolores Del Rio."
Not Garbo, Dietrich, or Elizabeth Taylor can compare with Dolores Del Rio. Though only five foot three inches in height, Dolores del Rio appeared to be tall on cinema screens all over the world. Sinuous and sensual, she was widely regarded as the female Rudolph Valentino. She starred in Flying Down to Rio (1933), with Fred Astaire and Ginger Rogers in supporting roles, and she was still a star when she appeared in Woody Allen's 1983 film, Zelig. Precious few other actresses have retained both beauty and stardom for over fifty professional years.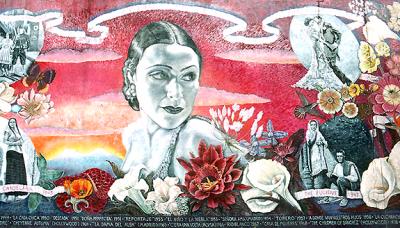 Born into an aristocratic Mexican family as Lolita Dolores Martinez Asunsolo Lopez Negrete in Durango Mexico on August 3, 1905, she was always called Lolita by family, including second cousin, silent screen idol, Ramon Novarro. Her father, a prominent banker, lost the family fortune during the Mexican Revolution, but his daughter's beauty was never lost.
Educated in a convent, she married writer Jaime Martinez Del Rio at the age of 16, and the couple moved to Mexico City where they were very socially active until the dissolution of their marriage. At a Mexico City tea party, Hollywood film director Edwin Carewe, was struck by her dark beauty, and invited her to star in his 1925 silent production of Joanna. She emmigrated to California, and starred in many silent films of his and other directors.
Although Del Rio spoke fluent English, the advent of sound exaggerated her accent, limiting her range of roles. But the fans seemed to find her accent charming, so she retained Hollywood stardom through the forties. Unlike today's stars, Del Rio looked as magnificent with all her clothes on, as in the title role of 1934's Madame Du Barry, as when she appeared all but nude in 1932's Bird of Paradise.
In 1930, she married famed MGM art director and production designer, Cedric Gibbons, from whom she was divorced in 1941. Just in time, too, since Orson Welles (ten years her junior) fell madly in love with her. In fact, she collaborated with him on his 1942 film, Journey Into Fear, in which she starred.
In American films, Del Rio's leading men ran the gamut from Henry Fonda, in 1947's The Fugitive, to Elvis Presley, in 1960's Flaming Star. Though she looked far too young to play Elvis' mother, he was so enchanted that he insisted she be cast.
Del Rio was a brilliant businesswoman and in 1943, when she returned to Mexico to star in films (frequently with Pedro Armendariz), she negotiated a percentage-of-profits deal, increasing her already vast fortune. Her loyalty was legendary, and she went back to Hollywood occasionally to accommodate old industry friends, such as director John Ford (Cheyenne Autumn, 1964).
Her ageless beauty and famous complexion were the source of envy among female colleagues in Hollywood. Today, we have plastic surgery and Botox, but Dolores Del Rio maintained her looks solely through a self-invented diet and exercise program, diligently followed.
She retired from films in 1978, and devoted her time to managing her financial and real estate holdings, and to her lifelong hobbies of writing and painting, until her death in 1983.
There are many kinds of beauty, I know, but for traditional drop dead gorgeousness, no one has ever come close to Dolores Del Rio.
Filmography for Dolores Del Rio
Published or Updated on: February 1, 2005