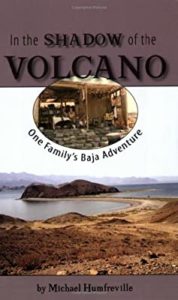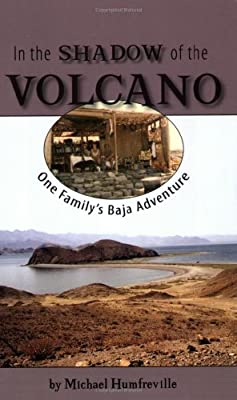 This one is a little different from your usual travel adventure in that the people involved set out with the definite intention of "roughing it." And they seem such an unlikely pair. They are Michael Humfreville and his newly-wed wife, Mary Ann. The two were married in California in 1973. Both were employees of the NASA Jet Propulsion Lab in Pasadena – Mary Ann in procurement and Michael as a support engineer. Both decided there was more to life than working as intensely as they did and, after much discussion, they decided to take a leave of absence and go on an extended trip in Baja California. A short time later, they rented their house, sold one of their cars and filled their Toyota Land Cruiser to capacity with their belongings, including their two dogs, Rochie and Dulcie, and said goodbye to friends and family.
This was not to be your usual sight-seeing trip, moving from one convenient accommodation to another. Their desire was to be isolated from civilization and to live as simply as possible. An element of self discovery was also a definite part of the program. Thus it was that they found themselves a week or two later on an empty beach on the remote west coast of the Baja constructing a tiny hut that was to be their home for an indefinite period. Pacific breakers pounded the beach a few steps away. The specific area where they set up camp was between El Rosario and Guerrero Negro where a number of tiny fishing villages were located.
I should mention here that one thing this enjoyable book lacks is a map or two. I found myself several times having to run to an atlas or a road map to find the various areas Humfreville was referring to, which was a bit of a nuisance.
That initial site was on the Pacific side of the Baja peninsula. It's a bay with a beach that overlooks an island on which there is a volcano – hence the title of the book. However, a short time later they decided to relocate, mainly to escape the damp west coast weather. And so they took to the hot, dusty roads toward the Sea of Cortez coastline. Their destination was Bahia de los Angeles, a place they had previously heard about from friends. Once there, they decided to build a beach hut from long gangly pieces of cirio cactus, interweaving the lengths to create a framework. To this they added cardboard from old boxes, blankets, layers of newspaper and anything else that would prevent sunlight from invading their private space, yet allow adequate airflow.
What they ended up with was a sun-proof single room, twelve by seven feet, facing the water. A space was left on the floor for sleeping bags while a three-foot shelf and camping stove served as their kitchen. This would be home for an indefinite period.
As Humfreville writes: "Our surroundings were completely natural. Producing food by fishing and simple baking in our homemade oven, we bathed and washed clothes in sea water heated by burning collected wood. Walking on the beach, we learned the habits of the sea and began to understand the complexity of tides. We watched the sea life that, day and night, passed through our shared environment."
He continues: "Mary Ann and I were learning a lot about each other with our quiet time there during that summer in our hut of thatch and on our beach, alone. We learned about ourselves and our environment – about life and death in the natural world. We learned about relationships and the limits of love and animosity, about richness and poverty, aloneness and togetherness."
He gives an excellent account of a life that's lived in a way that the vast majority of us never come close to experiencing. The couple also took time to explore the Baja, which, for my tastes, sounded just a little too desolate and uninhabited. Also, the rough unpaved roads were a challenge for their not-too-reliable car. Still, they obviously enjoyed their adventure.
The time came, however, when they had to return to Pasadena and to resume their jobs at the Jet Propulsion Lab. There they settled into the old lifestyles – always thinking, of course, of returning to the Baja. In the following years Mary Ann gave birth to two sons, Michael and Kevin and when the boys were starting to grow up, the family's story took a different turn. It was 1985 and Michael was eight years old and Kevin six years old.
Humfreville and Mary Ann made the unusual decision to return to the Baja. But this time, they would take their sons and resume the beach life they had left years earlier. It was a surprising decision to take young children to that destination. At one point, for instance, he writes about the hazards to be found there, such as tarantulas, scorpions and snakes; two-inch black wasps, coyotes, foxes; eels, sharks, stingrays, and killer whales plus the water itself; wind, rain and lightning. Hardly the ideal place to bring up children. However the hazards were offset by the abundant harmless and entertaining wildlife – sea lions, dolphins, tuna, pelicans, whales, gulls plus all kinds of birds and endless fishing. And, as a close-knit family, they enjoyed their days together – not just the humans but their domestic animals, too, like Burlap, their burro, Billy, their goat (of course), their chickens and their dog, Lassie. Humfreville describes the many idyllic moments they shared in this environment.
Nor should I give the impression they were without company or were out of touch with other people. At one point they found they were sharing their stretch of beach with Don, a geologist and a professor at one of the California state universities. Don was there to study the geology and microclimate of the area and was enjoyable company for the family. A little later in their relationship with Don, they were instrumental in saving his life. It makes for quite a dramatic and suspenseful story within the overall context of the book.
On another occasion they invited friends and family members to their beach. Would you believe that forty of them arrived, almost all at the same time? They were mostly work buddies from the Jet Propulsion Labs. They came in motor homes or in autos, hauling tent trailers and small boats. They were well equipped with tents, food supplies and plenty of booze. Their arrival was spread over a few days and they all stayed a while and had a great time on that isolated beach. It sounded like one helluva party!
Nor was the beach totally isolated. The village of Las Cuevitas was only a half hour drive away. But there wasn't much there – a few shops and one restaurant. Three hours drive further away on the awful roads was the town of Black Warrior where there was a market and more shops and restaurants. For the youngsters, there was even a toy shop.
Their idyllic summer inevitably drew to a close. It was time to say farewell to their beach hut and the animal life and the spectacular scenery. The boys had to get ready for school and Michael and Mary Ann had to think of getting back to work and earning some money. It was time to head north.
One of the puzzles for me in this book is that it was written so long after the events that it describes. It starts out in 1973, for example, yet the book wasn't published until 2006 – a mere three decades after the fact. The '70s were, of course, the days of dropouts and flower children. However there's not a trace of that kind of expression anywhere in this narrative. There's a complete absence of the old familiar bitching and criticism of the materialistic, immoral society in California. Michael and Mary Ann seem quite as at home there as on their Baja beach. And the two boys are thirty-year-olds now. It just seems like a long interval before committing these vivid memories to paper. However that small caveat doesn't detract in any way from the overall narrative.
In the Shadow of the Volcano –
One family's Baja adventure

By Michael Humfreville
Sunbelt Publications, San Diego, California. 2006
Available from Amazon Books: Paperback
Published or Updated on: December 15, 2006